Multiple Alabama Football Players Test Positive For Coronavirus After Returning to Campus For Practice
Football players at the University of Alabama began making their way back to the Tuscaloosa campus for practices, per guidelines set by the Southeastern Conference (SEC). Each Alabama athlete has gotten tested for COVID-19 (coronavirus) upon their return, and at least five Crimson Tide players have tested positive for the virus so far.
This was first reported Wednesday by BamaInsider of the Rivals.com network.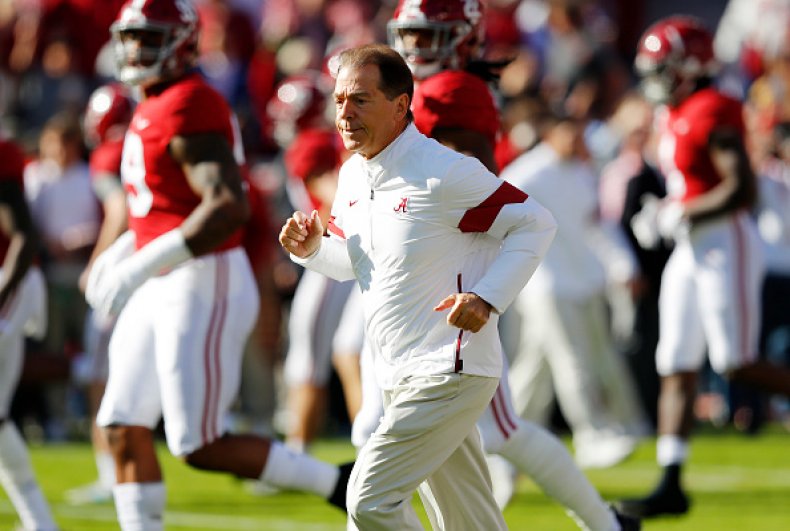 Coronavirus ultimately shut down sports around the globe last spring, and that included the NCAA shutting down all of its championships through the end of the school year. The men's and women's basketball tournaments were canceled, as were spring football and all other spring sports like baseball, softball, track and lacrosse.
The SEC last month approved voluntary, in-person workouts for its members beginning June 8. Even then, the schools would practice best social distancing guidelines and implement best safety protocols for its athletes, coaches and staff.
Alabama athletics director Greg Byrne outlined the school's vision for safety prior to the athletes returning to campus.
"The health and safety of everyone, including our student-athletes, coaches, staff and fans has been, and will continue to be at the forefront as we prepare to return," Byrne wrote last month. "We appreciate the leadership and guidance of the Southeastern Conference and its Return to Activity and Medical Guidance Task Force throughout this situation to best equip our campuses with educational materials and recommendations on best practices.
"Resumption of voluntary in-person activity is an important step in moving us towards the fall athletic season, which we are fully preparing for with a phased approach beginning June 8. In addition to our public health officials, we are fortunate to have an elite sports medicine staff here at Alabama, from our athletic trainers to our team doctors that we will continue to take direction from as we make decisions for a safe return.
"We look forward to welcoming back our student-athletes, coaches and staff to campus."
The University of Alabama system has begun ways to reopen all three of its campuses—Tuscaloosa, Birmingham and Huntsville. Plans called "Stay Safe Together" are designed to track symptoms among the students and faculty on campus. This includes using a COVID-tracking app that is being developed.
The SEC has indicated it wants to play its full 2020 football schedule, even if it means playing in stadiums with fewer fans to practice safe distancing. Football is by far the biggest revenue generator for all 14 SEC member schools. The football budgets typically support the entire spectrum of men's and women's sports at the universities.
College football in 2020 is scheduled to kick off Aug. 29 with a handful of games, and the first full weekend is scheduled for Sept. 3-6.
Alabama is scheduled to open its season against USC at AT&T Stadium in Arlington, Texas, on Saturday, Sept. 5.