Multiple #NoWarWithIran Demonstrations Planned Across the U.S. to Oppose 'Trump's Reckless Action'
A coalition of activist groups plans to protest against U.S. conflict with Iran this Thursday, with more than 180 events scheduled across America.
The No War with Iran group revealed the protests would take place at 5 p.m. local time on January 9, posting details for 185 nationwide demonstrations against President Donald Trump's "reckless action" against the Islamic Republic on its website.
At the time of writing, No War with Iran protests are planned in several major cities, including New York and Washington D.C. on the East Coast, as well as Los Angeles in the West and Dallas in the South.
It is unclear how many activists have so far signed up for the nationwide protests, which will come just under a week after the U.S. assassination of Iranian General Qassem Soleimani, and two days after Iran struck Iraqi sites housing U.S. and allied forces in retaliatory missile strikes.
Progressive activist groups leading the demonstrations include the MoveOn political action committee, About Face: Veterans Against The War and Indivisible.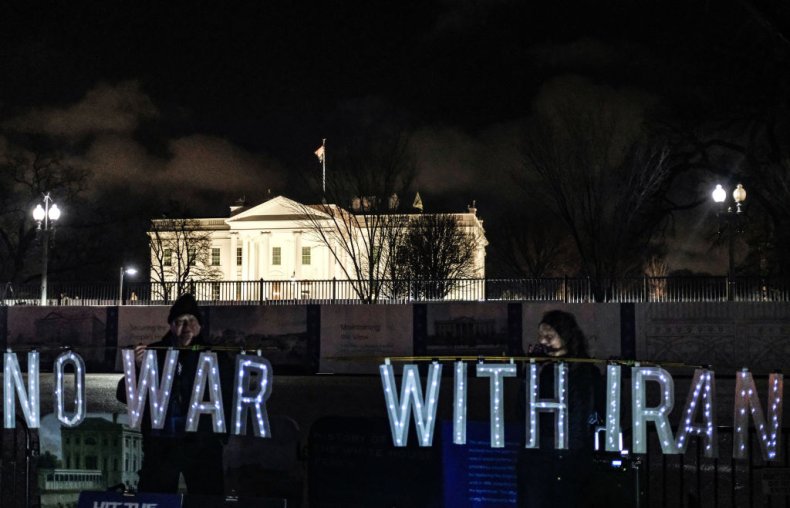 "Trump's reckless action has needlessly endangered countless lives of U.S. troops, Iraqis, Iranians, and countless other civilians," a statement on the No War with Iran website reads. "The devastation that a war with Iran could bring upon the earth and humanity cannot be overstated—millions of lives hang in the balance.
"None of us will win, except politicians and corporations."
The group added that the public had "learned our lessons" on Iraq and "global endless war," adding that protesters would not "be driven by lies into another war."
"A core principle shared by supporting organizations is a commitment to nonviolent and peaceful actions," the protest organizers added in a footnote. "All actions that are sponsored or organized on this page are intended to be nonviolent and peaceful.
"We expect all participants to act lawfully at all times and to seek to de-escalate any potential confrontation with those who disagree with our values."
The network has also been sharing details of its planned demonstrations on social media, using the hashtag "#StopTrumpsWar."
Democratic Rep. Ilhan Omar encouraged her followers to sign up to a No War with Iran protest event near them, tweeting: "We won't let the Trump administration drag us into another endless war.
Newsweek has contacted the No War with Iran group for comment and further details on the planned protests, and will update this article when a response is received.
The White House has also been contacted for its response to criticisms of President Trump.
No War with Iran announced its nationwide protest plans as the Iranian Revolutionary Guard, formerly led by Soleimani, claimed responsibility for missile attacks on the Ayn al-Asad Air Base and other sites yesterday. No casualties have yet been reported following the incident.
Iranian Foreign Minister Mohammed Javad Zarif said the strikes following the assassination of Soleimani "concluded proportionate measures in self-defense" and said Iran sought no "escalation or war" in the aftermath.
President Trump last night tweeted: "All is well! Missiles launched from Iran at two military bases located in Iraq. Assessment of casualties & damages taking place now. So far, so good! We have the most powerful and well equipped military anywhere in the world, by far! I will be making a statement tomorrow morning."