Multiple People Gunned Down Outside Rap Concert, Witnesses Reluctant to Speak Up: Police
Six people were gunned down Friday night outside a rap concert in Eugene, Oregon, according to police.
In a statement sent to Newsweek, a police department spokesperson "officers arrived within 2.5 minutes to a hectic scene of people who had been shot near the walkway/back entrance to Wow Hall, with a loud and frantic crowd." One of the victims is still in critical condition, according to the police.
Lil Bean and Zay Bang were among the event's performers.
The police said that five of the victims were out of town and traveled to attend the concert.
The department also said that 25 Eugene Police Patrol units and detective units were sent to the scene, according to the statement.
Police at the scene provided medical aid to victims and helped in "applying tourniquets and pressure to wounds, mitigating any potential threats, and coordinating with arriving Eugene Springfield Fire medic units for a safe response to further treat the injured victims."
Police Chief Chris Skinner said during a press briefing that officers are still investigating the incident, noting the suspect was a man wearing a hoodie who immediately fled the scene.
Skinner added that officers have struggled to attain statements from witnesses who are reluctant to come forward with evidence that might help.
"There was no anybody that was willing to cooperate or to come forward and give us any kind of witness statements about what they may or may not have seen," he said. "What we're really struggling with is the fact that we know we have witnesses, we know we probably have video and audio evidence that's available. We just need people to feel comfortable to bring it forward so we can better understand what happened and better identify our suspect."
However, Skinner said that he is hoping witnesses would come forward to talk about the incident and share evidence that they might have captured on their cell phones.
"That's how we're going to solve this through investigation, good evidence collection, and we're going to solve it with witnesses willing to come forward and share with us what they saw," he added.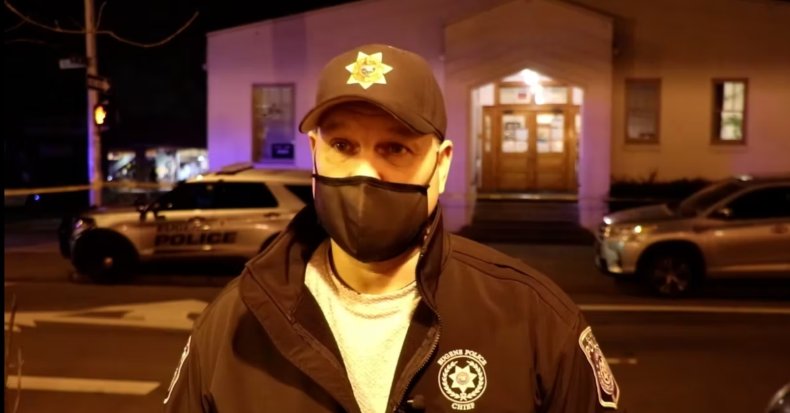 Gun Violence Archive, a nonprofit that gathers data about mass shootings across the country, has reported over a dozen mass shootings including the Oregon incident since the beginning of 2022.
Fatal shootings rose 55 percent in the first half of 2021 compared to the prior year, according to the nonprofit, which defines mass shootings as those with four or more victims and the death of one person who isn't the shooter.