Truck Drives Into Pro-Union Protesters, Including Michigan Gubernatorial Candidate Gretchen Whitmer
Authorities said a pickup truck crashed into a group of people, including Michigan Democratic gubernatorial candidate Gretchen Whitmer, who were protesting fair wages on Tuesday in Flint, Michigan.
A burgundy Chevrolet pickup truck was driving north on Dort Highway in Flint about 7 a.m. and ran into the tail end of a large group picketing for unionization and fair wages for fast food restaurant workers outside of a McDonald's, MLive.com reported. After striking protestors, the truck went into oncoming traffic and was hit by a utility truck, MLive.com reported.
"I was in Flint for the rally this morning and am incredibly sad that so many people were hurt," Whitmer, who was not injured during the incident, tweeted on Tuesday.
A spokeswoman from the city of Flint told The Detroit News information about the accident is still being gathered. Flint's Mayor Karen Weaver is sending thoughts and prayers to those affected by the crash. Eight people were sent to the hospital following the accident.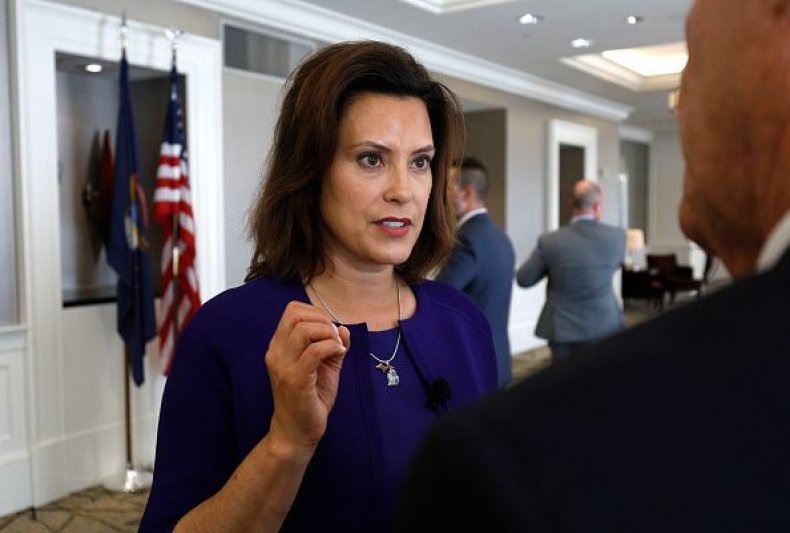 "This morning workers gathered together, with their union, to peacefully protest for a living wage. While crossing the street an unknown number of workers were struck by a driver," Candice Mushatt said in a statement to the publication. "Details on the accident are still being gathered at this time"
Whitmer's press secretary Nicole Simmons told The Detroit News that the Democratic gubernatorial candidate did not see the crash. In a short interview with MLive.com, Whitmer said she first learned of the crash when people started yelling for marchers to stop. She told the publication that she left so first responders could access the scene, MLive.com reported.
Whitmer was endorsed by former President Barack Obama on Monday in the race for Attorney General against Republican gubernatorial candidate and Attorney General Bill Schuette, WDIV reported.
"I'm proud to endorse Gretchen Whitmer because Michigan's middle-class families need a governor who knows how to get things done," Obama said. "Gretchen has spent her whole life getting real results for hardworking Michiganders, whether it was raising the minimum wage, or working to expand Medicaid through the Affordable Care Act to cover more than 680,000 people."
Whitmer said she was honored to be endorsed by Obama. She noted that he had helped residents in Michigan by giving them access to health care.
"As President, he fought every day to make sure hardworking Michiganders had access to quality, affordable health care and worked to rescue Michigan's auto industry, which saved 1.5 million jobs," said Whitmer in a statement to WDIV.