'I've Run 11 Marathons but Just Received a Multiple Sclerosis Diagnosis During the Pandemic'
The past year has been a little bit crazy for me—I celebrated my 40th birthday, got married, the COVID-19 pandemic hit and I've been diagnosed with multiple sclerosis (MS).
I live just outside of Basingstoke, England, with my husband Neil, and my cat, and I work as a PR manager for an American tech company, Western Digital. They have been amazing and very supportive since my diagnosis, but it's a multi-billion dollar company, so work can be pretty stressful.
I do a huge amount of exercise—I used to run every lunchtime, and do loads of CrossFit. I've run 11 marathons—including the Paris Marathon twice and nine times running the London Marathon. But over the past couple of years I'd begun to notice that at the end of a marathon, I'd have jelly legs.
I'd put it down to heat, getting older and having just run 26 miles. And every time it happened my legs recovered in a few minutes. I did go to the GP, but they put it down to tiredness.
In October 2019, I ran the Basingstoke Half Marathon. I'm quite stubborn, and although I felt pain in my legs about six miles in, I thought, "I'm going to finish this race." But I had to almost crawl over the finish line. So that's when I realised, OK, something's not quite right.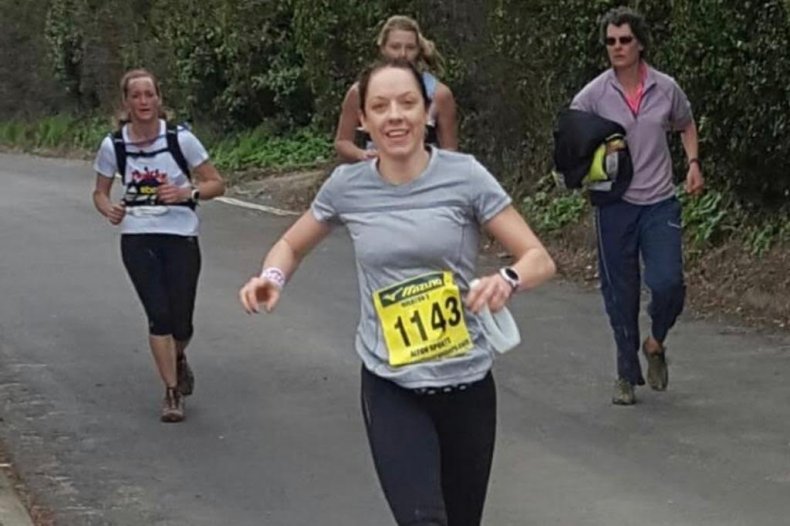 I went to see a physiotherapist—luckily I have private healthcare through work—and they recommended that I go to see a neurologist. I had done a little bit of research into what might be causing my symptoms, but I never, ever in a million years thought it would be MS. I saw a neurologist in December 2019, and even he said that it was extremely unlikely. But he recommended I have a spine MRI. That showed some inflammation, so I had a further brain MRI. When I then went back to see him on January 27, I was told; your inflammation is a clear sign of MS. I was in complete shock.
I'm stubborn and I'm always working far too much, so I went straight back to the office. There were two or three weeks straight after my diagnosis where I kept going to work—I think I was living in denial.
But I had a couple of breakdowns during conference calls, so then I went to see a GP and they told me, "you've just got to give yourself some time to get around this."
I was told that stress is really terrible for MS, so it may have been my fault for carrying on with work as normal—but at that time I noticed that pain in my legs was definitely coming and going more, and then I lost sight in my left eye, it went really, really blurry.
Just before lockdown in the UK I was told I had optic neuritis, which is one of the symptoms of MS. The normal recommendation is steroids, but they affect the immune system, so because of COVID-19 I didn't take them, and had to wait for my eye to gradually get better.
I went on sick leave then. It was the right thing to do. And it's really really helped, I've definitely managed to get my head around things more.
All my symptoms have been on my left side. My knee jars when we go for a walk in the afternoon, and after exercise. I experience a numb left thumb, bladder problems—a topic of conversation that has become quite the norm with my husband and fellow crossfitters!—and MS has massively impacted my sleep and mental health. I have had to start antidepressants and take melatonin in the night. But Neil and I are just about to get a puppy (who also can't control his bladder!)—that new arrival will make the situation seem a little bit better.
My friends and family were also in complete shock when I told them. People couldn't believe it. My dad lives in Italy which was locked down way before we were here in the UK, so I haven't seen him at all. But when I first stopped working, before lockdown, I went to see my mom in West Wales for a week. I love walking on the beach there, it puts things into perspective.
The worst case scenario is that I would end up in a wheelchair. But I have started having monthly transfusions of a drug called Tysabri—which slows the onset of physical disability that comes with MS. Although I'm never going to be cured, I'm hoping that it will stop the MS getting worse.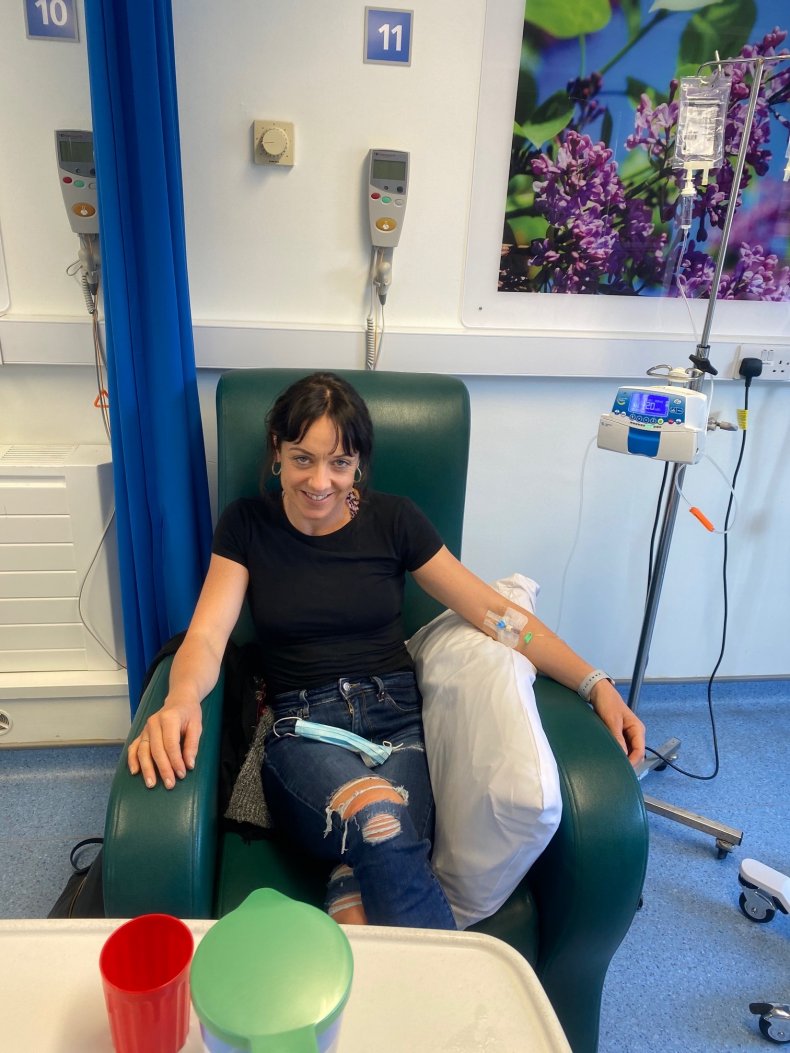 I was given the diagnosis on January 27 but treatment isn't covered through my private healthcare, so I went back to the NHS. I was told I had my first appointment on April 17.
Then of course, COVID-19 happened. I was so worried that everything would be put on hold, it's horrendous what's happening, and the NHS staff have been under so much pressure. But fortunately I was actually able to get an earlier appointment on April 3.
At that appointment, the doctor asked if I wanted to try daily drugs or something more hard hitting. I said, "I want a hard hitting drug, I want to be able to see a difference."
But of course because of COVID-19 a couple of the drugs used to treat MS are banned because they affect your immune system. Luckily Tysabri wasn't—though I had to get approval to use it.
My first drug infusion on April 15 took three hours, I had to have my temperature taken before I went into the hospital, and unfortunately my husband had to wait in the car. That was really sad, but the nurse said to me, 'this isn't normal, I promise.'
I love exercise so having MS is my worst nightmare. Doctors told me not to stop being active, I just have to massively listen to my body. Because I do like to push myself. I'm finding it difficult to not want to go at 100 miles an hour. But annoyingly—or perhaps fortunately—I have the voices of my CBT therapist and MS nurse in my head shouting at me to chill out.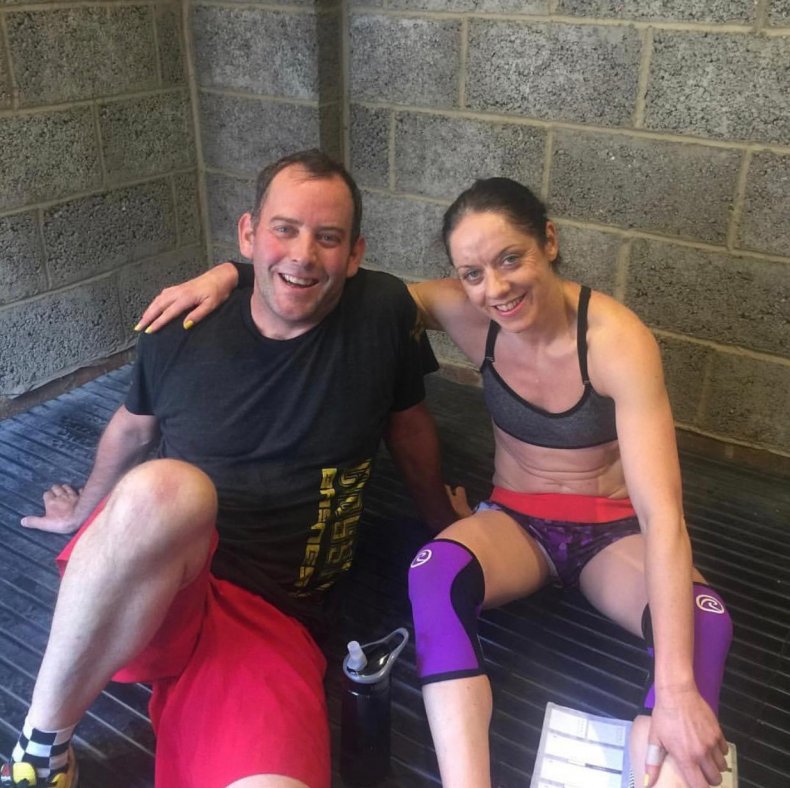 Luckily, the sense of community at CrossFit Basingstoke is amazing. After a month of being diagnosed, they gave me "member of the month", and they've been helping me adapt workouts to help with my legs. I've been rowing, but I've been told that when the Tysabri kicks in, I can start running a bit again.
I really want to go and do a marathon again, to give the middle finger to MS, but I'll never be able to run at the same pace again. My best time is 3 hours 23 minutes and I would have loved to run a marathon in 3 hours 20 minutes, but that's not going to happen now. I'm going to have to massively adjust my goals. And that's hard.
When I first got the diagnosis and did the research, all I could really see was the very worst end of MS. The people in wheelchairs and the people that are really suffering, and not people that were relatively fit. And that's why I wanted to start a blog and be really honest. I felt really alone when I got the diagnosis, because I have no friends or family who have MS, or any chronic illness. I just wanted to say to anyone in a similar situation to me—you're not alone, and life doesn't stop.
A yoga teacher did tell me that I'll soon see MS as a gift, something that forces me to make really positive changes within my life. And I think that's probably what will happen.
Whereas before I was always going at a million miles an hour, both my husband and I have decided that we need to enjoy every single day. Not be working late into the night and do more stuff outdoors. I was always quite ambitious, but now I'm more focused on life outside of work with my husband.
It's been great having Neil here. I don't know what I would have done without him supporting me and coming with me to appointments. All the time, he says "you're amazing, I'd never be able to do what you've been doing".
But I don't feel like I'm being amazing, I'm just getting on with it.
Hannah Webster is a PR manager for American tech company, Western Digital. She is a fitness obsessed, multiple marathon runner who is now dealing with a recent multiple sclerosis diagnosis. Hannah runs Fitness Obsessed Diagnosed With MS and can be found on Instagram at @HannahJWeb.
The views expressed in this article are the writer's own.
As told to Jenny Haward.