Mumford and Sons' Winston Marshall Leaves Band Temporarily to 'Examine Blind Spots' After Praising Andy Ngo
Winston Marshall, the banjo player for Mumford and Sons, announced Tuesday that he is taking a leave of absence from the band to examine his "blind spots," after promoting a book from right-wing commentator Andy Ngo.
"Over the past few days, I have come to better understand the pain caused by the book I endorsed," Marshall tweeted. "I have offended not only a lot of people I don't know but also those closest to me, including my bandmates and for that, I am truly sorry. As a result of my actions I am taking time away from the band to examine my blind spots."
"Please know that I realize how my endorsements have the potential to be viewed as approvals of hateful, divisive behavior," Marshall added. "I apologize, as this was not at all my intention."
Marshall's announcement came after he praised Ngo on Twitter last weekend by calling him a "brave man" and endorsing his book Unmasked: Inside Antifa's Radical Plan to Destroy Democracy.
"Congratulations @MrAndyNgo," Marshall tweeted on March 6 in a post that has since been deleted. "Finally had to time read your important book. You're a brave man."
Marshall then received heavy backlash from fans and social media users, who accused the musician of promoting hateful rhetoric and "right-wing conspiracy views."
Some fans were so disappointed they called for the band to permanently remove Marshall altogether, Billboard reported.
"Mumford and sons is about to see a lot of lost revenue bc of Winston's insane right-wing conspiracy views," noted one social media user, according to the outlet. "Americans don't want to hear the views of an uneducated conspiracy theorist and we won't support it."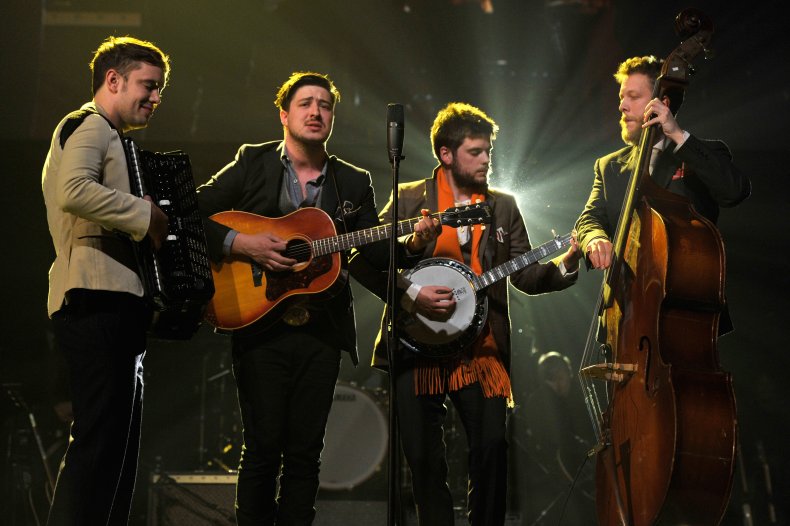 Mumford and Sons has not yet commented on Marshall's tweet or break from the band.
Ngo, a controversial right-wing journalist and commentator, has risen to prominence for his reporting on left-wing groups such as antifa.
The journalist has been accused of associating himself with the far-right group, the Proud Boys. Additionally, in 2019, he was seen standing with members of white supremacist group Patriot Prayer as they planned an attack on anifa members, Consequence of Sound reported.
Ngo has also been accused of downplaying the deaths of Heather Heyer, who was killed while protesting a white nationalist rally in 2017, and Trayvon Martin, a Black teenager killed by George Zimmerman in 2012.
Throughout the book, Ngo describes pro-Trump rallies as "peaceful and celebratory," while comparing left-wing activists to a "marauding gang" whose mission is to "destroy the nation-state," Consequence of Sound reported.
Conservative media figures have since criticized Marshall for apologizing for his endorsement of Ngo.
Commentator Glenn Beck tweeted Tuesday in response to the banjoist: "Sad. Who will have the guts to say, it is OK to disagree with me, even vehemently, but it is not OK to bully people into compliance. In America, we all have to live together. What is the left's plan when 40% of the country won't play their game
On Wednesday, Ngo seemingly nodded to Marshall's apology in a tweet: "I grieve for those who are made to suffer because they dare to read my work, or talk to me."
Newsweek reached out to Mumford and Sons' press representatives for an additional comment, but did not hear back in time for publication.