Mummified 'Ape' Fetus Found Hidden in Airplane Bathroom
Spanish officials discovered what appeared to be a mummified fetus during a routine inspection of an airplane in Madrid.
Officers with the Civil Guard found the fetus wrapped in a cloth, placed in a container and stashed in the towel cabinet of a bathroom. They were initially unsure if the remains were human or from another primate species, El Mundo reported Friday.
A judge quickly ordered the removal of the fetus from the plane, which arrived July 3 at Terminal 4 of the Madrid-Barajas Airport from Cuba. Initial examinations suggested the remains are from an ape, but experts have not yet reached an official conclusion, El Mundo reported.
Cabin crew told Civil Guard personnel they did not know how the fetus got on the plane. Investigators are probing the flight manifesto and may reach out to passengers for statements.
The Civil Guard did not immediately respond to Newsweek's request for comment.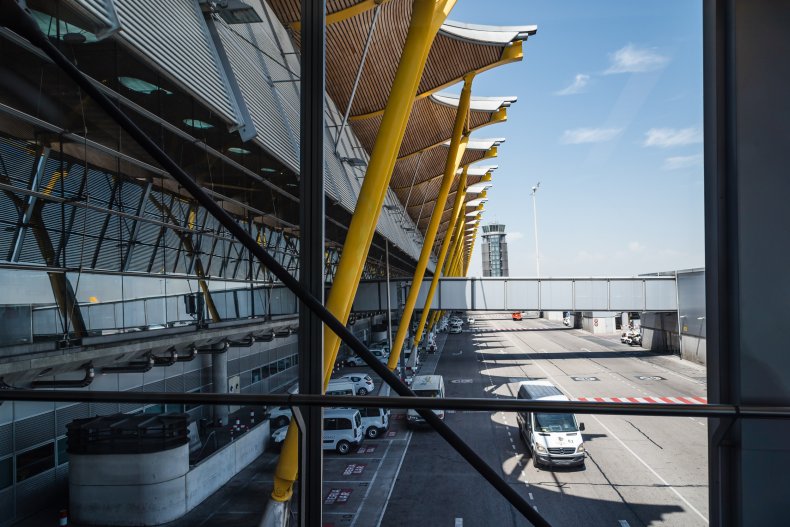 Last month, staff grounded a plane after finding a human fetus in its waste management system. The plane was due to fly from Durban, South Africa, to Cape Town.
Although the plane operator, FlySafair, did not confirm the reason for the flight's delay, a police spokesperson later said in a statement: "We can confirm a fetus was found in a toilet by cleaning staff inside [an] aircraft at an international airport... A case of concealment of birth is [being] investigated."
In March, a Russian tourist was arrested in Bali, Indonesia, for allegedly trying to smuggle an orangutan on a flight from Ngurah Rai International Airport, The Independent previously reported.
Investigators suspected the tourist, Andrei Zhestkov, 27, drugged the protected animal with allergy medication before the trip. The two-year-old primate was found asleep in a basket. Cops also discovered two geckos and five lizards in Zhestkov's luggage.
In June, the Russian was indicted for attempting to export protected animals from Indonesia, according to The Jakarta Post. At a court hearing, prosecutor AA Made Suara Teja Buana said: "The defendant had intentionally violated the law by storing, possessing and transporting protected animals."
The prosecutor told the court Zhestkov claimed a friend, named only as "Igor," gave him the orangutan. The court heard "Igor" taught Zhestkov how to transport the animal to Russia.
All three species of the critically endangered animals are decreasing, according to the International Union for Conservation of Nature and Natural Resources' "Red List."
The animals face threats including deforestation, hunting and illegal wildlife trading, according to the World Wildlife Fund.