'Killing Field' of Mummified Penguins Discovered in Antarctica
A huge penguin graveyard where hundreds of mummified animals lay strewn on the ground has been discovered in Antarctica, with one explorer describing the scene as a "killing field."
In some areas, up to 15 mummified penguins were found per square yard.
The unusual discovery was first made by Chinese scientists in 2016 and has since become the subject of the Discovery series, Secrets In The Ice.
Antarctica is home to an estimated 5.77 million breeding pairs of penguins, a 2020 report found. The continent is home to five of the 18 species of penguin, with a further four found on sub-Antarctic islands.
The mummified penguins were found on East Antarctica's long peninsula. They were lying along a desolate stretch of land. What happened to them was unknown.
In Secrets In The Ice, science communicator Anthony Morgan, who is part of the team investigating the deaths, said: "[There were] hundreds of little penguin bodies heaped on top of each other. This is really upsetting, what happened here?
"To have hundreds of these little animals all stacked on top of each other in one place mummified, it's what's called a mass casualty event."
Adventurer Meagan McGrath, who also worked on the film, said: "It's a killing field of penguins. That's strange. What's even more strange is that they're all mummified. What could have caused this?"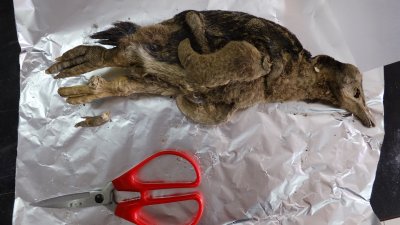 Masses of mummified penguins have been found in Antarctica before. In September 2020, researchers led by Steven Emslie from the University of North Carolina announced the discovery of the remains of an ancient colony of penguins that had been exposed as a result of melting ice.
"Our sampling recovered a mixture of old and what appeared to be recent penguin remains implying multiple periods of occupation and abandonment of this cape over thousands of years," he said in a statement at the time. "In all the years I have been doing this research in Antarctica, I've never seen a site quite like this."
Secrets In The Ice, which premiered on October 26, looks at mysteries from across the world that have been frozen in time. Other episodes in the series include the discovery of a mummified man lacking any mountaineering equipment at the top of Mexico's highest peak. In another, the team probes the deaths of nine experienced hikers in the Ural Mountains of Russia.
The penguin graveyard episode of Secrets In The Ice episode will air on Discovery at 9 p.m. ET on November 2. New episodes are shown every Tuesday at 9. p.m.
This article was updated to include more information on when the series is showing.