Mumps Outbreak Linked to 'Mexican Dance' in Delaware
Updated | Health officials confirmed that an outbreak of mumps is connected to two recent Mexican dance events, but they are still investigating the exact source of the viral infections.
Delaware now has 11 confirmed mumps cases, the Department of Health and Social Services' Division of Public Health told Newsweek Thursday, representing an increase in known infections just a day after officials reported connecting several cases to a Mexican dance social in Wilmington.
The Delaware Division of Public Health had announced on Wednesday that seven people who have recently come down with mumps were either at the first dance event on February 10 or lived with someone who had attended, and an eighth was working at another such dance at the same venue three weeks later. The department had also reported a ninth case on Wednesday, but said they were still trying to find the source of the exposure.
Now the infection tally has jumped to 11.
"With a confirmed case of mumps showing up in someone involved in a second—more recent—social dance in such a short period of time, we are stepping up our outreach to attendees, whether or not they developed symptoms," Dr. Awele Maduka-Ezeh, the health division's medical director, said in Wednesday's statement.
It came a week after officials announced they were investigating a possible mumps outbreak connected to a "Hispanic dance festival."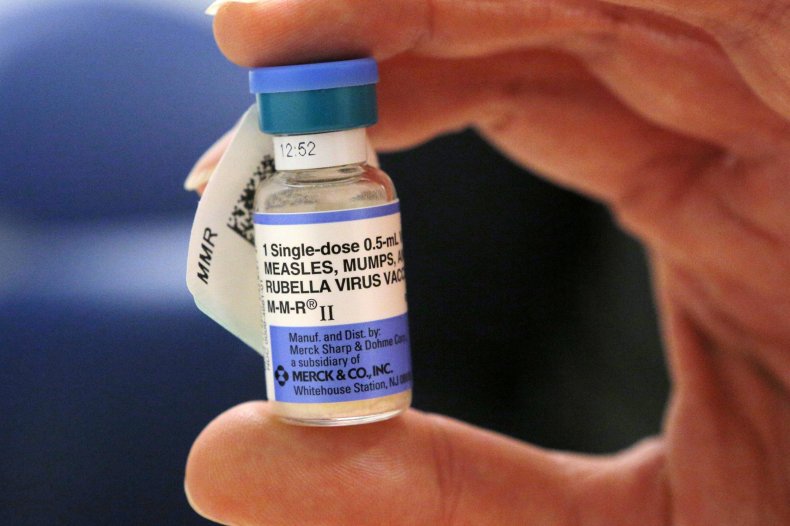 According to health division spokesperson Sean Dooley, there were about 2,000 people at the February 10 Mexican dance event and about 1,500 people at the second one on March 3.
"As far as we know, these are the only two such dances," Dooley told Newsweek Thursday.
Officials in Montgomery and Chester counties in Pennsylvania, which are just outside both Philadelphia and Wilmington, are also reportedly looking into mumps cases connected to the Delaware dance.
In response to a question about whether Delaware and Pennsylvania officials were working together on the outbreak response, Dooley said his department is "checking with our epidemiologists on how they are collaborating with [Pennsylvania] and which counties have been affected."
Although a vaccine against mumps exists, outbreaks still occur when people are in close quarters with others carrying the virus. The U.S. Centers for Disease Control and Prevention have an outbreak map that shows hundreds of cases that have sprung up across the country. Between the beginning of the year through February 24, the last time the outbreak map was updated, New York and Hawaii appeared to be the hardest-hit states, followed by Alaska.
Additional cases from around the nation since that time could be connected to a serious outbreak that was reported earlier this month in Texas, where tens of thousands of cheerleaders and numerous coaches and spectators were exposed to the viral infection during a national cheerleading competition. There were more than 26,000 people from 39 states and several countries attending the competition.
Mumps symptoms in adults include swollen cheeks and jaw, from the infection's effect on the salivary glands, as well as a fever, fatigue, muscle aches, headache and appetite loss. Some may show only mild symptoms, and other times may not experience any at all.
This story has been updated to include new information from the Delaware Department of Health and Social Services' Division of Public Health.