Struggles with mother-in-laws are far from out of the ordinary, but one mom's struggle with daily visits from hers has left internet users raging on her behalf.
An anonymous mom took to popular forum Mumsnet to share a situation that had been somewhat tormenting her for the last year— her mother-in-law's daily 3-4 hour visits.
According to the mom, they moved close to her husband's mother a year ago but she had been visiting every evening since, including having her dinner at the house.
"I understand that she might be a little lonely," she prefaced the post, before clarifying that the mother-in-law does have a hobby that "gets her out every day socialising."
"Sometimes I find myself a wee bit annoyed as i'd like to spend the evenings with my children and can't do activities with them whilst she's sat on the sofa drinking coffee or even just a bit of quiet time with the children slobbing about would be nice just now and then," she wrote.
"I do like having her around but maybe not every day as we run out of things to talk about. I find it a bit awkward sometimes."
To make matters worse, the mom claimed that she's even stopped inviting friends over in evenings, as her mother-in-law hasn't "taken the hint" in the past and simply stayed.
The woman added that her mother-in-law doesn't help out while she's visiting either, and often "ignores" the children while on the phone. "Her excuse is that she's had her children so she's done her bit with children," she added.
" I do like having her around but maybe not every single day as we run out of things to talk about and I find it a bit awkward sometimes."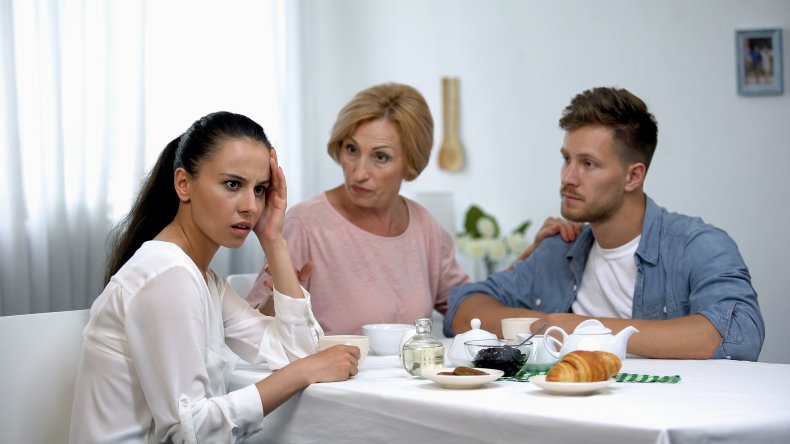 Relationships with mother-in-laws are seemingly some of the trickiest, and often the butt of jokes in pop culture—cue montages of movies like Meet the Fockers and Monster-in-Law.
A survey from home service network Porch found that despite 47 percent of in-laws saying they get along "extremely well" with their children's partners, only 27 percent of couples said the same.
70 percent of married couples even said that their relationship with their in-laws has caused strains on their marriage.
Parents-in-law were over twice as likely as their son or daughter-in-law to want less distance between them, and just one percent wished they lived further away.
With this in mind, it's not surprising that the majority of replies to the daughter-in-law's issue were completely understanding, and often shocked she'd managed to last this long.
"I would have moved," wrote one user bluntly.
"I'm a mother-in-law and there is absolutely no way i'd do this to my daughter-in-law. Your husband needs to have a word with her, this is ridiculous. You are a saint," commented another.
As for suggested solutions, some frankly recommended she simply ask her to stop coming around so often, while others offered more thought-out plans to avoid offense.
"I'd choose a defined evening or two every week and stick to that. Awkward conversation coming up between your husband and his mum," noted one response.
"Start inviting friends around for pizza after dance, having karaoke, playing board games, do not consider her in your day to day life. God even only cook you know she hates every single day," recommended another.
While many felt it was the responsibility of the husband: "Send your husband round to hers instead- they can have dinner together etc and you get to slob out with the kids! He'll soon get bored and have the awkward conversation with her."
The frustrated daughter-in-low updated that she spoke to her husband after the encouragement online, who vowed to talk to his mom after not realizing how much it affected her.
"I'm not his mother's evening entertainment," she concluded.