Woman Finds Cleaner Leaves Early on Ring Doorbell, Asks Internet for Advice
A homeowner shared her awkward, yet seemingly common, dilemma online after finding herself unsure how to approach a cleaner who left the job early.
Taking to popular forum Mumsnet, the anonymous homeowner shared her situation, explaining that she hires a cleaner for two hours a week, which is the minimum hours available.
"However i've noticed over the months that she leaves early," she wrote. "At first it was only 10 minutes or so and I didn't care, but it's built up and built up so that today she arrived at 2pm and left at 3pm."
The homeowner added that she often leaves the house while the cleaner visits, so as not to get in her way, but she is able to see when she arrives and leaves through the Ring doorbell.
"I'm torn about whether to say anything, because it's half the time I pay for, but she is a good cleaner, provides all the equipment and is happy to let herself in with the key, and i feel trusting of her having a key," she wrote, before asking if she was being unreasonable to say something. The post garnered 160 comments at time of writing.
"Should I say anything?" she asked. "Or just accept that she can clean the house in half the time I pay for?"
Over the pandemic, with the introduction of social distancing, the working hours of cleaners have become uncertain, with over 90 percent of domestic workers losing jobs due to COVID-19, according to the National Domestic Workers Alliance. In late March 2020, two in three respondents did not know if their employers would give them their jobs back after the pandemic.
The internet responded with a primarily unanimous response to the homeowner's dilemma—she was not being unreasonable. Many rushed to agree that she should speak to the cleaner about the situation, while others suggested less obvious tactics to keep her working the full two hours.
"I would increase the amount of work you need doing and if she comments sweetly 'well I noticed you were only needing an hour to do everything,'" suggested one user.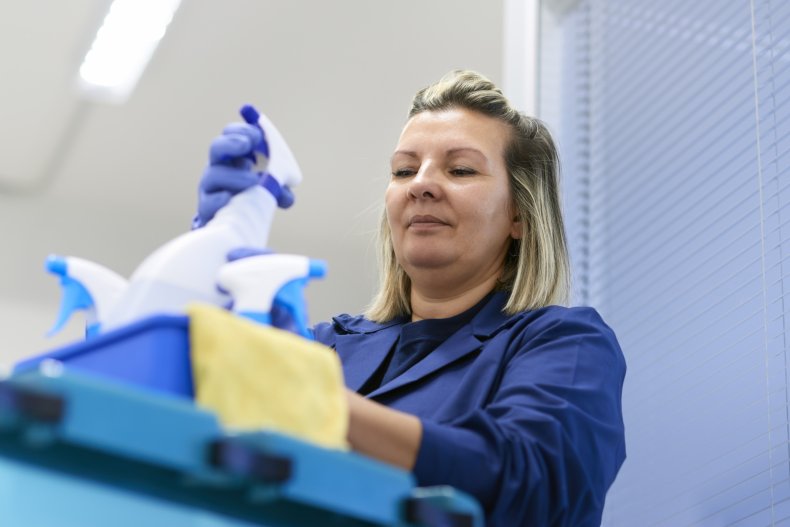 Another added: "You should DEFINITELY say something! You're the paying customer and you've paid for 2 hours. She clearly thinks you don't know she's leaving early."
The user went on to suggest she text saying: "Hi cleaner, my ring doorbell alerted me today that you come at 2pm but left at 3pm. My understanding is I get 2hrs of cleaning for £X. Please can you confirm, and if so, can we arrange for you to make up the time next time? Many thanks."
"But for me this is a red flag and I'd look for someone else. I wouldn't trust her given she said nothing to you," they added.
Others took far less subtle approaches, with one user advising that: "It's absolutely dishonest and off putting. Giving her a list of extra jobs is such an English, passive aggressive thing to do. Do what a PP suggested, say you noticed she left an hour early and can she make it up next time please.
"But btw exactly the same happened to a friend of mine and the cleaner responded very badly to it, tried to lie and then quit."
Despite being few and far between, some moms did agree with the cleaner, and felt it shouldn't be an issue if she completed all needed jobs during the one hour.
A former cleaner shared her thoughts, writing: "If her work is of a good standard and she manages to get everything done to your expected standards, then I fail to see why she should be penalised and paid less tbh [to be honest]. If in the second hour you have other tasks for her to do, then of course ask her and if she says she hasn't got time, this can then be when you need a serious chat.
"I left an employer who I worked really well for, who quibbled that I left 20 minutes early one week (I had done everything as expected) and didn't feel I deserved £20 [$26.50] and offered me £10 instead. £10 for dealing with her teenager's filthy bedroom and the family bathroom that was like something out of a horror movie before cleaning—told her to keep the money and never went back again."