Man Refusing To Marry Pregnant Partner To 'Protect' His Money Splits Views
A woman has asked Mumsnet for advice after revealing her partner doesn't want to get married in order "to protect his pension."
In the post, user iwasaprinceonce explained she felt her partner judges her for being married previously, and has expressed concerns that if they break up, "he loses half his pension and investments he has." The OP has her own frustrations with the relationship, explaining he is driven by money, "yet he will not apply himself or develop himself at work to earn a higher salary, for us as a family."
After recently finding out she is pregnant, the OP said she is concerned about their finances, and despite her partner having a good relationship with her children from a previous relationship, where the father is now deceased, she feels vulnerable. On explaining how she feels to her partner, he said, "why did you get pregnant then?" She she concluded that she is "struggling with my own needs and not wanting to let go of that but also wanting to keep the family we have built together."
According to the Pew Research Center, 90 percent of those who are married, and 73 percent of those living together, say love was the major factor in the decision. They found out that more practical reasons such as finances were more prevalent in the decision to co-habit than get married.
"About four-in-ten cohabiting adults say moving in with their partner made sense financially (38 percent) say this was a major reason why they decided to move in together) or that it was convenient (37 percent)" reported the Pew Research Center. "Far smaller shares of married adults say these were major factors in their decision to get married (13 percent and 10 percent, respectively)."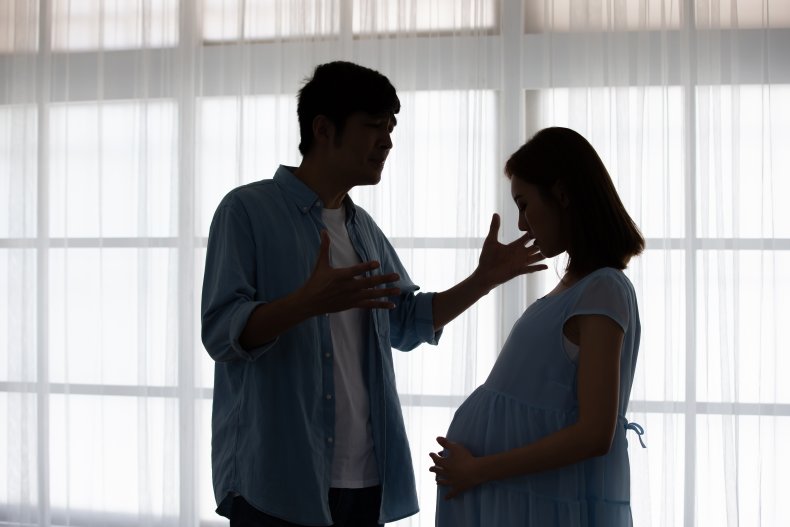 Newsweek spoke to Terri DiMatteo, a licensed counselor from Princeton, New Jersey, who specializes in relationships.
"The original poster here finds herself in a not uncommon situation, with each person desiring an opposing action. Couples that find themselves in these types of dilemmas can often feel lonely, misunderstood, vulnerable and unsupported.
"Instead of immediately focusing on the decision or the outcome, it's best if couples unpack and process each other's fears. For example, the woman seems aware of her partner's money fears. He stated them clearly. It would be wise if she could ask him more about his worries about money and the future. Likewise, it would be helpful if they could explore the vulnerability she feels being pregnant and unable to put her degree to work just now.
"By exploring their fears and vulnerabilities together, they can demonstrate compassion for each other's position. In addition, expressing empathy and reassurance can help open the dialogue for more meaningful problem-solving. So the first order of business is to connect, share, and support to feel more like a team. When a sense of togetherness develops, such challenges seem less frightening, and workable solutions begin to present themselves—but first, they must address each other's fears, concerns, and vulnerabilities."
Users on Mumsnet were split in their reactions.
BronnauMawrion said: "Such a massive red flag. He has shown his colours - his finances are more important to him than the mother of his child."
chopc disagreed, saying: "Sorry to be harsh - but why did you get pregnant without sorting this out? He has a valid point? Soon you will be a single mum of 3 and wondering how you can make ends meet."
Shinyandnew1 said: "When did you finish your degree? When did you find out you were pregnant? No way would I be having a baby and not working for 2-3 years if we weren't married!"
Newsweek was not able to verify the details of the case.
Have you noticed any red flags that made you end a relationship? Let us know via life@newsweek.com. We can ask experts for advice, and your story could be featured on Newsweek.