Internet Slams Man Who Called Off Wedding, Gave Date and Venue to His Kid
A former fiancee has sparked intense reaction online after alleging her ex-fiance gave their canceled wedding date and venue to his daughter, and alerted her in an email.
The woman shared her alleged situation in a popular post to forum Mumsnet. Explaining her story left the internet enraged at her former partner, who she claimed called off the wedding only to pass all the plans onto his engaged daughter.
In the post she wrote that she was due to marry her partner of six years in May, but his "continued reluctance to commit" led to it being called off, after he refused to move in together or merge their finances.
"I had my dress, the venue, the flowers, everything all booked but he was continually reluctant to buy his suit, arrange the notice of marriage etc and kept making excuses like 'i'll do it next week'," she wrote. "It feels like he wanted a wedding but not a marriage? Or was he planning on canceling it and lying to me about what he wanted from me."
After canceling the wedding, the mom-of-four claimed she received an email three weeks later, informing her he was now arranging for his daughter to use their wedding date, venue and flowers.
"I feel devastated and humiliated, I can't stop crying. I feel hurt and betrayed, lied to and used and unable to understand beyond belief how we can do this to me. His last sentence in his email reads 'at least something good will come out of all this.' I can't bear the thought of him using what would have been my wedding day to now celebrate this with his daughter and family. I'm hurting beyond repair," she wrote.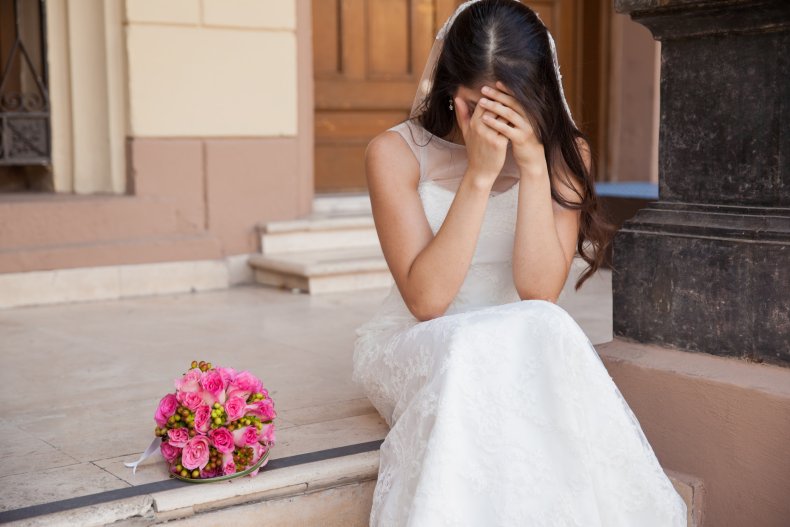 The anonymous woman's despair at her wedding plans being handed over should come as no surprise—the estimated time spent planning a wedding without a planner is between 200 and 300 hours.
Wedding planner Amy Nichols told Marthastewart.com that based on a typical engagement length of 10 to 18 months, to-wed couples will spend the equivalent of eight to 12 full days planning a wedding. In 2020, per Wedding Wire, the average cost of a wedding was $28,000 too, making the blow all the worse.
"He paid for the venue with my dad and I paid for all the deposits for vendors, probably to be in the region of £1,500. When it got canceled I called all the vendors to cancel only to find out he had phoned them after me, not to cancel but to use them for his daughter instead, same date, place, different couple," the Mumsnet poster added.
Respondents to the online post conveyed shock and anger at the woman's former fiance, with one user writing: "That's one of the worst things I've read on here. He doesn't think you are still together any more, does he? YOU don't think that either, right?"
"Block him and move on with your life, find someone who wants to marry you and gets excited at the thought of being your husband," suggested another. "He is not the guy for you as much as it hurts now."
One user suggested their perfect response to the news, advising the woman replies: "That's great. Can you refund the £1,500 to my account."
"If he sees it as not going to waste then you should be refunded. It also demonstrates he had no emotional attachment to any of it and you were right to leave him," they added.
"Let yourself grieve what you thought you had then be proud of yourself for not standing for it when it became clear he wasn't what he claimed to be."
Although few and far between, one user did balance the situation, seeing it from the potential view of the man. "Shame on him for allowing your own wedding plans to progress so far," they wrote.
"But I think it's reasonable not to want to enter into a marriage when both parties have children at home etc. I won't be joining my assets and finances with anyone with more children than me.
"Maybe he felt it was the best way to not lose the deposit costs etc? I very much hope he is repaying you for anything you paid for."
The anonymous woman concluded that she hasn't spoken to her former fiance since receiving the email and "don't intend to for the rest of my life."
If you have a similar family dilemma, let us know via life@newsweek.com. We can ask experts for advice, and your story could be featured on Newsweek.