Reason Mom Wants To Cut Off Sick Grandma Cheered: 'She Is Taunting Me'
The internet has backed a single mom who wants to cut off her relationship with her 84-year-old grandmother.
In a viral Mumsnet post, user TetherEndOfMy explained that her grandmother has two properties that will make $730,000 upon sale and over $240,000 just "lying around."
Meanwhile, the mom is "struggling" to make ends meet and has recently become "sick" of her grandmother speaking about her wealth all the time.
On February 8, she wrote: "I DO NOT expect her to give me money, I just hate the way she is so tone-deaf. She's completely switched on at 84 years old and seems to think I'm some poor hopeless person."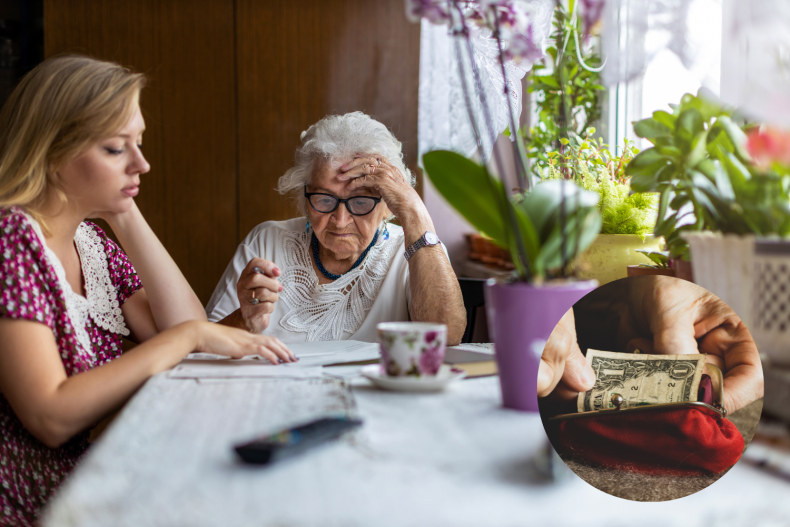 "I feel like she is taunting me," she wrote.
The Mumsnet user said her grandmother plans on donating most of her money to charity when she passes away.
In 2019, an American Association of Retired Persons (AARP) study revealed 94 percent of grandparents provide some sort of financial support to help ease the costs of raising kids. And 8 percent of grandparents provide a weekly, monthly, or yearly allowance for their grandchildren.
However, that isn't the case for this Mumsnet user whose grandmother doesn't believe in giving money away.
"She believes people should earn their money and not ask for 'handouts.' She's talked about her friends who have 'entitled grandchildren' asking them for money and has told me she's glad I'm not like this. I need to cut her off but the guilt of her being around the corner and not being particularly well always gets me," the user explained.
Newsweek reached out to Linda Whiteside, the lead clinical counselor of NuView Treatment Center in Los Angeles, who explained why some senior family members may come across as braggy.
She said: "The notion that some elderly members in the family can become braggy as they become older is mostly because of them trying to compensate for their aging.
"Aging can be distressing to some and the most prevalent coping mechanism would be denial, which can manifest in the form of being braggy about material things since they don't have their youth anymore. The aging population often struggles with feeling detached from their younger family members due to the age gap and physical changes leading to poor self-esteem manifesting in somewhat braggy attitudes."
Should Grandparents Financially Support Their Grandchildren?
Whiteside said: "Ideally if an elderly family member is comfortable and has extra resources to spare, I think it shouldn't be even a question to extend help to a struggling granddaughter. However, that is really up to the grandparents as they own the money and they have jurisdiction over what to do with it."
What Do the Comments Say?
Over 300 people have commented on the post with suggestions.
One said: "We'll just be honest. Say to her that if she keeps talking about money, you aren't going to be around as much. That while you are pleased for her, you are genuinely struggling and you need her's to be a pleasant place to be [and] not somewhere where you are always reminded of what you don't have. If you must, reassert you aren't asking for money, just some compassion in what she discusses. Then if she can't do it you've given her fair warning, no need to feel guilty, and back your step."
"Is she one of those truly bizarre people who will only help if you ask and is weirdly goading you into asking? Tell her straight she's in her 80s, she can handle it. 'Gran, you need to stop taunting me, yes money is really tight and I'm struggling. It's difficult to hear about how you're finding being wealthy. I don't want money to come between us' type chat. No doubt someone will point out that a loss of appropriate boundaries in conversation can be a sign of dementia, but that probably isn't relevant!" said another person.
Another person said: "This is awful. If I was that wealthy I don't think I could live with myself if a family member that I see often and helps me out was struggling. I'd just give you money. I do think you need to step back, she can clearly afford a carer or PA to do her shopping. Hope you're OK OP."
Newsweek was not able to verify the details of the case.
If you have a family dilemma, let us know via life@newsweek.com. We can ask experts for advice, and your story could be featured on Newsweek.