Internet Backs Woman After 'Cruel' Fiancé Tells Her Real Reason for Proposing
A wife-to-be has gained attention online after sharing that her fiancé admitted he only proposed to "shut me up."
After appearing to not be excited about the wedding, he went on to suggest they postpone it indefinitely and have a "long engagement" instead.
The woman took to popular forum Mumsnet to get advice on her dilemma, confessing that the argument has left her with doubts about his reasons for proposing.
"[My fiancé and I got engaged last summer after being together for seven years. Booked a wedding venue in autumn for autumn 2022. We had different ideas about the wedding, he wanted something bigger and I wanted something smaller and we compromised on something in between," she explained in a post.
The fiancée added that she goes through stages of excitement for the grand wedding and other stages of simply wishing to elope "and be married," due to the marriage being her real reason for excitement.
After family issues left the couple fretting about how it will affect their wedding day, and causing sadness for the woman, her groom-to-be asked how they could make it better. She first admitted there wasn't much to be changed as they had already planned and booked too much of it.
"I then said he didn't seem very excited about the wedding either, and he agreed," she wrote. "I asked him what he would change if we didn't have any deposits paid and he said he would cancel what we had booked and just have a long engagement and not think about a wedding until we both had a special day planned.
"I said I'd do the opposite—I'd just get married in a registry office asap and start married life. He told me he didn't want to waste our wedding day on a s**t wedding and why would I want to do that.
"He suddenly started being really cold and nasty, and told me he only proposed to shut me up because I kept nagging him, he's sick of trying to make me happy and I have an empty, bottomless void inside me that means I'll always be miserable. He was so unpleasant."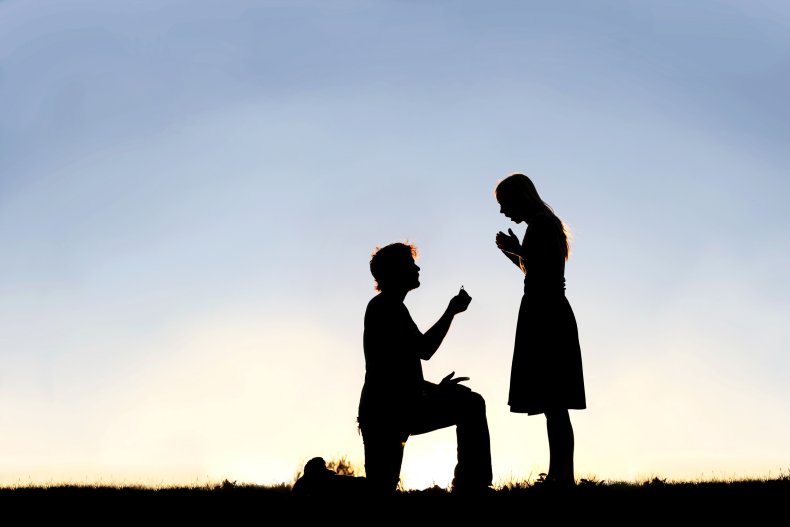 After the argument came to an end, the woman explained he claimed that he had only said such things "to be mean" after feeling like she approached the conversation with the intention to "railroad" him into a wedding without his family.
"He didn't apologize once for being deliberately cruel, even after he admitted it. Even when I asked him to," she said in a further comment.
The groom-to-be's thoughts towards a wedding are hardly rare. According to wedding website creator ZankYou, a survey which asked 1,000 married men about what made them propose found that 55 percent ended up proposing after their partner dropped hints about wanting to marry.
Just under a third, 30 percent, proposed after pressure to get married from their parents or in-laws.
For the users of Mumsnet, however, they rushed to defend the wife-to-be, flat out suggesting her fiancé doesn't want to get married.
"He's telling you he doesn't want to get married. In a pretty unkind way too," commented one user.
"He doesn't want to get married," another wrote frankly.
Others simply suggested the pair postpone the wedding, in a bid to assess if it's truly the right thing for both of them.
"Put it on hold while you evaluate. You haven't booked anywhere yet surely?" suggested one user. "Needs another chat though, this needs [to be] ironed out."
"Jesus, nice way of him to try to sort an altercation. Honestly, if you think your lives are entwined now, just wait until you need to disentangle your lives once you have children and mutual assets," recommended another.
"If I were you, I would stop planning for a couple of months and see if after two months you are still keen to get married. At the end of the day, it's not unusual for couples who have been together for a good number of years to split up the year after they marry."
In one harsh approach, others suggested she leave him while she still can. "Don't waste another seven years of your life on this man. Don't even waste another seven days. Break it off and get him to move out," wrote one.