Munich to Continue Ban of Stumbling Stone Holocaust Memorials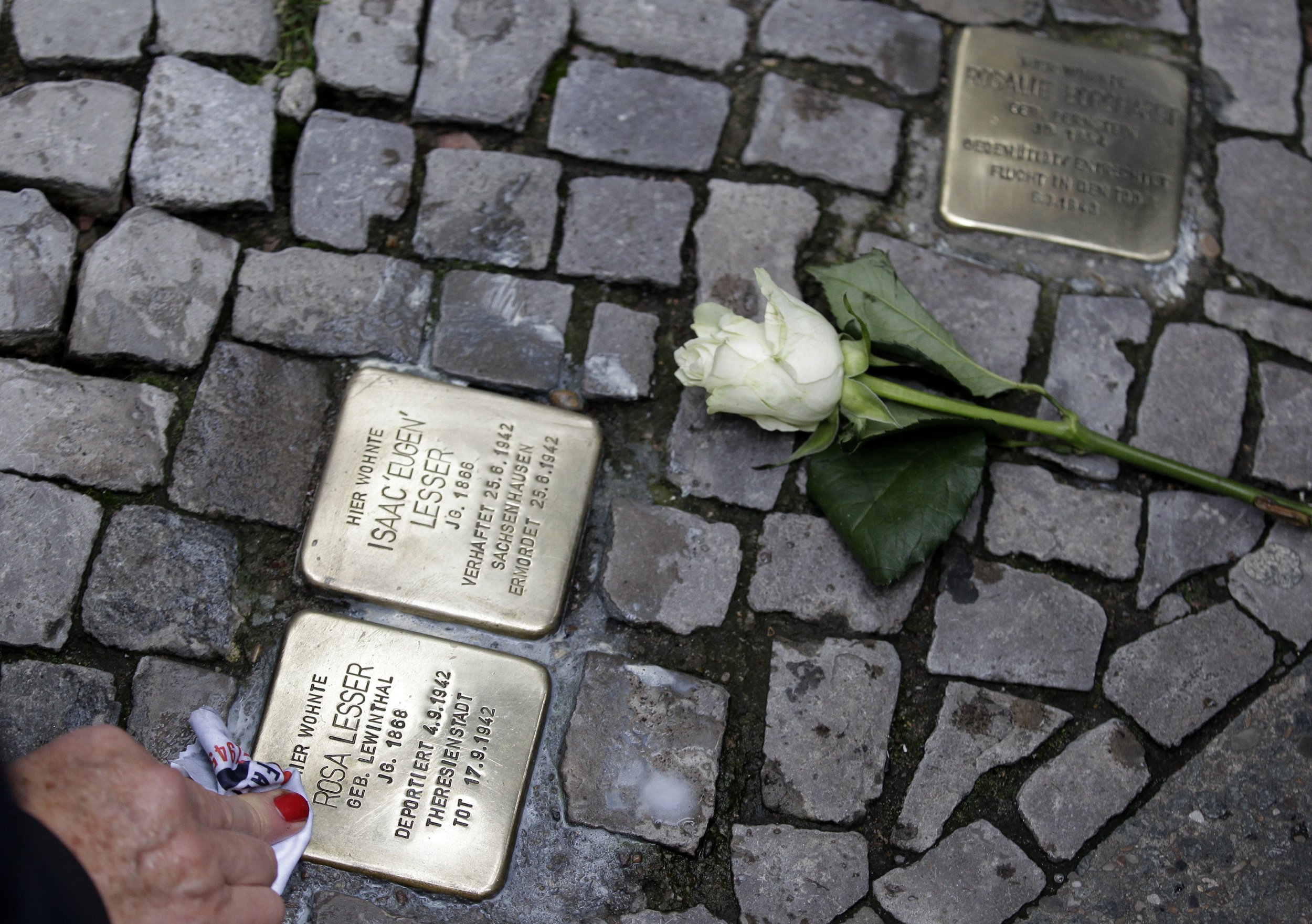 Munich's city council voted Wednesday to uphold a ban on the placement of plaque-topped cobblestones that for years have served as memorials to Holocaust victims in towns throughout Germany.
First instituted in 2004, the ban on the Stolpersteine, or stumbling stones, does not allow the small memorials to be embedded in Munich streets as they are in hundreds of places across Germany and more than a dozen other European countries, including Poland, Austria, France, the Netherlands and Ukraine.
The ongoing project is the brainchild of German artist Gunter Demnig, who has been installing the stones since 1997, according to his website. Quoting the Talmud, a Jewish text of rabbinical teachings, the home page of Demnig's website reads, "A person is only forgotten when his or her name is forgotten."
Each commemorative stone is placed at the "last address of choice" of victims of the Nazi regime and begins: "Here lived…" It gives the name of the victims, date of birth and information about what happened to them. For example, it might indicate the date they were deported, which concentration camp they were taken to, and when or where they died, if such details are known. The number of Stolpersteine installed throughout Europe reached 50,000 in January, just ahead of the 70th anniversary of the liberation of Auschwitz, Agence-France Press reported, and Demnig continues to install several stones each month.
Munich implemented its ban on the stones 11 years ago after Charlotte Knobloch, leader of the city's Jewish community and former president of the Central Council of Jews in Germany, said they were not respectful of the victims they intend to honor. Knobloch, who survived Nazi persecution during World War II by hiding with a Catholic family, explained her stance in a statement to the AFP in January. "People murdered in the Holocaust deserve better than a plaque in the dust, street dirt and even worse filth," she said.
At the time of Knobloch's statement, lobbyists believed they had garnered the necessary support in the city council to overturn the ban. The city's new mayor, Dieter Reiter, elected in March 2014, has supported the Stolpersteine project, as has German Chancellor Angela Merkel and the Yad Vashem memorial in Israel.
Terry Swartzberg, an American Jew who has been living in Munich for over 30 years and has headed the Stolpersteine Initiative for Munich to get the stones installed in the city since 2011, started a Change.org petition in February to lobby Munich's city council to lift the ban. Titled "End the Shameful Ban on Stolpersteine in Munich!" it has garnered nearly 100,000 signatures. "My plea: help us realize the heartfelt wish of the families of the victims of the Shoah: Stolpersteine for their murdered relatives in Munich," writes Swartzberg in the petition's description.
Nevertheless, the ban on stumbling stones was upheld Wednesday, with the city saying it would allow plaques on walls of houses where victims had once resided instead of setting Stolpersteine underfoot. The city is also reportedly working on plans for a central memorial listing the city's Holocaust victims.
Ernst Grube, a Munich native and Holocaust survivor roughly the same age as Knobloch, supports bringing Demnig's project to Munich. "I am 82; Frau Knobloch is 82. I was persecuted as a child; Frau Knobloch was persecuted as a child," Grube told AFP in January. "Why does her experience count more than mine?" Now 83, Grube survived the Theresienstadt concentration camp, while several of his family members perished in gas chambers. Grube still believes the decision will eventually be overturned. "Justice will prevail," he said. "Many of us will, sadly, no longer live to see the day."
"This fight isn't going away," Swartzberg told i24news in June, saying that putting plaques on buildings is a more costly and complicated alternative that "will never work." "We won't give up, and if they won't approve it this time, we will push for a referendum. Munich is going to see another 10 years of controversy."