Netflix's Munich—The Edge of War recounts an important part of history that is often misinterpreted. At least, with the benefit of hindsight it is.
The film, which is out on the streaming platform now, is based on Robert Harris' book "Munich," a meticulously researched spy thriller that is a historical fiction novel based on hard truths.
It is set in the lead-up to the Munich Agreement of 1938, as Adolf Hitler prepared to invade what was then known as Czechoslovakia. Neville Chamberlain (Jeremy Irons) sought a peaceful resolution and so the settlement—which was reached by leaders of Great Britain, Germany, France and Italy—was designed to allow for the annexation of the Sudetenland region to the Nazi State.
The World War II drama follows a British civil servant named Hugh Legat (George MacKay) and a German diplomat called Paul von Hartman (Jannis Niewöhner), as they try and find a way to get covert information to the Prime Minister before it's too late.
Harris and the film's director Christian Schwochow spoke with Newsweek about the Netflix production, the true story behind the tale, and how Jeremy Irons came on board.
On Presenting a Positive Portrayal of Neville Chamberlain
During his tenure as UK Prime Minister, Chamberlain was a staunch believer in finding a peaceful solution by using a policy of appeasement, which is something that was applauded at the time but later saw him draw criticism for placating Hitler rather than go to war against Nazi Germany.
Harris was keen to change this negative view of the politician through his novel, and by association its on-screen adaptation. He said: "It tells the story of an episode in our history that is, I think, misinterpreted and I think that Chamberlain... I mean, obviously, appeasement policy failed, but it was a kind of brave effort.
"It did make the platform for us eventually to win the war, not only buying the time for us to re-arm, [with] Spitfires and so on, but also to give us the kind of moral authority to know that this was a war worth going on with—which is one of the reasons why we didn't make peace in 1940, actually, because just by that time, we knew for sure that it was word couldn't be trusted. And that was the that was the value of Munich."
Schwochow added: "Robert Harris, who wrote the novel, wanted to put a spotlight on Chamberlain. I have to say, as a German, I'm not very familiar with Chamberlain, but I found his character very interesting in a way that he always wants to believe in peace, and always try to get involved [and] stand up against Hitler, through politics.
"And it's, I mean, it's a question that I'm asking myself every day in a world where more and more dictators are coming into power. 'How should we deal with them?' I can't give an answer, but I at least find it important that we raise this question again, and again, and again. That's why I was so interested in making the film."
Reflecting on how he came to create the story around this idea, which focuses more on Legat and Hartman than it does the political leader, he went on: "It's hard to write a novel from the point of view of Chamberlain alone, and I always had the idea of writing about a private secretary who flew on the plane.
"I had the idea 30-odd years ago [but] I could never really see a novel in it. And then I thought, what if he had a friend at Oxford, and their paths split and then come together at Munich? So that's the German character who we meet at Oxford, he travels on Hitler's train at the same time as [Legat] travels on Chamberlain's plane, and once I had that idea in my head, that novel came very quickly."
The author admitted that he chose to "give the book over" to Schwochow and Ben Power, who adapted the script, rather than have a hand in how the novel was presented on the big screen.
"I sort of gave the book over. I mean, obviously, I talked to the director and the writer but, you know, I think COVID made it quite difficult," he explained. "I wasn't able to go to the set. But I'm pleased with that they've done and a lot of the lines and scenes in the book have made it through, so I'm happy."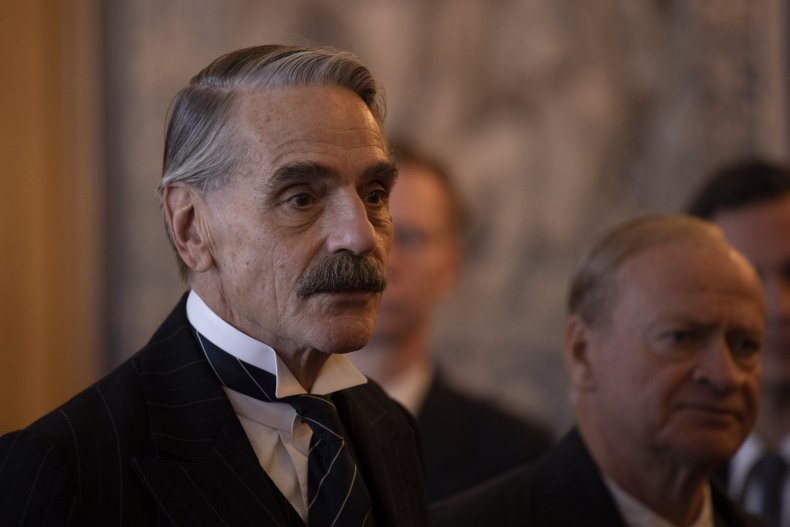 Getting Jeremy Irons on board
When the book was set to be adapted by Netflix, Harris was the one who ensured that Irons came on board as Chamberlain.
The Academy Award-winner was attached to the project very early on thanks to the author, who said of the cast: "I'm thrilled with the people they've got, I think it's very well acted, but it was Jeremy that I was instrumental in getting.
"I mean interesting him in it, sending him the novel when it came out, and he's been really attached to the project for several years."
Schwochow, meanwhile, was keen to bring in fellow German Niewöhner as the second lead opposite George MacKay: "My first constant idea was the need for Jannis as Paul, because I had, I had met him on my other film Je Suis Karl.
"Jeremy is a friend of Robert Harris and he was always interested in playing Chamberlain, and we met during the Berlin Film Festival last year for a coffee and talked about the film and the role, but we didn't have a script yet.
"But Jeremy and Jannis got on board very early and then we just tried to find the best person for each role, and we were very lucky because we were shooting in the middle of the pandemic, so many people were available to us."
Reflecting on what it was like to film amid the COVID-19 crisis, he went on: "In Germany I have this amazing [network] of stars... and some of them came for only two or three days, so I'm really happy about the magic that happens between the two countries.
"I remember the first regional table read, all the British actors, including Jeremy and George, came over to meet in a large room to read, and it was fascinating how much they all enjoyed working with each other, and it stayed until the end. So, I'm really proud of this cast."
Munich—The Edge of War is available to watch on Netflix now.