Muppets Movie: Whoopi Goldberg on Loving Kermit and Miss Piggy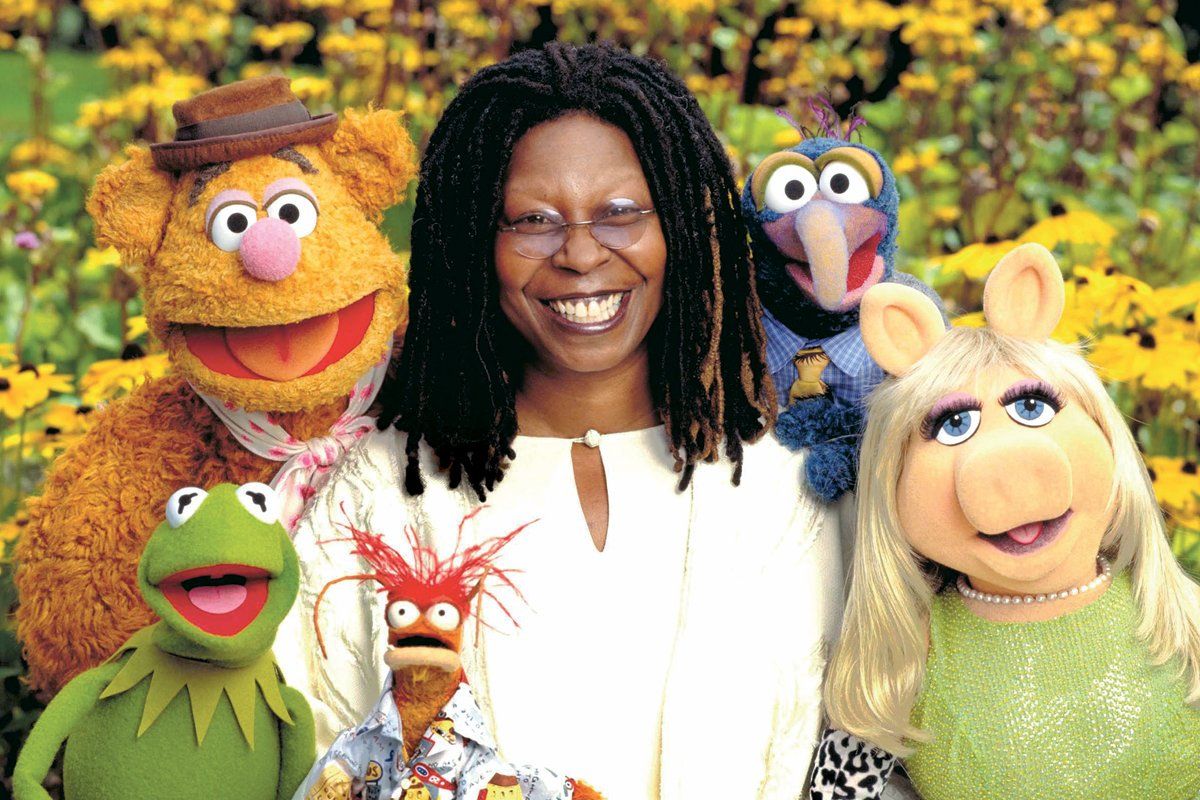 There's nothing like seeing the Muppets in real life, because you're stunned. You're stunned by their simplicity. Yes, it's just a rag with some eyes, but I don't know anybody who doesn't just go with it and fully believe they have all the attributes that you think they have.
Any time the Muppets are working, I always tell the puppeteers I want to come and play. I did that recently for the new Muppets film, starring Jason Segel. I have a small cameo in a scene where the Muppets are trying to raise money at the telethon, which will determine if they are able to keep their studio.
I did The Muppet Show once, where Miss Piggy and I sang "Diamonds Are a Girl's Best Friend." Harry Winston loaned us something like $900 million in diamonds to do the number. It's funny singing with them, because they always sound better than you. Piggy can really wail. I also once did a voice-over on Muppet Babies, and I played a cabdriver who sang in one of the movies. I don't understand why they haven't brought back The Muppet Show. I think it's such a disservice, and I've said that to the folks at ABC. They look at me like I'm crazy.
When I was doing It's a Very Merry Muppet Christmas Movie, I felt a special connection to Pepe the King Prawn. To me he's a shrimp, but he calls himself a prawn. I love his lips. Pepe and I fell deeply and madly in love, and then he had to go home with the man who operates him, because he's a Muppet, and he lives in Muppetland. When you're with them, your relationship is as strong to them as it is to human beings. You don't see the Muppeteer. It's like when kids are relating to Elmo. Kevin Clash, the man who does his voice, is there, but the kids only see Elmo.
The Muppets have always been in my life. The first Muppet I ever saw was Rowlf the Dog, who was on The Jimmy Dean Show in the 1960s, as the piano player. Then when I was 17 or 18, I baby-sat a little girl who was an actress on Sesame Street. One who I really want to work with is Sweetums. There's just something good about him. He's this big old thing, and you know he's going to look after you. On set, Miss Piggy can be quite the diva. She's very piggy. Kermit kicks back a lot. He and I once went over and hung out and fished in the swamp. I caught some flies and bugs for him, and he was really appreciative.
My fan base has always been from birth to death, but I think kids are cool with me because they know that I know Elmo and that I know the Muppets. When my granddaughter first saw The Lion King, where I voiced one of the hyenas, I could feel a shift in her body. She tensed up and turned around and said, "You're not really nice in this, Granny! You're messing with Simba." She was pissed, as little kids can get.
But the Muppets are something else. When you act with them, you are right there with them. When you're sitting around, in between shots, sometimes you make bad jokes. You're really not supposed to, but you can't help it, you do. It's not something you want other people to see or hear, because you never want to be disrespectful to the Muppets. For me, I knew that I had made it in my career when I was in Mad magazine and I got to play with the Muppets. Those are the two things that really mattered. Yes, it's brilliant to have an Oscar, but if you get to play with the Muppets as much as I have, that's an amazing thing.
As told to Ramin Setoodeh.