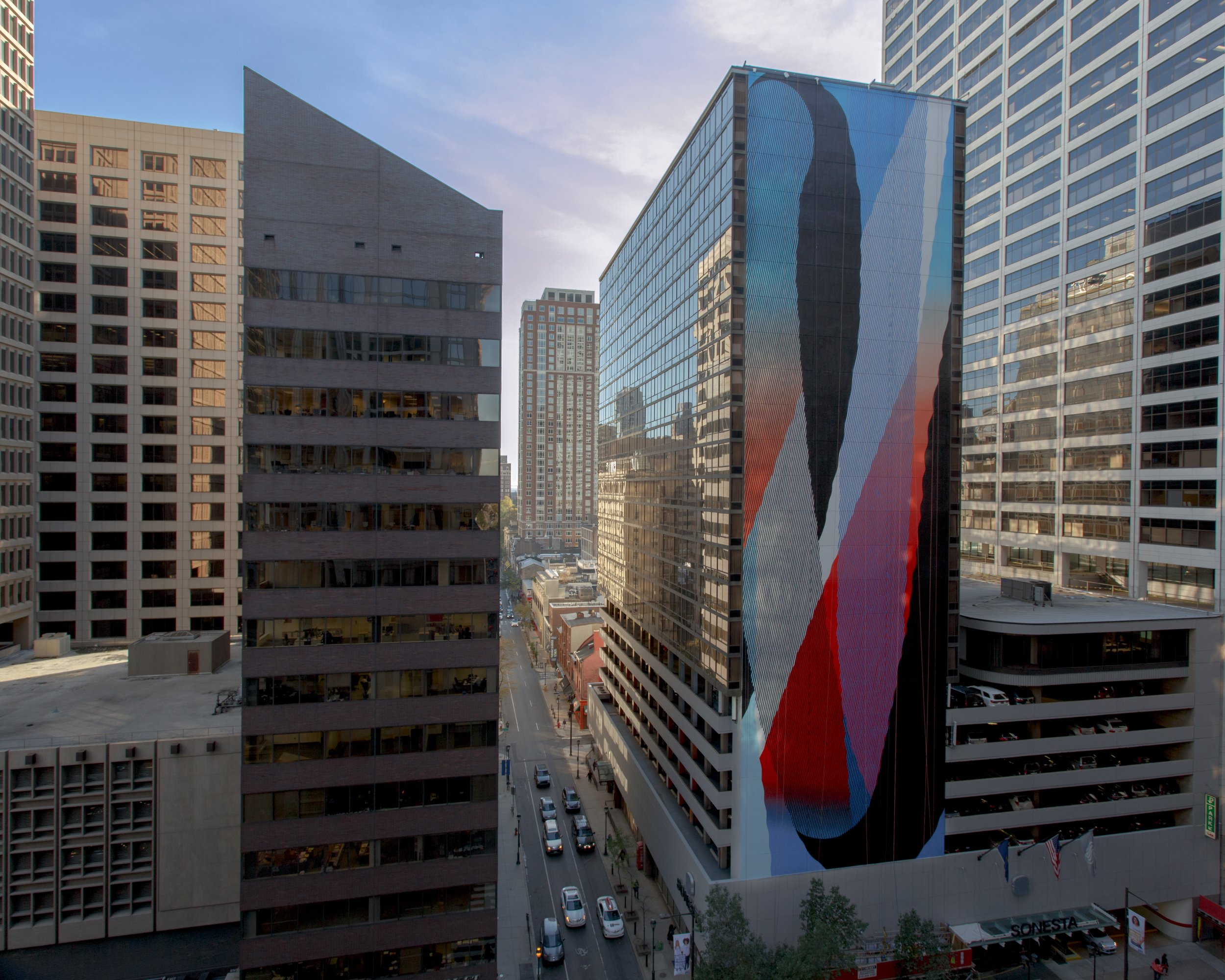 As rush-hour traffic presses through the intersection of 18th and Market in Philadelphia, the street artist MOMO peers over the side of scaffolding, several stories up. It looks like a construction site, but a banner on the scaffolding, along a windowless facade of a Sonesta hotel, says Mural Arts. Wearing a neon orange hat and a harness over his paint-covered clothing, MOMO slides down a metal ladder. At street level, he meets the project manager, who is dropping off some paint. They can only afford a few seconds together, as her car is holding up traffic.
MOMO will add that paint to a 22-story mural he's creating for "Open Source," a monthlong outdoor exhibition organized by the City of Philadelphia Mural Arts Program. The mural will be the largest MOMO has ever completed and the tallest Mural Arts has overseen since its roots started, back in 1984. The public-private Mural Arts has grown from a humble city initiative to a Philadelphia mainstay, with some 2,000 works currently on view and people calling in from around the world to learn how to run similar programs.
For "Open Source," curator Pedro Alonzo invited 14 artists to create projects around the city throughout October. "It's muralism in the 21st century," says Jane Golden, founder and executive director of Mural Arts. "We come out of this wonderful tradition," she says, citing the historic Works Progress Administration murals, "but if you're doing the same thing, you're doing the same thing. It's like standing still. And so we've got to be constantly inventive and creative and make sure the work is impactful, and 'Open Source' is a natural extension of that."
This exhibition, she adds, is "like a B-12 shot. It's catapulting us into the next five years."
The city hired Golden to run its Anti-Graffiti Network decades ago, at a time when graffiti plagued the city. That effort proved successful and was transformed into Mural Arts in 1996. Mural Arts has since overseen 4,000 art works—not just murals but also sculptures, vinyl-wrapped city recycling trucks and other projects. These days, it seems impossible to go more than a few blocks without spotting a mural. Some of them feature hometown heroes such as Patti LaBelle or the Roots, but one need not be famous to inspire a depiction; an enormous "Open Source" mural in City Center by JR features a food cart vendor named Ibrahim who works several stories below.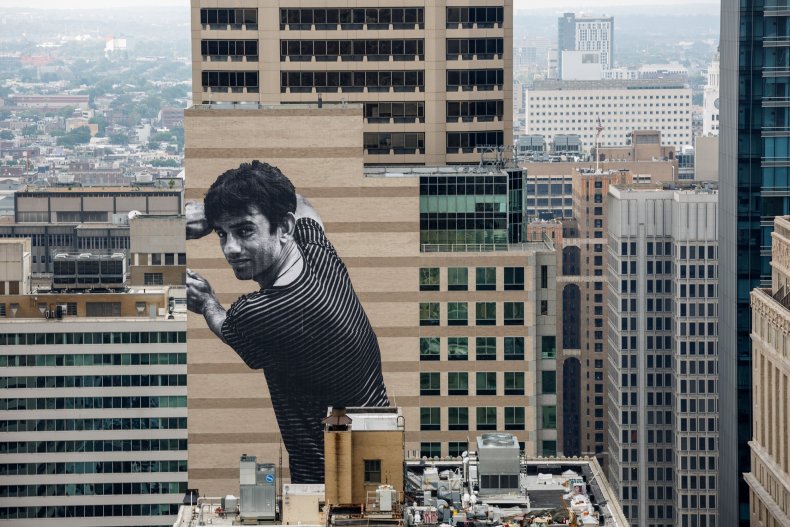 Cities around the world are gaining attention for their mural scenes, which Golden says is a fairly new phenomenon and tied to increased urbanization. "There's something going on the last few years where cities are embracing this," she says. "As part of cities redefining themselves, art is part of that redefinition."
That nonprofits, nongovernmental organizations and city officials from more than 20 cities have reached out to Mural Arts for collaborations, or advice on starting similar initiatives, means the program stands out in the global mural phenomenon. That's probably because in addition to putting up good art, Mural Arts focuses on community engagement and social justice. Its programs include services for people in the nearby State Correctional Institution at Graterford and a partnership with the city's Department of Behavioral Health and Intellectual disAbility Services.
For "Open Source," artists have led Mural Arts programs in addition to contributing artwork. Brooklyn, New York-based artist Swoon helped run an art therapy and restorative justice program, and that inspired Five Stories, her project for the exhibition. In the emerging Brewerytown section of Philadelphia, across from a vacant lot strewn with loose bricks and trash, Swoon attached linoleum block prints to the facade of a church-turned-co-working space. Five Stories features portraits of people she worked with in her programs, including a woman who Swoon says had emotionally induced epilepsy and a man who at 17 was sentenced to life in prison without parole.
"Everybody who walks by and drives by is so awesome and enthusiastic," Swoon says while picking paint from her Ray-Ban sunglasses. "We're getting so much sweetness and love."
Though Swoon has exhibited her work in more traditional spaces, such as the Brooklyn Museum, she says there is value to outdoor work. "There's something about being able to share really meaningful and well-made artwork in places that are not a museum context, because there's so many people who not only don't have time in the day to go to a museum but don't feel welcome [there]," she says. "I've always felt pretty passionate about making things in spaces where people were just going to stumble upon them."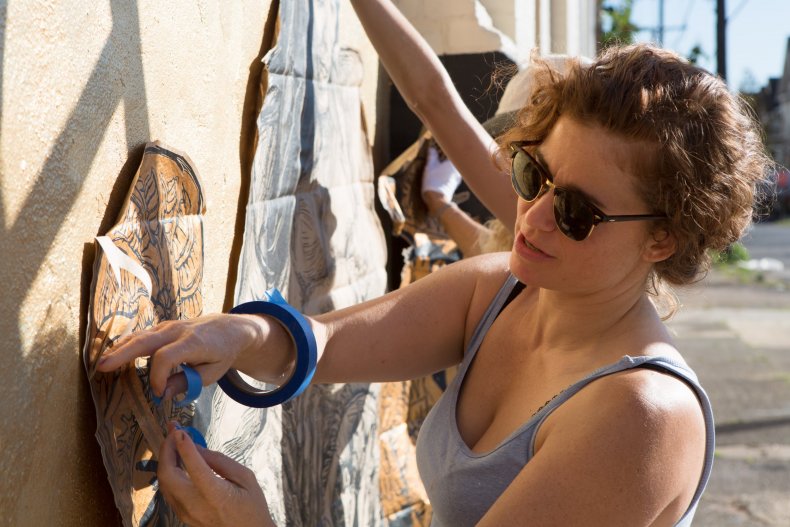 MOMO, who describes his 13,200-square-foot untitled "Open Source" mural as depicting "orchestrated elements of line and color and rhythm," led an arts education program through Mural Arts. This past summer, he taught practical geometry, which he uses in his work, to high school students.
Jesse Krimes, 32, is a Mural Arts success story. He made and taught art while incarcerated for almost six years. Shortly before his release, he met a Mural Arts representative who was touring the prison, and that person told him to contact her when he got out. "The minute I hit the halfway house, I went right down to Mural Arts, and the next day I had a job," he says. "In the environment I was in before, you basically have no voice, you have no value, everything is pretty much stripped away from you. This is the complete opposite of that. Now I'm in a position where I have a voice and can be expressive, and I have a community of people who care about me and support me."
The setbacks have been few. Only a handful of murals have ever been defaced, Golden says, but last month an under-construction restaurant where a mural was underway burned down in what police believe was an arson attack.
"It's not for the faint of heart," Golden says of her job. "It's a long game…. Art, community and government: Those things do not always rest easily with each other."
Still, one indication that the city has embraced its murals is that a developer, Eric Blumenfeld, recently named his new condominium project Mural Lofts, after an older mural on the building's facade. "Philadelphia is a tremendous city, and in part it's because we have a great attention to the arts," says Blumenfeld. "Mural Arts is probably the best organization of its kind in the whole world."
Mural Arts recently caught the attention of Pope Francis. During the pope's visit to Philadelphia in September, he signed a mural, The Sacred Now, that will feature him and several children. Around 2,700 people helped paint the panels that the artists are now affixing to the building, Mural Arts says. It will be unveiled next month on the side of a school.
Thousands of people have requested murals, according to Golden's estimate. "There's a clamoring for this work," she says.