A Murder Conspiracy Charge, Alleged Drug Ring, Sexual Harassment and Stalking: Command Crisis at California Marine Base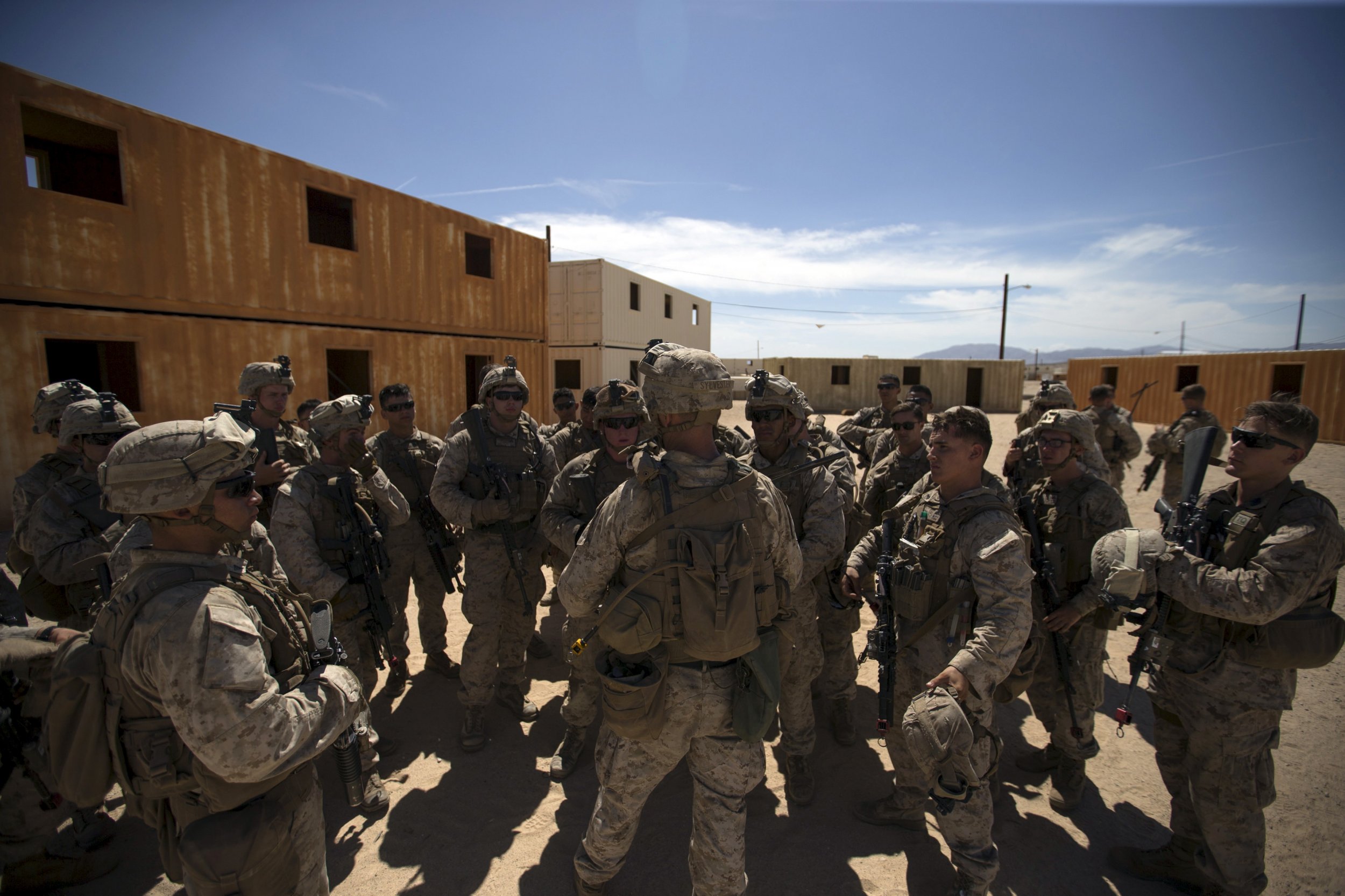 Conspiracy charges relating to a murder. A drug ring selling Sour Patch Kids candy laced with LSD and heroin. Male U.S. Marines stalking female Marines, some of whom say they feel unsafe in their own barracks rooms. Newsweek sources say the command climate at the U.S. Marine Corps base at Twentynine Palms, California, has become "completely toxic."
The Marine Corps Air Ground Combat Center is located within the Morongo Basin and valley region in eastern San Bernardino County and the high desert region of the Mojave Desert located in Southern California. The base is under the command of Brigadier General Roger Turner and Sergeant Major Stephen W. Muller.
Curtis Krueger, 30, was arrested Wednesday in connection with the death of a man whose body had been found in a shallow grave, the news site Patch first reported. Newsweek confirmed that Krueger is a Marine Corps communications officer assigned to Combat Logistics Battalion 7, a unit that falls under 1st Marine Logistics Group.
Marine 1st Lieutenant Adam Miller, a spokesman for 1st Marine Logistics Group, told Newsweek Thursday that Marine officials were notified by the Naval Criminal Investigative Service that a U.S. Marine had been arrested by the Murrieta Police Department near the Marine's home at Twentynine Palms.
"The Marine was arrested on charges of co-conspiracy in connection to a murder investigation," Miller said. "The investigation is ongoing and therefore there are no further details available that we can provide."
The Marine officer was arrested along with his wife, Ashlie Stapp, according to the Murrieta Police Department, which said the couple had been under investigation since June 2 when the body of Henry Stange, 54, was discovered in a "partially covered" grave in Joshua Tree National Park in California.
A law enforcement source told Newsweek that Krueger's government computer and military-issued e-tool, a foldable shovel used for digging combat fighting holes and filling sandbags for base reinforcement, was collected by law enforcement officials. Stange's body showed signs of blunt force trauma to his head.
The two suspects were taken to the Cois Byrd Detention Center in French Valley; bail was set at $1 million for each, county records show.
But an alleged murder hasn't been the only issue on the base. Marines who are students at the Marine Corps Communication-Electronics School have been allegedly involved in a drug ring involving close to 100 students. Military sources told Newsweek that a Marine used Venmo, the mobile payment service owned by PayPal, to exchange payments for Sour Patch Kids candy laced with LSD and heroin.
Newsweek reached out to the Marine Corps' Education and Training Command, but was told that because of the Labor Day holiday, they could not provide details until Tuesday. An inquiry sent to the public affairs office at Twentynine Palms was routed to Training and Education Command for comment.
Meanwhile, male U.S. Marines have continued to catcall female U.S. Marines during events like the annual physical fitness test and are using social media sites like Facebook and Instagram to harass and stalk their female colleagues.
"The next Marines United is at Twentynine Palms," one source told Newsweek on condition of anonymity due to fear of command retaliation, referring to the scandal about Marines sharing nude photos of their female colleagues.
"I don't know if this can be fixed."