The Murder of Jamal Khashoggi, One Year On: His Friends Discuss Saudi Prince MBS, the 'Tribal Tyrant'
One year on from the murder of dissident Saudi journalist Jamal Khashoggi, Crown Prince Mohammed bin Salman—widely believed to have given the order for the grisly assassination—is lamenting the crime that shocked the world.
This weekend, MBS—as he is colloquially known—appeared on CBS News' 60 Minutes, seeking once again to charm the Western world. "You cannot imagine the pain that we suffered," he told host Norah O'Donnell.
The young crown prince, who wields much of the power behind the throne of his elderly father, King Salman, needs a public relations win. Once feted by Western media as a progressive reformer, MBS has seen public opinion of him spiral in the year since Khashoggi's murder.
Saudi Arabia's bloody war in Yemen—begun by MBS as defense minister and continued as crown prince—has dragged on, creating one of the most significant humanitarian disasters of our time. His wider campaign against Iran has also faltered, with the point men in the anti-Tehran coalition hobbled by their own domestic travails and skeptical international partners.
Meanwhile, the international community is increasingly taking note of his suppression of domestic dissent and its accelerated brutality. MBS may have given women driving licenses, but he has also locked away and tortured some of the country's most prominent women's rights activists.
And above it all looms the murder of Khashoggi. The response of MBS and the Saudi government to the killing was farcical. Even President Donald Trump, who has been loyal to the Saudis to a fault, branded the response the "worst cover-up ever."
No members of the 15-man hit squad that asphyxiated and then dismembered Khashoggi in the Saudi Consulate in Istanbul have been convicted of their crimes, and the Saudis have still not revealed the whereabouts of Khashoggi's remains. MBS has promised that justice will be served, but the legal system in Saudi Arabia is merely an extension of the royal family, and its workings are deeply secretive.
And despite all the evidence of his intimate connection to the kill squad and its handler, MBS has continued to deny involvement.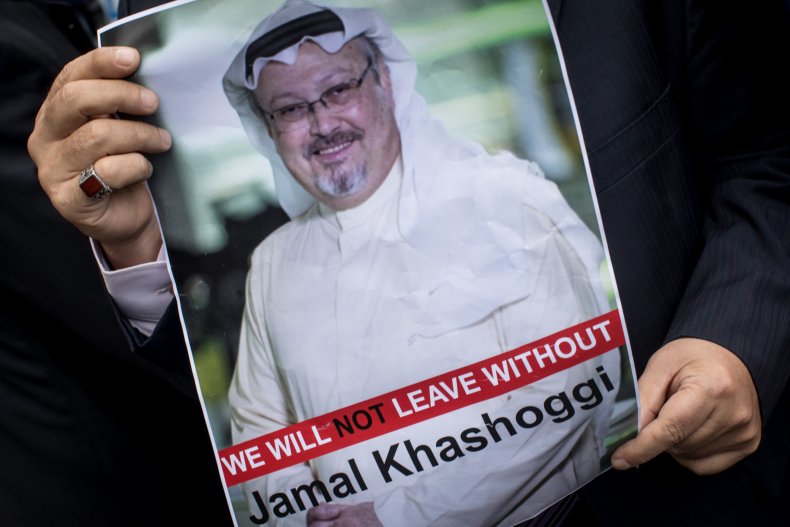 A 'Complete Sham'
Two of Khashoggi's friends and former colleagues spoke with Newsweek one year after his murder, decrying MBS' renewed efforts to conceal his responsibility for the crime.
Journalist, author and foreign policy analyst Rula Jebreal dismissed MBS' comments as "propaganda" designed to "whitewash the crime and rehabilitate himself."
In the immediate aftermath of Khashoggi's murder, the CIA concluded that the crown prince gave the order for the assassination. That finding was partially based on an intercepted message between the head of the kill team—named by the CIA as Maher Abdulaziz Mutreb—and top MBS aide Saud al-Qahtani. Mutreb said to "tell your boss" that the mission had been accomplished.
The CIA understood the "boss" to be MBS, a conclusion supported by at least 11 contacts between the crown prince and al-Qahtani in the hours before and after the assassination.
Earlier this year, The New York Times reported that other intercepted conversations between MBS and his top advisers showed the crown prince had long wanted Khashoggi either under his control or dead.
MBS told both al-Qahtani, among those the crown prince has since blamed for the "rogue operation," and another aide, Turki Aldakhil, that Khashoggi had grown too influential and must either return to Saudi Arabia and end his criticism or face "a bullet." Warned such a move could spark international uproar, MBS said he needn't worry about global opinion.
Despite this evidence and more, MBS has persisted with the feeble cover-up, Jebreal said. "He's trying again to use the media in a PR campaign exactly like he did in March 2018 when he came to America and tried to rebrand himself as a reformist," she argued.
Kuwaiti writer and activist Iyad el-Baghdadi also told Newsweek he "absolutely" does not believe MBS' "ridiculous" claims of innocence. Following Khashoggi's death, el-Baghdadi—living in exile in Norway—was warned that his life could also be in danger because of his public criticism of MBS and the Saudi government.
El-Baghdadi believes MBS is still protecting al-Qahtani, whose current whereabouts are unknown. There have been unconfirmed reports that al-Qahtani is dead, maybe even on the orders of MBS. These reports have, however, been denied by friends of al-Qahtani. "If he wants to show some kind of responsibility, he has to reveal what happened to Saud al-Qahtani," el-Baghdadi said.
Eleven people have been charged in connection with Khashoggi's murder. All are facing trial in Saudi Arabia's opaque Specialized Criminal Court, and five are facing the death penalty. But no information about the trials or the defendants has been released by the Saudi government.
The Saudi legal system does not operate independently, answering to MBS and the royal family. El-Baghdadi described the system as a "complete sham."
"It's all behind closed doors," Jebreal explained. "We don't know who these people are. We know that some of them already have been jailed, and many of them will die to cover up for MBS."
Jebreal pointed to Saudi Arabia's treatment of female activists as evidence of the justice system's corruption. "If anybody has faith in justice in Saudi Arabia, they need to look no further than the women's rights activists jailed without any charges brought against them, who have been tortured and sexually assaulted," she said. This, too, was overseen by al-Qahtani.
The secrecy of the process is another black mark against the crown prince's reputation. "If he's so confident about his own justice system, then why not open the trial to international observers?" el-Baghdadi asked.
Jebreal said that whatever is delivered "is not justice.... This is an abortion of justice. This just shows you that it's all a flat lie. It's all propaganda."
While MBS remains in power, "I don't think there will ever be justice in Saudi Arabia," she concluded.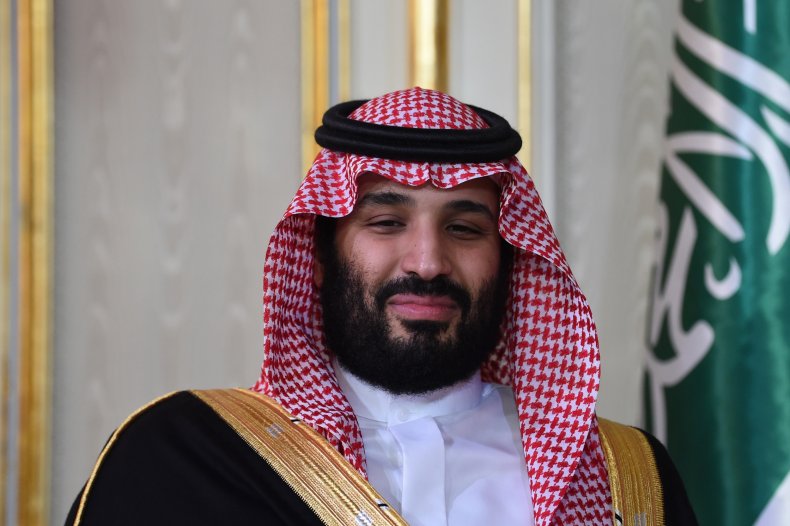 Killed in Service of the Truth
MBS told CBS News that the Khashoggi murder was "painful" for him and the Saudi government. But Jebreal and el-Baghdadi immediately dismissed the crown prince's lamentations.
"It just shows you how selfish and self-centered this person is," el-Baghdadi explained, pointing to all those in Saudi Arabia, Yemen and further afield who have suffered as a result of the crown prince's decisions. "All he cares about is how this has affected him."
Jebreal said MBS and his government were only "hurt because they were caught." Citing the intercepted communications showing MBS' indifference to international outcry, she asked, "Do you think the man that says this a year before, that arrests women's rights activists and hangs them from ceilings and tortures them really is hurt?"
Rather, it is MBS' ego that is driving his latest media outreach, Jebreal suggested. She recalled the last interview she conducted with Khashoggi, in which he told her that MBS wanted to be treated like a celebrity in the West but at home rule like his great-great grandfather—as a tribal leader.
"He wants the fruits of both worlds," Jebreal explained. "His image in the West has been hurt. This is what he was concerned about. He's not a celebrity anymore. That's why he's hurt. He's seen for what he is: a tribal, murderous tyrant."
MBS' debut in the West was largely a success for the crown prince. Many Western media outlets celebrated the young leader's apparent reformist tilt, much of the coverage overlooking his authoritarian and aggressive record at home.
MBS' star may have waned, but the international response to the Khashoggi murder was tepid. Western nations continue to support MBS' war in Yemen and foreign companies still invest billions in the kingdom.
For all the anger, el-Baghdadi said Khashoggi's friends and family "knew from the beginning that we're all alone." In a global system headed by the likes of Trump, he continued, he had "zero expectations."
"It will be nice if the world can show some moral spine, but we're not going to be waiting for it," el-Baghdadi said.
Jebreal said Khashoggi was one of the few prominent journalists who saw MBS for what he was, and that the initial Western treatment of MBS was "a disgrace."
She added that "Western media relinquished their responsibility to hold this murderous tyrant to account," leaving MBS feeling emboldened. "He thought he conned the people," she said.
"The U.S. media gave him a pass," Jebreal added, comparing the media's dereliction of duty to the jingoistic tone of the national press in the heady days leading up to the U.S.-led invasion of Iraq. "They treated him like a celebrity, like royalty," she recalled. "It took the life of one amazing man for them to wake up and see the real nature of this man."
The media, Jebreal said, had been blind. "For them, it was about access. It was not about the truth," she said. But for Khashoggi and others like him, "it was always about reporting the truth."
"And that's why Jamal was killed," she said. "He was a real guardian of the truth, killed in service of the truth to serve the public opinion."