Murder in Peru Leads to van der Sloot Arrest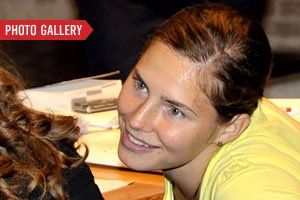 The final sunset of her life was a good one. Stephany Flores, 21 years old, spent Saturday afternoon at the Larcomar shopping mall in Lima, Peru, a shiny new complex built into the bluffs high above the Pacific Ocean. It is a place for seeing and being seen, and thousands of Limenos, as the residents of this capital city are called, shared it with her that afternoon. I was there myself, on May 30, watching a hazy red sun drop toward the ocean as rows of surfers rode the breaking waves far below.
At the mall, Stephanie ran into a couple of friends—the last acquaintances to see her alive. Cameras recorded her entry later that night to a local casino, called Atlantic City, where she joined a poker tournament. She played her cards opposite Joran van der Sloot, a 23-year-old Dutchman whom she didn't recognize, but whose face was already familiar to police in three countries. They left together around 4 a.m., heading to his room at the glass-fronted Hotel Tac nearby. Within hours she was dead, from blows to the head and body, van der Sloot had disappeared in her Jeep Cherokee, and an international manhunt was on.
Van der Sloot had experience evading the law. Although never charged, he had been a principal suspect in the vanishing of Natalee Holloway, an American student whose disappearance on the island of Aruba five years ago became a sensational and unsolved mystery. Now investigators in Aruba, the Netherlands, and the United States believe they know what happened to Holloway: in the new murder, which shows disturbing overlaps with the old case, van der Sloot may have tipped his hand.
The Dutchman evaded capture for four days, dumping the Jeep and crossing into Chile overland at the dusty border town of Tacna, before Chilean police officers spotted him Thursday in a taxi heading south toward the capital, Santiago. He faces extradition to Peru for the murder of Stephany Flores, and, as her father noted in a teary press conference after the arrest, the Dutchman will be sought "for the case in Aruba, and we don't know how many others. My daughter would be happy to know this murderer is going to be punished."
The two cases are linked by more than one man. In both incidents, the young women vanished after a casino visit in a nightlife district flooded with the young. Miraflores, the wealthy suburb of Lima where Stephany Flores died, is hardly Aruba, but the beachside area attracts a similar crowd of international visitors, often postcollegiate types studying Spanish and partying down before making the pilgrimage to Machu Picchu. Van der Sloot had been a top student on Aruba, with a scholarship to college in the U.S., but after being dogged by links to the disappearance of the teenage Holloway, he never graduated, and took to the road earlier this year, visiting Colombia and making his way down to Peru before the fateful encounter at the poker table. In both cases, the women were last seen in his company. And in what is either a very bald coincidence or a serial killer's self-indictment, both deaths occurred on May 30—exactly five years apart, to the day.
Van der Sloot was detained after Holloway's death, but the lack of evidence led to his eventual escape from charges. Even after a Dutch journalist with a hidden camera caught the young man confessing a role in the Holloway case, he evaded responsibility. This time, a trail of evidence, from the bloody hotel room to his videotaped departure alone in her car, links him to the Peruvian murder. Van der Sloot seemed to know this, smirking with a defiant grin at the scrum of cameras that followed him out of a Chilean police station after his arrest. Separately, federal authorities filed a criminal complaint Thursday alleging that van der Sloot had attempted to extort $250,000 in exchange for disclosing the location of Holloway's body. Prosecutors said in the complaint that a partial payment of $15,000 had been wired to a Netherlands bank.
Van der Sloot hasn't had a chance to enter a plea in the Flores murder, but Joe Tacopina, a New York lawyer who has previously represented him, told the Associated Press, "Joran van der Sloot has been falsely accused of murder once before. The fact is he wears a bull's-eye on his back now and he is a quote-unquote usual suspect when it comes to allegations of foul play."
Stephany's father, Ricardo Flores, is a well-known race-car driver in Peru, nicknamed "the Rifle" for his aggressive style. Fighting back tears as he spoke to reporters in the Peruvian capital, he reached out to Holloway's family in Alabama, noting that with van der Sloot in jail, "every parent in the world can rest easy." That won't be true for one family in Peru.