The Murder Trial of Oscar Pistorius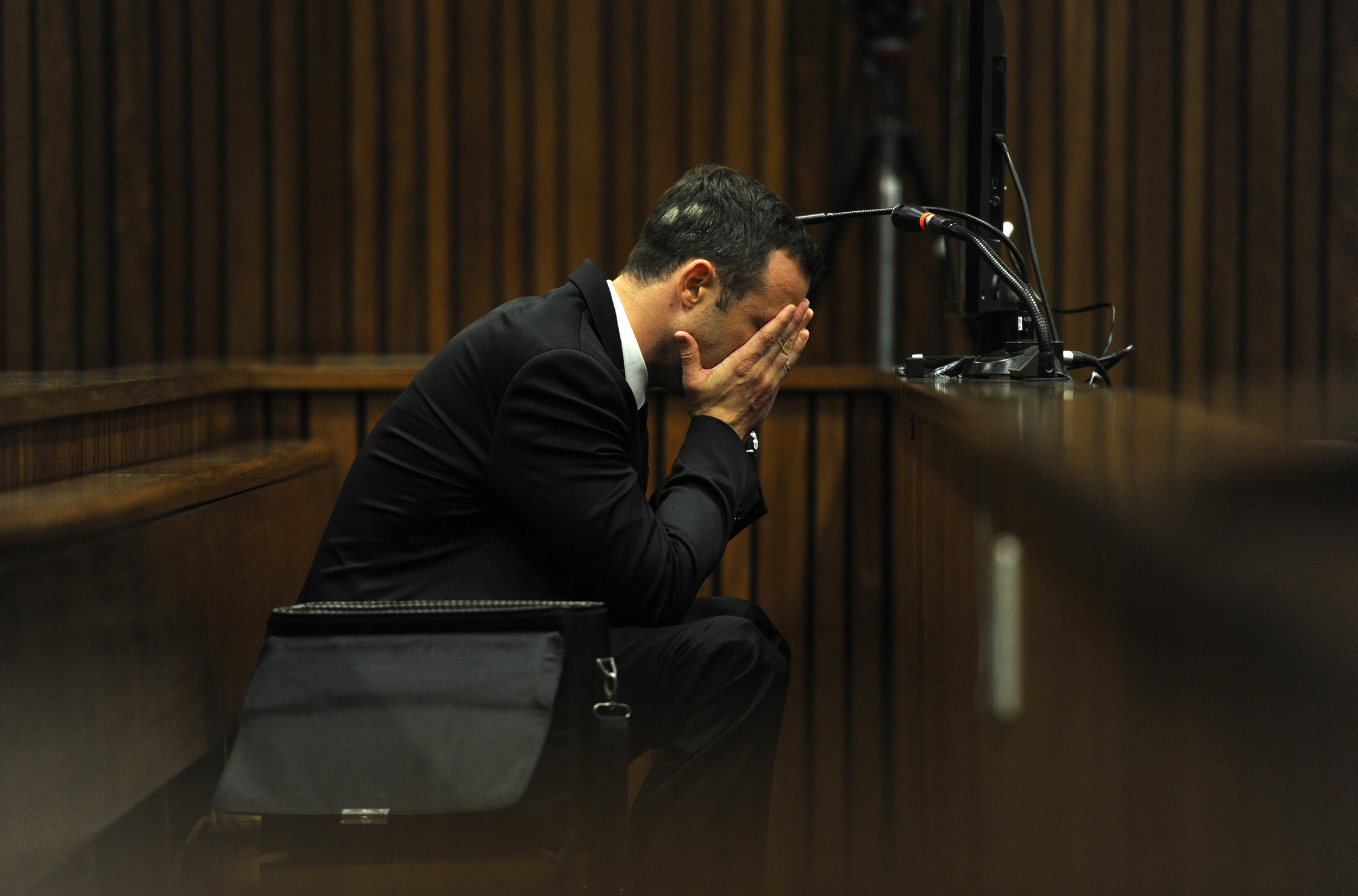 The murder trial of South African Olympic sprinter Oscar Pistorius began last Monday in Pretoria with a false start. Inside the North Gauteng High Court, the trial interpreter, overwhelmed by the frenzy of media and attention devoted to the proceedings, fled in tears.
The exodus, which delayed opening arguments 90 minutes until a replacement could be summoned, was the first of what promises to be a slew of bizarre moments related to the country's –if not the continent's…if not the entire southern hemisphere's—most keenly followed celebrity trial in memory.
What is not in dispute here: In the early morning hours of February 14, 2013 (Valentine's Day), Pistorius, 27, fired four shots, the last one a fatal blow to the head of his girlfriend, Reeva Steenkamp, 29. The popular model and law school graduate had locked herself in a bathroom adjacent to his bedroom in a heavily secured community known as Silverwood Estates. What is in contention: Whether Pistorius unwittingly shot Steenkamp believing she was an intruder ("error in persona"), or whether it was an act of rage or premeditation.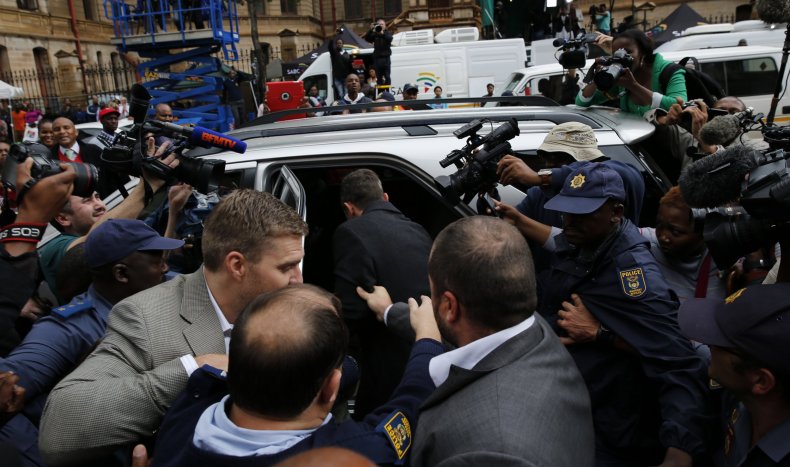 Parts of the trial are being televised live, a first for this country, as a 24-hour cable channel ("The Oscar Pistorius Trial—A Carte Blanche Channel") has been created. An Irish bookmaker, Paddy Power, is taking bets on the outcome of the trial. Last Sunday Paddy Power, in an attempt to capitalize on the serendipitous timing of the Academy Awards telecast and the beginning of the trial occurring within hours of each other, ran an ad in which Pistorius was mocked up to resemble the renowned gold statuette. The heading: "It's Oscar Time."
The ad drew 5,200 complaints before the United Kingdom's Advertising Standards Authority ordered it removed.
Meanwhile, a notorious South African prison lifer named Khalil Subjee, the "General" of the feared 26s prison gang, has preemptively issued a warning to Pistorius. "If he thinks he is going to come here and buy his way to get computers and cellphones and a lavish lifestyle, he must know that will never happen for as long as I am around," Subjee said via a call box at the Kgosi Mampuru Prison last Tuesday. "Anyone who thinks they can come here and live like a king will have a hit on their head."
South Africa has never seen anything like this, but then, the world had never seen anyone like Oscar Pistorius. A double amputee due to a congenital birth defect (he was born without fibulas and had the lower halves of his legs removed prior to his first birthday), the "Blade Runner" transcended sport by competing in the 2012 London Olympics. Though Pistorius did not medal, he became the first double-amputee to compete at an Olympics, running in both the 400 meters and the 4x400 meter relay races.
The following month, at the 2012 Paralympics, also in London, Pistorius won gold medals while setting world records for disabled athletes in both those events. Two months later, Pistorius started dating Steenkamp, who herself was on the cusp of stardom due to her appearance on season five of a reality show titled Tropika Island of Treasure. Only three months into their relationship, and just one day after Steenkamp had tweeted, "What do you have up your sleeve for your love tomorrow???" she was dead.
This is not the O.J. trial for a plethora of reasons. First, because there is no question as to who wielded the fatal weapon and second, because Steenkamp was a celebrity, albeit one with a much smaller orbit than Oscar's. The third and most important difference is that South Africa's criminal justice system does not employ a trial by jury and has not since 1969.
Instead, the High Court Judge, Thokozile Masipa, will rule on Pistorius' guilt or innocence. A former crime reporter who did not pass the bar until the age of 43, Masipa in 1998 became just the second black woman in South Africa ever to ascend to such a prominent position on the bench. While she will be aided by two assessors, the ruling will be hers and hers alone.
Masipa, 66, is reputed to be particularly stringent in cases involving violent crime against women. Just last May she ordered serial rapist Shepherd Moyo to serve a 252-year sentence as a "deterrent."
On the opening day of the trial, when Masipa asked Pistorius if he understood the charges, he replied, "I do. I do, my lady."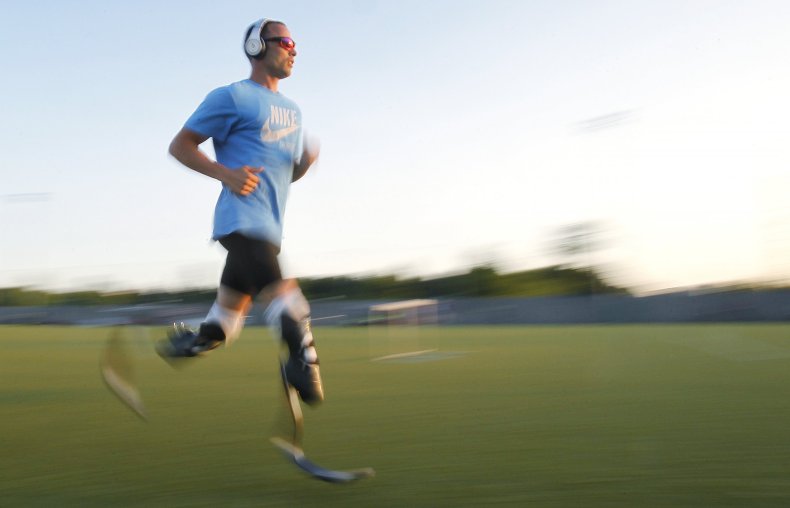 "How do you plead?"
"Not guilty, my lady."
Pistorius' defense team, led by Barry Roux, alleges that Pistorius fired the four shots at his girlfriend through a locked bathroom door in a tragic case of mistaken identity. It says he heard a noise in the bathroom, grabbed his 9 .mm pistol and without putting on his prosthetics, made his way to the locked door. They claim he fired thinking he was protecting himself and Steenkamp from an intruder. His team also states that the couple had not argued that evening.
Also in the courtroom last Monday: June Steenkamp, Reeva's mother. She never met Pistorius while her daughter dated him –and Pistorius has assiduously avoided making eye contact with her since the trial began—but she did speak to him once. According to an interview Steenkamp gave last year, Reeva phoned her once while driving with Pistorius.
"He's driving like a lunatic," Steenkamp told her mother, who then directed her to hand the phone to Pistorius.
"If you hurt my baby," the elder Steenkamp told the Blade Runner, "I will have you wiped out."
South Africa has the highest rate of female murder victims by shooting of any non-wartime nation on the planet. The prosecution is charging premeditated murder, which would carry a life sentence with a minimum of 25 years. Lead prosecutor Gerrie Nel will have less trouble clearing the hurdle of a simple murder charge, which carries a compulsory sentence of 15 years. The least robust charge, culpable homicide, which is what Pistorius' defense team is alleging--that it was an act of negligence--ranges in terms of sentencing from non-custodial probation to 10 years.
The state has enumerated 107 witnesses that it may call, though it will likely summon far less. It may not need to call many. The first witness last Monday was Michelle Burger, a neighbor who works as a lecturer at the University of Pretoria.
"I was sitting in bed and I heard her screams," said Burger, who along with her husband, Charl Johnson (who would be the third witness called), lived less than 200 yards from Pistorius' home. "She screamed terribly and she yelled for help. I heard the screams again. It was worse. It was more intense. Just after her screams, I heard four shots. Four gun shots."
Burger spoke in Afrikaans, though at some point in her testimony it became clear that her interpreter –the replacement interpreter – was starved for accuracy. It was then that Burger switched to speaking English in order to prevent any misinterpretation of her testimony.
"You could hear it was blood-curdling screams," said Burge. "You can't translate it into words."
Not lost in translation, however, and later corroborated by Burger's husband, is the fact that she recalls hearing screaming before the fatal gun shots. That directly contradicts Pistorius' account of events.
"As you stand there, as you testify in chief," said Roux, the defense attorney, "you do it from the perspective that Oscar Pistorius lied in the bail application and his defense is a lie?"
"I could not understand how I could clearly hear a woman scream," replied Burger, "but Mr. Pistorius could not hear that."