Murdered While Black: New Documentary Slams 'Stand Your Ground' Law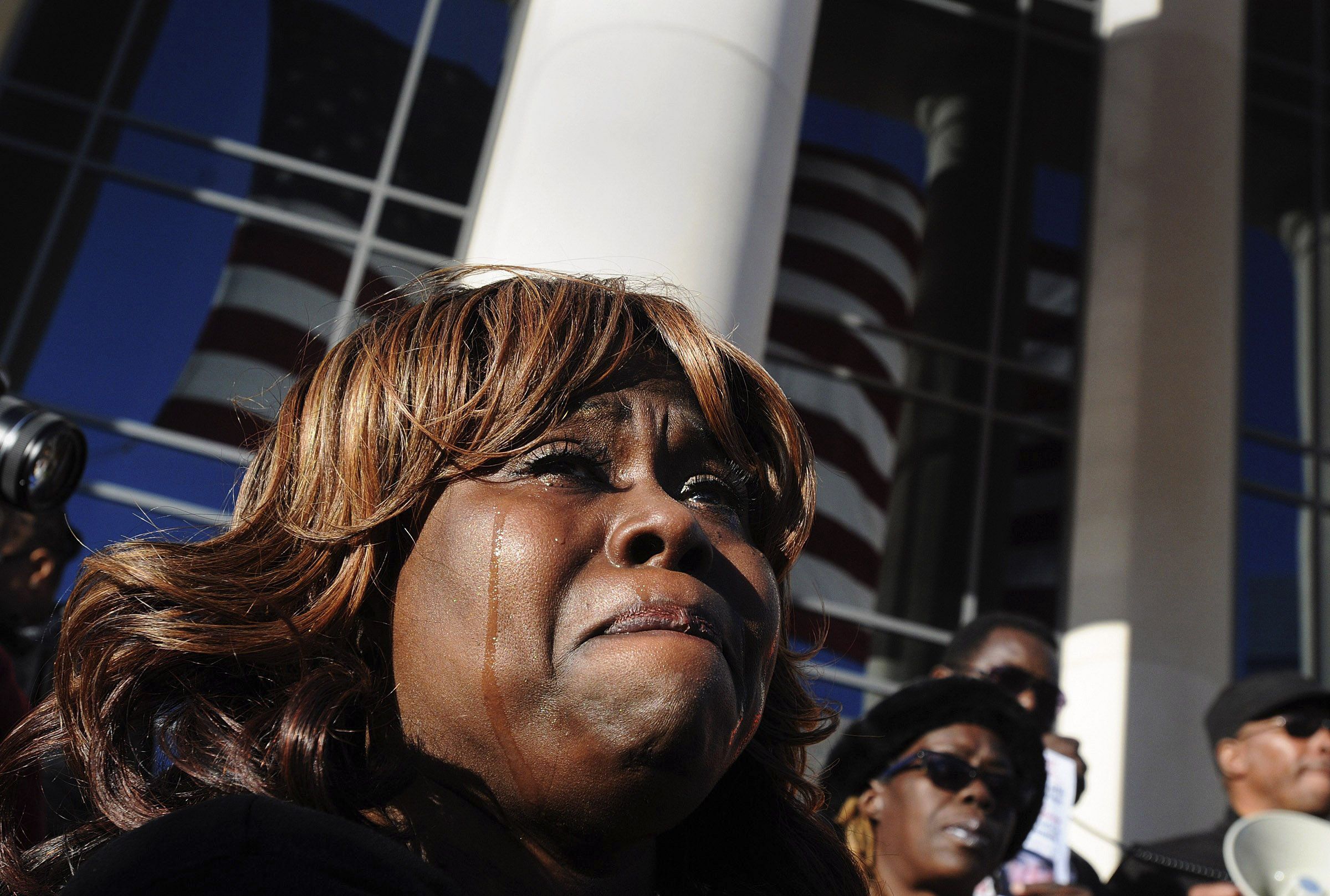 Black Friday is a great day in America. We buy things we do not need and pick at the carcass of the previous day's Thanksgiving turkey. We cheer for college football teams we do not usually cheer for, and if we have the knees for it, we play a little football ourselves, with high school friends we don't otherwise see. There is a pleasing chill to the late November air. The holiday season has begun.
Michael Dunn was one of those Americans whose Black Friday had gone well on November 23, 2012—very well, in fact. Earlier that day, he and his fiancée, Rhonda Rouer, had gone to the wedding of his son in Jacksonville, Florida, where they drank and danced and took pictures. Dunn's ex-wife seemed happy to have him there; he even danced with her mother. After the festivities were concluded, Dunn and Rouer headed back to their hotel, where their puppy Charlie awaited them. At about 7:30 p.m., they pulled into the Gate gas-station lot at Southside Boulevard, in the Baymeadows section of town, for wine and chips. Rouer went into the store alone.
There was another car in the lot, with four black teenagers inside, and it was this car, a red SUV, that Dunn sat beside. The driver of the SUV, Tommie Stornes, had gone inside for cigarettes and chewing gum. In the passenger-side seat sat Tevin Thompson; in the back were Leland Brunson and Jordan Davis. These four kids from good homes had gone to the St. Johns Town Center mall, where Jordan had run into his girlfriend; now, after this pit stop for a quick breath-freshening, they would head to another mall, where they hoped to meet some girls.
Inside the car, as the three boys waited for Stornes, they played the song "Beef" by Lil Reese on the stereo. They played it loudly enough to annoy Dunn, who was waiting for Rouer to return. He asked them to turn the music down. They complied, but then Davis told his friends to turn the music back up. They did.
This infuriated Dunn, and he began to argue with the young men. Rouer was still inside, shopping, clueless about the scene in the parking lot. The argument escalated, and Dunn went for the silver Taurus 9 mm handgun he kept in his glove compartment. He had a license to carry it, and he had Florida's exceedingly lax gun laws behind him in case he wanted to shoot it.
Lil Reese said, "Fuck nigga, don't want no beef."
Stornes had just returned to the car when the first shots rang out, puncturing neat holes in the side of the SUV—Davis was hit in the torso and the legs. As Stornes frantically backed out of the parking lot, Dunn kept shooting, pumping 10 bullets into the vehicle. He did it, he would later claim, in self-defense.
--------------------------------------------------------------------------------
3½ Minutes, 10 Bullets, the new documentary by Marc Silver, lays out the facts of this confrontation calmly and methodically, confident that the truth alone will muster all the necessary outrage over the death of Jordan Davis, 17, at the hands of Michael Dunn, 45. This is Silver's second documentary; his first, Who Is Dayani Cristal?, was about the plight of those who try to enter the United States illegally. I would say Silver has a social conscience, but that might suggest his films have an eat-your-peas quality. But 3½ Minutes, which airs on HBO November 23, does not tout its moral superiority, instead gathering strength from a quiet rage that haunts every scene of this important film.
Cameras were allowed at the trial of Michael Dunn, who was charged with first-degree murder, three counts of attempted murder and firing into a vehicle. Silver spoke to Davis's parents, ordinary people hollowed out by extraordinary grief. Ingeniously, two of the film's producers used the Florida public-records law to obtain recordings of the calls Dunn made to Rouer from jail. He is remarkable in his self-pity: "I just can't shake the notion that...I'm the rape girl that they're blaming because I was wearing skimpy clothes." On another occasion, he complains that he is "the fucking victim here." Never does he come close to expressing regret for killing Davis.
His murder came about nine months after that of Trayvon Martin, another black teenager killed in Florida, also under the aegis of a Stand Your Ground law that sometimes ends up protecting those who hold shoot-first as one of the central rights of the Second Amendment. Both Martin and Davis died some two years before the names of Michael Brown, Tamir Rice and Eric Garner made race the central social issue of our time. While Davis's murder does not fit into the narrative about racism in law enforcement, his plight, like Martin's, suggests disheartening truths. Defenders of muscular policing argue that Brown and Garner were resisting arrest, and that Rice was brandishing something that could be mistaken for a gun. To those in the Blue Lives Matter camp, these are mitigating factors. Race had nothing to do with their deaths, they say. But how else do you explain a civilian shooting a teen walking home with a bag of Skittles? Or a teen delighting in the loud music booming from his car?
The trial's most memorable phrase was "thug music," denoting an urban culture some whites loathe, even as they celebrate Kid Rock as if he were J.S. Bach incarnate. Dunn supposedly told Rouer, "I hate that thug music," shortly before shooting Davis. Dunn later insisted he had only used the phrase "rap crap," which doesn't have the racist connotation "thug" carries. More important, he claimed he shot Davis because he feared the teenager was about to shoot him. But no gun or other weapon was ever found, and Rouer testified that as she and Dunn fled the scene (he was arrested the next day), he never said anything about a gun or any other weapon.
On February 15, 2014, Dunn was found guilty on three counts of attempted murder and one count of shooting into a vehicle, but the jury could not reach a verdict on the murder charge, and the judge declared a mistrial. Many in Jacksonville's black community, and around the nation, were outraged. There was indeed something puzzling about the verdict: If Dunn was guilty of attempted murder, how could he not be guilty of the murder he did commit?
--------------------------------------------------------------------------
Instead of making sweeping statements about race relations, Silver shows Davis and his friends for who they were: just kids. Yes, they listened to loud music. Were they rude to Dunn? Maybe. If they were white, they would be branded "punks" at worst, told to fuck off and get on with their night. But these kids were black, so a mere insult hurled Dunn's way was taken as a death threat.
The most poignant characters in 3½ Minutes are Jordan Davis's parents, Ron Davis and Lucia McBath. In one of Dunn's jailhouse calls, he muses that the boys he shot probably did not have fathers. Silver answers that with home videos of Jordan as an infant and toddler, coddled by his parents. They later separated, but made efforts to raise Jordan together. He was their only child.
McBath's family was involved in the civil rights movement, and after her son's death, she became an activist against Stand Your Ground, testifying in front of Congress about the harm caused by the permissive law. In response to her poignant testimony, the impressively cynical Ted Cruz countered that "self-defense is a bedrock liberty of every American."
In his lengthy 2013 Rolling Stone article about the Davis murder, Paul Solotaroff described how the National Rifle Association has long used Florida as its "test lab" for loosening gun laws. Stand Your Ground, he argues, is a "wild debasement" of the castle doctrine, which allows an individual to defend her home. Solotaroff notes that "prosecutors sometimes have little choice but to accept the shooter's story: The only other witness is in the morgue." The most common victims of Stand Your Ground shootings, Solotaroff points out, are white men.
Silver does not linger on Dunn's second trial: The facts are the same, and the most noticeable change is Dunn now has the haggard, defeated look of a convict. On October 1, 2014, a jury found him guilty of first-degree murder. The judge gave him a life sentence. "Mr. Dunn, your life is effectively over," he said with relish.
The Florida state attorney who sent Michael Dunn to prison was Angela Corey. She had also tried Trayvon Martin's killer, George Zimmerman, but was unable to secure a conviction in that case. Zimmerman was a free man, a right-wing cause célèbre, but at least Dunn would never brandish his weapon again. But the verdict could do little to change the fact that two innocent boys had lost their lives because two unhinged men stood their ground.