Murders of 4 Muslim Men Lead to Agencies Increasing Reward For Info
The murders of four Muslim men in Albuquerque, New Mexico, recently prompted agencies to increase the reward money for information on the case.
On Sunday, Albuquerque Crime Stoppers and the Council on American-Islamic Relations (CAIR) announced that they were each offering a reward for information on the vehicle of interest, for a combined amount of $30,000.
In a tweet on Sunday, Ibrahim Hooper, the communications director for the CAIR wrote, "Anyone with info about the vehicle is asked to call 505-843-STOP, go to cimestoppersnm.com or contact the FBI at 1-800-CALL-FBI. Crime Stoppers is offering a $20,000 reward @CAIRNational is offering another $10,000 for information leading to an arrest."
The Murders
On Saturday, the Albuquerque Police Department announced that it was investigating the murder of a Muslim man "believed to be in his mid-20s." Police did not release the identity of the man that was killed this weekend but said officers responded to the scene for reports of a shooting, and when they arrived, the man was pronounced deceased.
"Investigators believe Friday's murder may be connected to three recent murders of Muslim men also from South Asia," the Albuquerque Police Department said in a press release. According to police, detectives recently said they are working to determine if the most recent killing was connected to three similar murders.
"Detectives on Thursday determined there is a connection between the Aug. 1, 2022, murder of Muhammed Afzaal Hussain, 27, and the July 26, 2022, murder of Aftab Hussein, 41. Both men are Muslim and from Pakistan. They were killed in Southeast Albuquerque, near Central Ave," police said.
According to police, detectives are still working to determine if there is any connection between the three murders this year and a fourth that occurred in November 2021. The victim in the November 2021 murder was identified as "Mohammad Ahmadi, a Muslim from Afghanistan."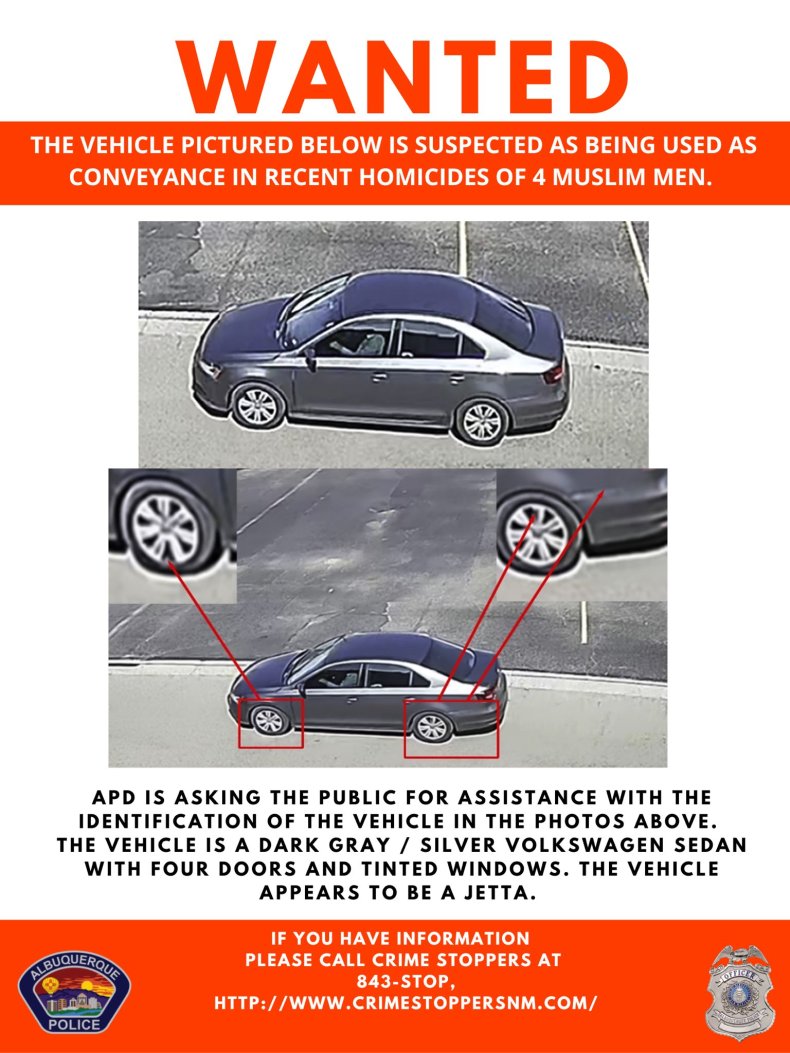 During a news conference this weekend, Albuquerque police chief Harold Medina said, "As with the previous three murders we mentioned on Thursday, there is reason to believe this death is related to those shootings."
In a statement following the incident this weekend, CAIR National Executive Director Nihad Awad said, "We must be united against hate and violence regardless of the race, faith or background of the victims or the perpetrators. We urge anyone with information about these crimes to come forward by contacting law enforcement."
CAIR National Deputy Director Edward Ahmed Mitchell also responded in a statement, saying, "The lives of Albuquerque Muslims are in danger. Whoever is responsible for this horrific, hateful shooting spree must be identified and stopped—now."
The Associated Press reported that authorities have yet to determine these murders as hate crimes until they have identified a suspect and can determine a motive.
A spokesperson for the CAIR told Newsweek on Monday afternoon that "we don't want the community to live in fear."
The spokesperson continued, "We can't let hate win. We can't let fear win."
When asked if the CAIR would consider raising the reward money in the future, the spokesperson told Newsweek that "anything is on the table at this point...a lot will depend on what comes to light in the next few days, next week or so."
U.S. President Joe Biden and New Mexico Governor Michelle Lujan Grisham also issued statements following the most recent murder.
"I am angered and saddened by the horrific killings of four Muslim men in Albuquerque. While we await a full investigation, my prayers are with the victims' families, and my Administration stands strongly with the Muslim community," Biden said. "These hateful attacks have no place in America."
Newsweek reached out to the Albuquerque Police Department for further comment.
Update 8/8/2022, 4:54 p.m. ET: This story was updated to include further comments from the CAIR.