Murdoch Family Split Follows Biden Donations, Climate Science Fight
James Murdoch who, with his wife Kathryn has donated over $1 million to presumptive Democratic presidential candidate Joe Biden's victory fund, resigned from the News Corp board of directors Friday. Murdoch had held the position since 2013.
Murdoch is the son of media mogul Rupert Murdoch, who created the Fox News Channel. In 2013, Murdoch's holdings were split into two separate factions, News Corp and the Fox Corporation. News Corp currently lists Barron's, The Wall Street Journal and publisher HarperCollins among its assets.
Lachlan Murdoch, James Murdoch's brother, heads the Fox Corporation which houses the Fox Network and Fox News. James Murdoch has signaled frustration with reporting from News Corp companies in the past.
"I hereby tender my resignation as a member of the Board of Directors of News Corporation (the 'Company'), effective as of the date hereof," James Murdoch wrote in his resignation. "My resignation is due to disagreements over certain editorial content published by the Company's news outlets and certain other strategic decisions."
In a joint statement sent to Newsweek on Friday, News Corp Executive Chairman Rupert Murdoch and Co-Chairman Lachlan Murdoch said, "We're grateful to James for his many years of service to the company. We wish him the very best in his future endeavors."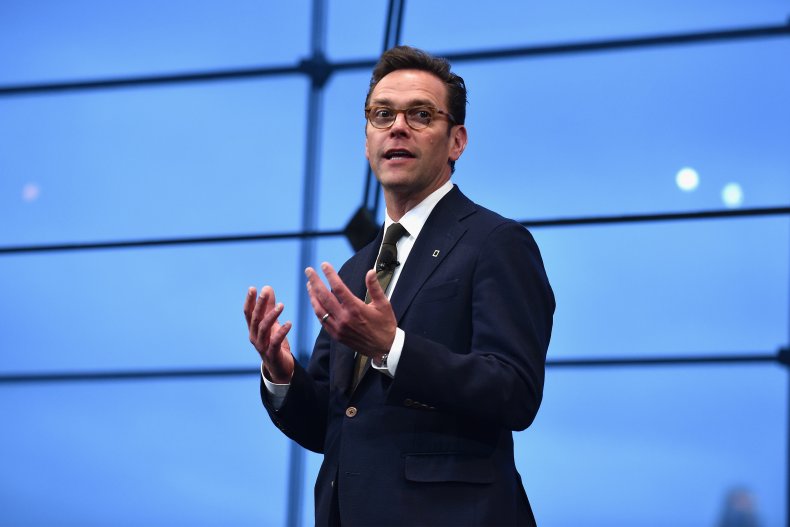 Receipts from the Federal Election Commission show that James Murdoch donated $615,000 to Biden's victory fund in June. Kathryn Murdoch donated the same amount on the same date. James Murdoch also contributed $2,800 to the presidential campaign of former South Bend, Indiana Mayor Pete Buttigieg.
James Murdoch has been at odds with reports from News Corp that appeared to deny problems caused by climate change. In January, James and Kathryn Murdoch issued a statement decrying News Corp's coverage of a spate of wildfires that occurred in Australia. Some scientists claimed that global warming was a factor in the fires. Coverage from News Corp outlets belittled that opinion, often saying that arsonists were to blame for the blazes.
"Kathryn and James' views on climate are well established and their frustration with some of the News Corp and Fox coverage of the topic is also well known," said a spokesperson for the couple to The Daily Beast. "They are particularly disappointed with the ongoing denial among the news outlets in Australia given obvious evidence to the contrary."
After President Donald Trump chose not to criticize white supremacists during violent protests in Charlottesville, Virginia in 2017, James Murdoch donated $1 million to the Jewish advocacy group, the Anti-Defamation League.
Trump said there were "very fine people on both sides" of the rally which resulted in the death of one woman and dozens of injuries.
"I can't even believe I have to write this," James Murdoch wrote in an email, "standing up to Nazis is essential; there are no good Nazis. Or Klansmen, or terrorists. Democrats, Republicans and others must all agree on this, and it compromises nothing for them to do so."
James Murdoch is the founder of Lupa Systems, an investment firm. He and wife Kathryn also founded the Quadrivium Foundation which invests in focus areas such as ocean health and climate change.