Muriel Bowser Demands Congress Transfer Control of D.C. National Guard From President to Mayor
Washington D.C. Mayor Muriel Bowser called on Congress to transfer control of the D.C. National Guard from the president to the city's mayor, following the violent rioting at the Capitol building Wednesday.
While speaking at a press conference Thursday, Bowser spoke about a "few priorities" she would like to see the 117th Congress pass.
"Congress must immediately transfer command of the District of Columbia National Guard from the President of the United States and put it squarely under the command and control of the Mayor of the District of Columbia," Bowser said.
She also called on Congress to create a "nonpartisan commission to understand catastrophic security failures that happened at the Capitol"—as well as urging the Joint Terrorism Task force "to investigate, arrest and prosecute any individual that entered the Capitol, destroyed property, or incited acts of domestic terrorism."
Additionally, the D.C. mayor stated that President Donald Trump needs to be held accountable for the riots at the Capitol building.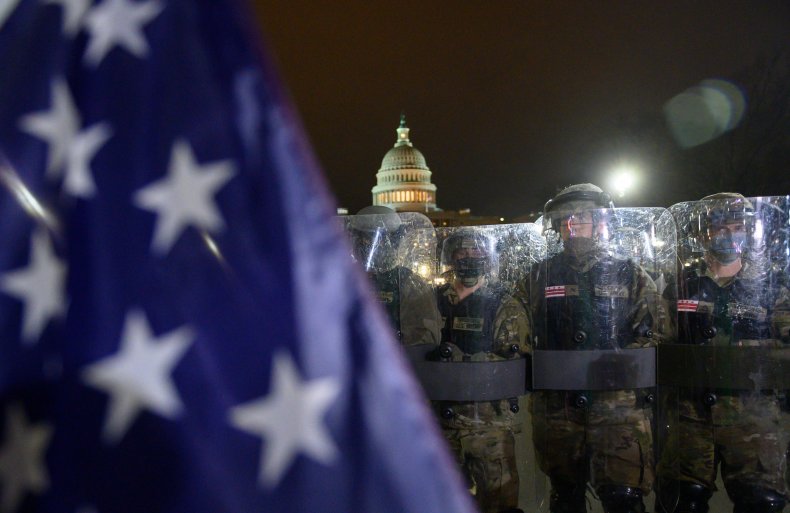 "What happened yesterday is what he wanted to happen and we must not underestimate the damage he can do to our nation and our Democracy over the next two weeks," Bowser said.
Newsweek reached out to Bowser's office for comment, but did not receive a response in time for publication.
Bowser's comments come just a day after a mob of pro-Trump supporters breached the Capitol building to protest Congress' certification of President-elect Joe Biden's victory in the election. After breaching the doors of the building, the rioters were seen inside the House and Senate chambers, with many wearing clothes and waving flags in support of Trump.
Four people died in connection with the riots on Wednesday, according to D.C. Police Chief Robert Contee.
In an effort to keep D.C. residents safe, Bowser ordered a citywide curfew on Wednesday, which began at 6 p.m. local time. Her office later announced an extension of the city's emergency order for an additional 15 days.
"Many persons came to the District armed and for the purpose of engaging in violence and destruction and have engaged in violence and destruction. They have fired chemical irritants, bricks, bottles, and guns. They have breached the security of the Capitol and their destructive and riotous behavior has the potential to spread beyond the Capitol," Bowser wrote in a statement extending the order.
Under the order, authorities are permitted to "exercise operational direction over all District government departments," and alter hours that businesses are allowed to operate to prevent residents from traveling.