Muriel Bowser Warns D.C. to Brace for Trucker Convoy Chaos
Washington, D.C., Mayor Muriel Bowser is preparing for a wave of protesting truckers to descend on the nation's capital to demonstrate against COVID-19 vaccine mandates.
As mirroring protests of the Canadian "Freedom Convoy" against government mandates continue to be seen across the U.S., D.C. officials have taken steps to prevent violence from breaking out if protests do occur, as expected. These steps were outlined by Bowser's office in a tweet Tuesday, and they urged D.C. residents to contact the police "if they hear or see things that appear out of the ordinary."
The series of tweets said that D.C. law enforcement officials were "prepared for potential demonstrations."
"Mayor Bowser is being briefed by public safety officials as we continue to monitor the situation closely," the tweets said. "There are layered mitigation strategies in place and our agencies remain in regular contact with local, regional, and federal partners."
In addition to local police units, the Pentagon said Tuesday that D.C officials had requested approximately 800 National Guard troops to help quell any violence. A Pentagon spokesperson said that no formal decision on the requests has been made yet.
While the truckers have not started gathering in the city yet, officials have said that protests in the coming weeks from a number of different trucker convoys are likely. This includes reports that some truckers will be arriving for President Joe Biden's first State of the Union address on March 1.
One of the leaders of the Freedom Convoy, Kyle Sefcik, also released a video, addressed to President Biden, saying that: "Our routes meet here, in D.C., on March 1 in time for your State of the Union address."
"We are very organized in our routes, our public. I even pulled a permit for the National Mall to be respectful," Sefcik said, although D.C. officials said in Tuesday's tweet that "a permit application has not been submitted to the Metropolitan Police Department as of yet."
"The decision is in your hands," Sefcik told the president. "This whole convoy, this whole assembly on the National Mall, it doesn't even have to happen if you just end things now, and we can get on with our lives."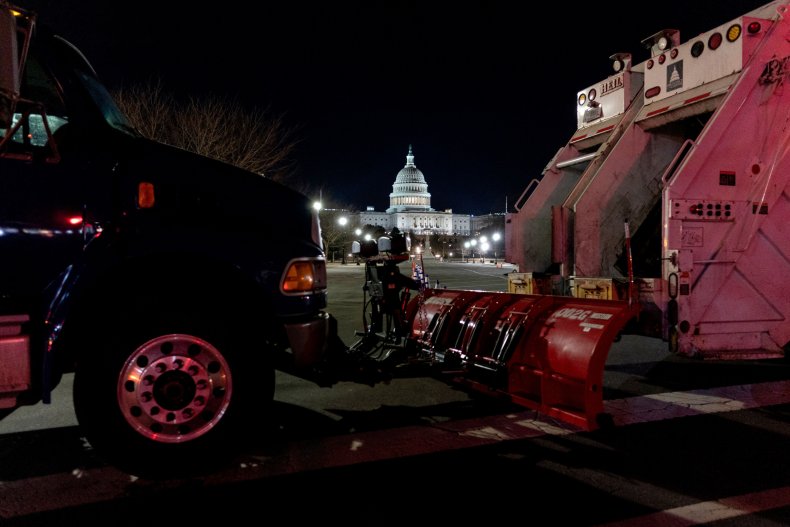 While some of the protesting convoys will likely enter the city, others have said that they will remain on the outskirts of the D.C. metropolitan area. One of the larger movements, the People's Convoy, specifically said that they "will NOT be going into DC proper."
Despite this, Metropolitan Police Department Chief Robert Contee has told residents that, similarly to Canada, traffic issues may occur when the protesters arrive.
"There will be disruptions to traffic, that kind of thing," Contee said. "I think we need to be very candid with the public about what some of the expectations, based upon what we've seen in Ottawa, that we might see here in the District."
Bowser gave a similar warning for D.C. inhabitants, but added that: "We're not at a point to give specific instructions to residents just yet. We will."
As the preparations continue, a number of conservative politicians have spoken out against the efforts of D.C. law enforcement to head off potential violence.
This includes Representative Thomas Massie (R-Ky.), who, one hour after the mitigations were announced, tweeted: "I see a mayor who is a tyrant."
Representative Massie further told Newsweek in a statement that: "Congress should reclaim its Constitutional responsibility to make the laws for D.C. With her tyrannical vaccine passports and unscientific mask mandates, Mayor Bowser has shown herself unfit to govern the nation's capital."
Newsweek has also reached out to Bowser's office for comment.