Murkowski Joins List of Beaten Incumbents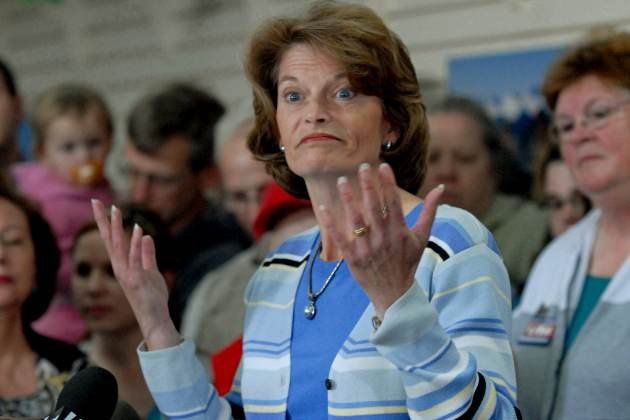 Two months ago, most of Alaska, let alone the rest of the U.S., didn't know who Joe Miller was. The challenger to Republican Sen. Lisa Murkowski was little more than a startup candidate with a big-name backer (Sarah Palin). In a NEWSWEEK profile of Murkowski earlier this summer, we simply labeled him "Murkowski's Tea Party challenger." I don't even think I Googled his name.
All of which makes it even more surprising that on Wednesday night, Miller eclipsed Murkowski and effectively ended her Senate career as a Republican. For almost a full week, Murkowski was locked in an electoral holding pattern with Miller, who led her for the Republican nomination by just 1,668 votes. But she finally saw the writing on the wall. "I don't see a scenario where the primary will turn out in my favor," she told a roomful of supporters. "And that is a reality that is before me at this point in time."
It's hard to say what exactly did Murkowski in. Sarah Palin, who has never meshed terribly well with the Alaska senator, was certainly a factor. (In the days before the election, Palin recorded a robocall accusing Murkowski of "waffling on the repeal of Obamacare" and called Miller a "man of the people.") It might also have been Murkowski's willingness to sit at the table with President Obama to talk energy innovation and independence, even though a majority of Alaskans (all of whom received a $1,300 dividend check last year from the state) oppose any efforts to limit future oil and gas development.
There would be reason for Democrats to celebrate a GOP incumbent being shown the door. But Miller's victory wasn't an affirmation of the Democratic policies. Miller sits much further to the right of Murkowski, having said he opposes any amnesty for illegal immigrants and any government bailouts.
In the fall, Miller will face Scott McAdams, the small-town mayor of Sitka, Alaska—also a little-known candidate who was considered to have little chance against the established Murkowski. But his matchup against Miller is one that will provide the pollsters more billable hours. It's possible Republicans shot themselves in the foot by nominating a candidate too far from the center to appeal to the more moderate parts of the state. But it's also possible that, should he win, he'll prove an even bigger thorn to Democrats than Murkowski ever was.