Murkowski Spells Trouble ... Most Likely for Herself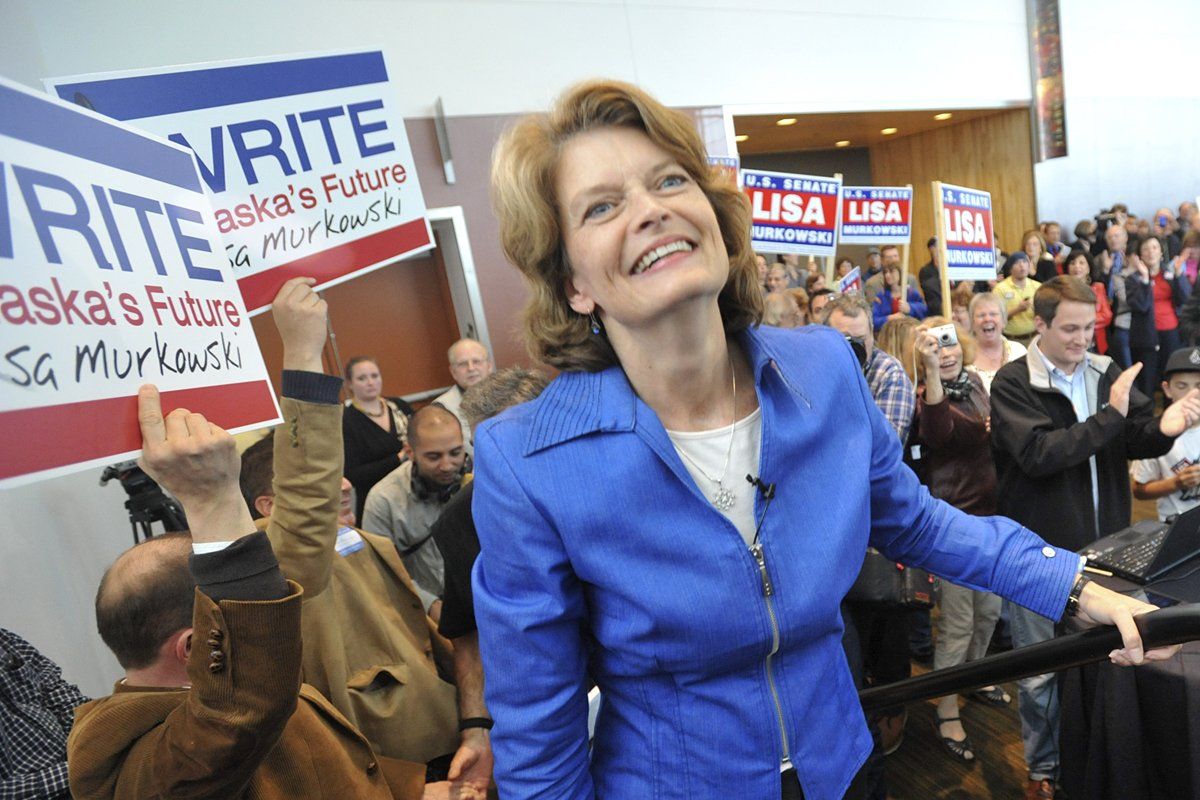 Could Lisa Murkowski's decision to "go rogue" actually work? Last month the senior Alaska senator was ousted in the GOP primary by Joe Miller, a long shot who sneaked up late, backed by the Tea Party and Murkowski's archnemesis, Sarah Palin. Now she's fighting back, announcing on Friday she will contest November's election as a write-in candidate.
The move has dismayed Republican leaders who are solidly backing Miller—and would prefer not to spend extra resources ensuring he gets over the top. In an orthodox contest between Miller and Democrat Scott McAdams, Republicans considered the Alaska race safely banked. But a three-way race that includes Murkowski is anyone's guess. A poll last month that included Murkowski as the Libertarian Party candidate had Miller at 38 percent, Murkowski at 34 percent and McAdams at 22 percent.
Of course, this overstates Murkowski's chances because her name won't appear on the ballot. Indeed the task ahead of her is daunting. In coming weeks, she must use her reputed $1.8 million war chest to educate voters to find the write-in section of the ballot paper and insert her name. Thankfully for her chances, a correct spelling of "Murkowski" isn't necessary for the vote to count. All that matters is for the voter's intention to be clear—but even this is problematic because her name conjures millions of wild variations (Mooklusky? McCarthy?). Simply scrawling "Lisa" won't cut it, according to Gail Fenumiai, director of the Alaska Division of Elections. However, "Lisa M" would probably do the trick.
The biggest stumbling block? Murkowski voters must also remember to shade-in the oval box adjoining the write-in space—otherwise their vote will be declared invalid. All in all, a pretty tough bar to clear—and a recipe for litigation.There's a reason only one senator in history has ever been elected via write-in (South Carolina's Strom Thurmond, in 1954).
Still, some analysts believe Murkowski, as an incumbent, has a shot. Respected handicapper Charlie Cook, for example, has today eased the race from "Solid Republican" to "Likely Republican." Under the hypothetical that her name actually appeared on the ballot, Nate Silver of FiveThirtyEight believes Murkowski would potentially be able to exploit Miller's pockets of unfavorability among Republicans and independents. She would also benefit from Democrats voting tactically for her instead of McAdams. This might be enough to get her a vote share in the high 30s—potentially enough in a three-way-split.
However, even Silver admits Murkowski is likely to leak votes due to the complications of being a write-in candidate. He cites the case of another GOP write-in candidate, Shelley Sekula-Gibbs, who, in an unsuccessful run for a 2006 House seat in Texas, recorded a vote share 10 points less than opinion polls had predicted. (Presumably in that case, the name didn't help either.)
The next round of Senate polling in Alaska will be fascinating. Murkowski's best chance probably lies in persuading Democrats that McAdams is unviable. Indeed over the weekend she made her first attempt to position as a fighter for traditionally Democratic issues, assailing Miller for "radical" positions on Medicare and Social Security. Florida Governor Charlie Crist, also a Republican, is attemping a similar strategy in his independent bid for the Senate, but recent polls show him slumping to a double-digit deficit against Republican nominee Marco Rubio.
Silver makes the point that Rubio is much more popular with the Republican segment of the electorate in Florida than Miller is in Alaska, potentially aiding Murkowski's ability to hold onto Republicans, while attracting Democrats. Still, all indications suggest this is a year in which being an incumbent senator running for reelection carries no extra "juice" with the electorate. Miller, to be sure, needs to guard against being seen as too extreme. But he will seek to paint Murkowski as a sore loser, embarking on an indulgent tilt to hold onto a cushy sinecure acquired through nepotism (she succeeded her father as senator in 2002). And he will be backed to the hilt by the state and national GOP.
Alaska will be a race to watch, but the gut still says that the anti-establishment tailwinds which propelled Miller to the GOP nomination should stand him in good stead for the general election.