Museum Fire Coconino Mandatory Evacuations: Arizona Containment Map Shows Blaze Near Flagstaff Spread Beyond 1,000 Acres
The Museum Fire raging near Flagstaff, Arizona, has now grown to cover an area of more than 1,000 acres as emergency services work to contain the blaze.
In response to the spread of the fire, Coconino County officials issued an evacuation order on Monday at 6 p.m. local time for all people "living, working or accessing a home" from Mount Elden Lookout Road, according to a statement from the Arizona Governors Office.
Meanwhile, the city of Flagstaff and Coconino County have declared a state of emergency due to the impacts of the fire, which provides authorities with access to emergency funds, as well as assistance from the the state of Arizona.
The county has issued the following recommendations for those affected by the evacuation order:
Get your unlimited Newsweek trial >
Leave your home or workplace immediately for a safe destination outside the hazard area. Follow instructions from emergency personnel.
Take your emergency go kit and evacuate immediately to a shelter or with family/friends outside the affected area.
If you need evacuation assistance, please call the Call Center at (928) 213-2990
If you choose to ignore this advisement, you must understand emergency services may not be able to assist you further.
The Red Cross has set up a shelter at Sinagua Middle School, 3950 E Butler Ave, Flagstaff for evacuees. Meanwhile, the Coconino Humane Association will be able to assist with pet sheltering.
The county is urging people not to call 911 unless they have a serious personal emergency and to stay away from the fire area to protect their own safety and that of firefighters.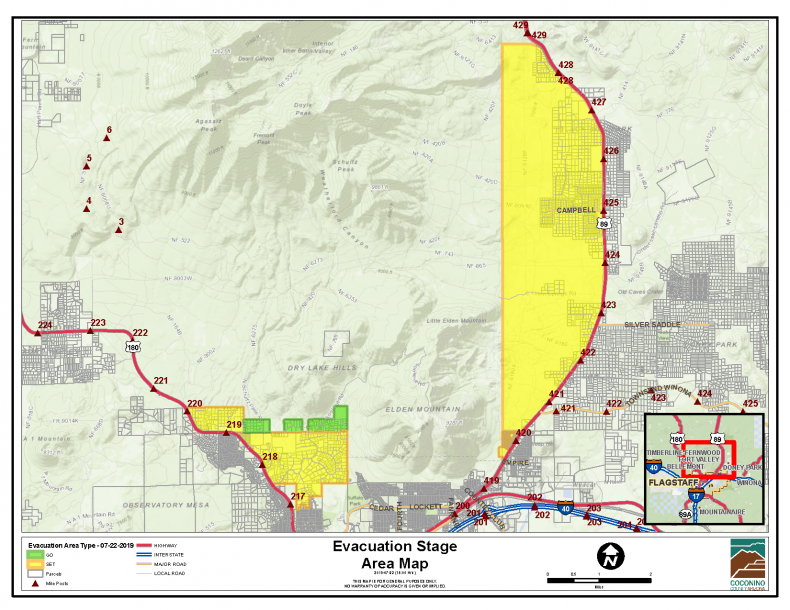 Get your unlimited Newsweek trial >
Several agencies, including the Arizona Department of Forestry and Fire Management (DFFM), the Arizona Department of Emergency and Military Affairs (DEMA) and the U.S. Forest Service, Coconino County are involved in monitoring the fire and coordinating emergency response actions.
"This is a top priority, and we continue to take all efforts to protect people, pets and property," Arizona Governor Doug Ducey said in a statement. "We are praying for the first responders and firefighters working around the clock to keep everyone safe. We urge residents in the area to heed warnings from officials and be prepared to evacuate if necessary."
According to the Governor's Office, pre-evacuation notices are in effect for the following areas around Flagstaff: "West of Weatherford Road, North of Highway 180, Peak View Country Store, Magdalena, Kelly McCoy, Forest Hills, Valley Crest and Locket Meadows, Mt. Elden Lookout Estates, north and west of Highway 89 and Silver Saddle, Hutcheson Acres, McCann Estates, all of Timberline communities including, Little Elden Springs, Black Bill Park, Wupatki Trails and Pine Mountain Estates, West of Highway 89 from Railhead north to Townsend-Winona, including the KOA Campground, Christmas Tree Estates and the U.S. Forest Service Peaks Ranger Station Office."
The county has issued the following advice for people living in these areas:
Be aware of the hazards that can threaten your community.
Register with your county/tribal emergency notification system.
Connect with your Emergency Management/Sheriff's Office on social media.
Take steps now to prepare for seasonal threats.
Make a family evacuation and communication plan that includes family phone numbers, out-of-town contacts and family meeting locations.
Build an emergency kit with enough food, water and necessary supplies for at least 72 hours. Start with the five Ps; people and pet supplies, prescriptions, papers, personal needs and priceless items.
Check with your neighbors, family, friends and elders to ensure they are ready.
Keep up to date on local news, weather watches and warnings.
The fire started around midday on Sunday but the cause remains unknown, according to Coconino County officials.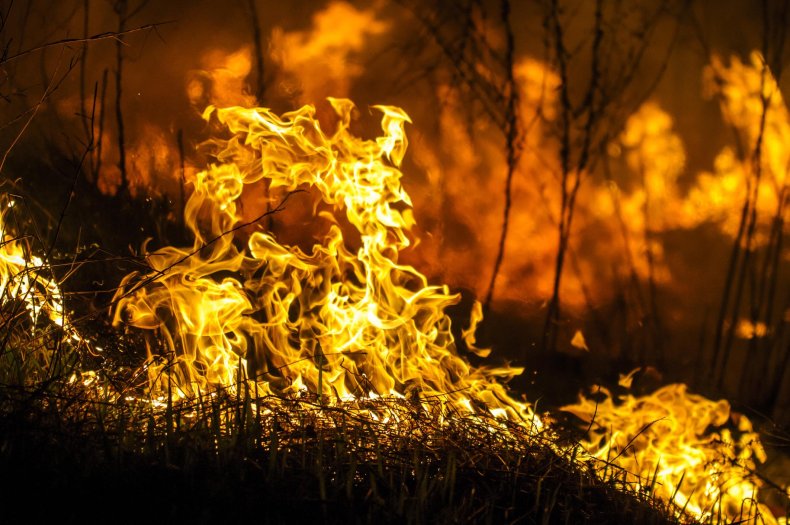 Museum Fire Coconino Mandatory Evacuations: Arizona Containment Map Shows Blaze Near Flagstaff Spread Beyond 1,000 Acres | U.S.