Museum of Natural History Worker Says She Was Fired for Unionizing Over COVID Safety
An employee of New York City's American Museum of Natural History says that she was fired over her efforts to organize an expanded labor union amid concerns about COVID-19 safety.
Jacklyn Lacey, an anthropologist who specializes in African and Pacific Ethnology, told Newsweek on Monday that she was fired from the museum after 11 years of employment as she was working on efforts organize a group of 184 colleagues into an expanded union. The museum workers cited COVID-19 concerns and compensation issues related to the pandemic as reasons for unionizing.
A petition for the workers to be represented by the American Federation of State, County and Municipal Employees' District Council 37, New York City's largest union of public sector employees, was formally filed with the National Labor Relations Board last week. The union had already represented a smaller unit of workers at the museum, including Lacey.
Prior to allegedly being targeted for her work as the union organizing committee chair, Lacey said that the museum began to retaliate against her personally for whistleblowing about allegedly unsafe COVID-19 mitigation practices. She has accused the museum of violating New York state's HERO Act, a law intended to protect employees from being exposed to the virus.
Lacey expressed increasing concerns about health and safety at the museum after it was announced that staff would be required to return to working in person last September. Alleged safety failings included poor ventilation, inconsistent enforcement of mask wearing policy and the hoarding of face masks by museum administrators.
"The ventilation wasn't right, the mask enforcement wasn't there," said Lacey. "The museum refused to tell people in writing that N95s and KN95s [masks] were available upon request. It wasn't until I bullied them about it on Twitter that they finally told staff in writing that they were available. But they were hoarding them."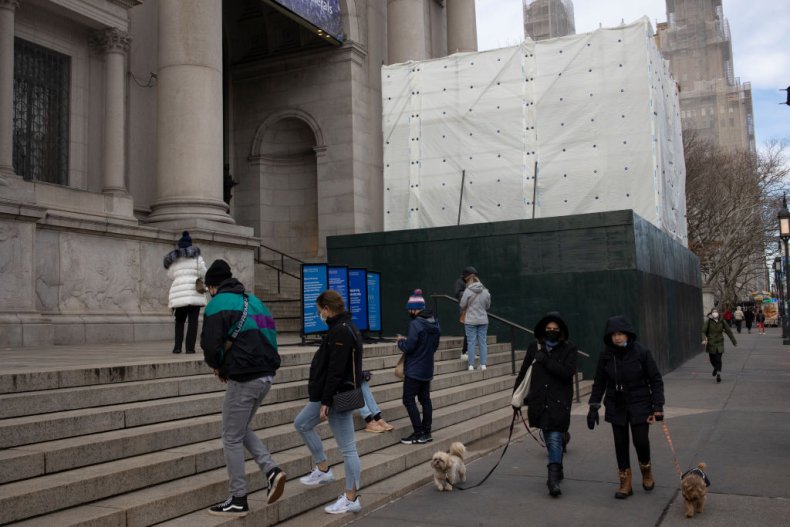 Multiple museum workers died of COVID-19 complications, Lacey said, before her own concerns about returning to on-site work due to virus vulnerability related to chronic health conditions were allegedly dismissed by the museum.
While the museum declined to change its on-site working policy, Lacey said that she decided to take several weeks of leave from to work on organizing the union and to seek treatment for post traumatic stress disorder treatment allegedly related to on-the-job abuse and harassment.
Lacey said that the "museum found out about the organizing activity" four days after her leave began. The museum then allegedly started a "really concerted effort to suppress" the union organizing effort that culminated with her being being fired. Lacey briefly returned work at the museum on December 6 after being told that she would be fired if she refused to return.
Lacey was diagnosed with a serious case of COVID-19, which she said was unrelated to her last museum visit, later in December. She was sent a termination letter in January just after leaving the hospital, only one day before she would have been eligible to file for medical leave under the Family and Medical Leave Act (FMLA).
"I was 24 hours out of the emergency room for bronchitis and pneumonia," said Lacey. "You couldn't have kicked me down further in that moment... It was the day before I was eligible to file for FMLA and that's when they sent the resignation letter."
Lacey noted that attorneys from Seyfarth Shaw, a law firm which has a history of litigating against union interests, were involved in her termination case. In a statement included in a Hyperallergic article about the unionization on Monday, the museum stressed that the firm was "not representing the Museum" in the "union representation matter."
A letter from Seyfarth Shaw lawyers that Lacey shared with Newsweek confirms that the law firm has been involved in the dispute over her employment. The museum said on Tuesday that the union organizing effort was an "unrelated matter" that was being handled by a different law firm, while also disputing Lacey's claims concerning the reasons for her termination.
"Ms. Lacey's longstanding and extensive conduct and performance issues resulted in her termination, which had nothing to do with her alleged organizing activities or complaints," a museum spokesperson said in a statement to Newsweek. "Ms. Lacey is already a member of a union and as such has grieved certain matters. Seyfarth Shaw has been representing the Museum in connection with Ms. Lacey's ongoing personnel issues and her meritless assertions."
An initial hearing on the termination was held by the museum on Tuesday. Lacey, who said that she is suffering from long-term COVID-19 complications, did not attend the hearing but later tweeted that she was told the museum "tried to downplay the severity" of her illness.
In a follow-up statement shared with Newsweek on Wednesday, the museum broadly denied the allegations and specifically responded to the assertions related to COVID-19 safety.
The museum's second statement said the organization "experienced no known COVID-related deaths during the pandemic." It continued, saying, "In addition, the Museum's COVID health and safety policies and procedures have been found to be compliant by multiple city and federal agencies without any violations. This is consistent with the importance the Museum has placed on the safety of its staff and visitors."
The statement concluded, "unlike the rest of the Museum's employees, Ms. Lacey has only been at the Museum a handful of days in the last two years and accordingly there is no credible basis for her to comment on the Museum's pandemic operations and safety."
Updated 02/02/2022, 12:57 p.m. ET: This article has been updated to include a second statement from the American Museum of Natural history.