Shrunken Head Held at Museum Was Made From Boiled Human Skin
Researchers have used computer scans to successfully authenticate a real shrunken human head that has been stored at a museum.
The researchers, from institutions in Canada and Ecuador, say the findings are critical for understanding the history of indigenous peoples thought to have used the heads in ceremonies.
South American shrunken heads, sometimes called tsantsas, are common in museum collections but it can be difficult to tell whether they are authentic—that is, made from real human remains. Another factor in deciding whether they are authentic is whether they were created for ceremonial purposes or for the commercial market. In the latter case, they would not be considered authentic.
Research has found that shrunken human heads, created possibly as early as the 1500s, were sometimes collected as war trophies after battle by the Shuar and Achuar peoples of Ecuador and Northern Peru, and prepared in a way that was believed to trap the deceased person's soul inside and prevent them from enacting spiritual revenge, according to the researchers.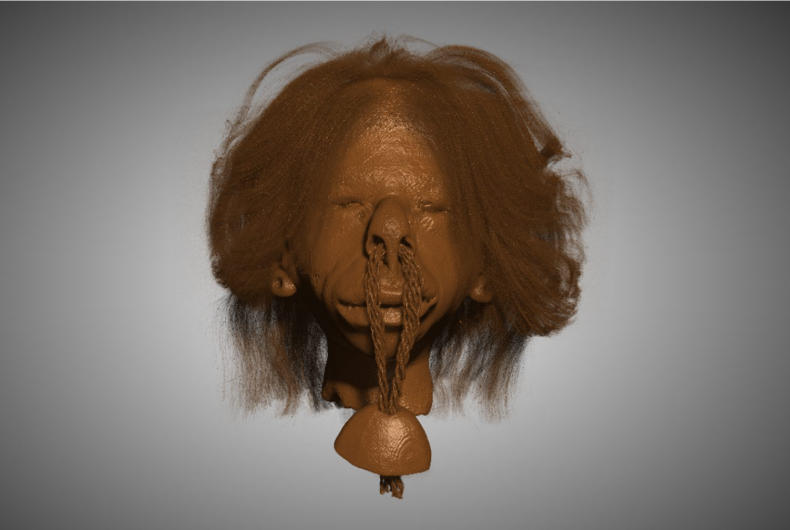 Other uses have also been proposed, including that heads may have been made from those of clan leaders who died naturally and then used to show respect or harness their power in a positive way.
"By creating a tsantsa, the soul is trapped inside the remains as the eyes and mouth are closed so there can be no unintended impact on the living from the spirit's power," the study said. "Tsantsas were then displayed inside specific houses or on poles and not worn as suggested in much of the existing anthropological literature."
The study said that, based on accounts of ceremonial preparation, production of the heads involved separating the skin from the skull and then boiling it, which extracted fat and grease, caused the skin to contract and thicken, and killed microbes.
After their discovery by other cultures, commercial production was documented. Under commercial production, tsantsas might be provided to museums as artifacts. However, tsantsas produced commercially were often made from animal, not human, skin.
In some cases, the study said, "real human heads are said to have been documented in commercial production to increase profits from their 'realistic features' and were reportedly sourced from unclaimed bodies in local hospitals, but this remains a point of contention as the only source of available evidence for this practice is sensationalized news articles."
In any case, a team of researchers has now used scanning technology known as clinical computed tomography (CT) to determine that a tsantsa held at the Chatham-Kent Museum in Ontario, Canada, is in fact real human remains and not a counterfeit made from animal parts or other methods sometimes used in commercial productions.
CT scans work by producing two-dimensional slices of a body or body part that are then collected together to form a 3D image. It's particularly useful in archaeology, where the least destructive investigative method is desired.
"Digital archaeology, including computed tomography, provides a whole new dimension of validity and refreshes the field by making it far less invasive," said Lauren September Poeta, Anishinaabe researcher and project associate at Western University's Office of Indigenous Initiatives, in a press release.
Using a CT scan, researchers were able to determine that the head was authentic in part due to tiny details that were revealed, such as skin layers.
"You can see the individual skin layers on the clinical CT scan, but on the micro-CT scan you can actually see the individual follicles, and it becomes really clear what's going on," said Andrew Nelson, chair of Western's department of anthropology, in a press release.
Researchers won't know the exact details or purpose of shrunken head construction until more guaranteed genuine tsantsas are examined.
"Being able to partner with local researchers in Ecuador for this study, and connect with Shuar and Achuar Peoples, helps us work towards decolonization," Poeta said.
The tsantsa examined in the study was donated to the museum in the 1940s by the Sulman family after being purchased on a tour of the Amazon basin.
The study was published in the journal PLOS ONE on August 3.