Uganda 2016: Election Commission Warns of Possible Vote Rigging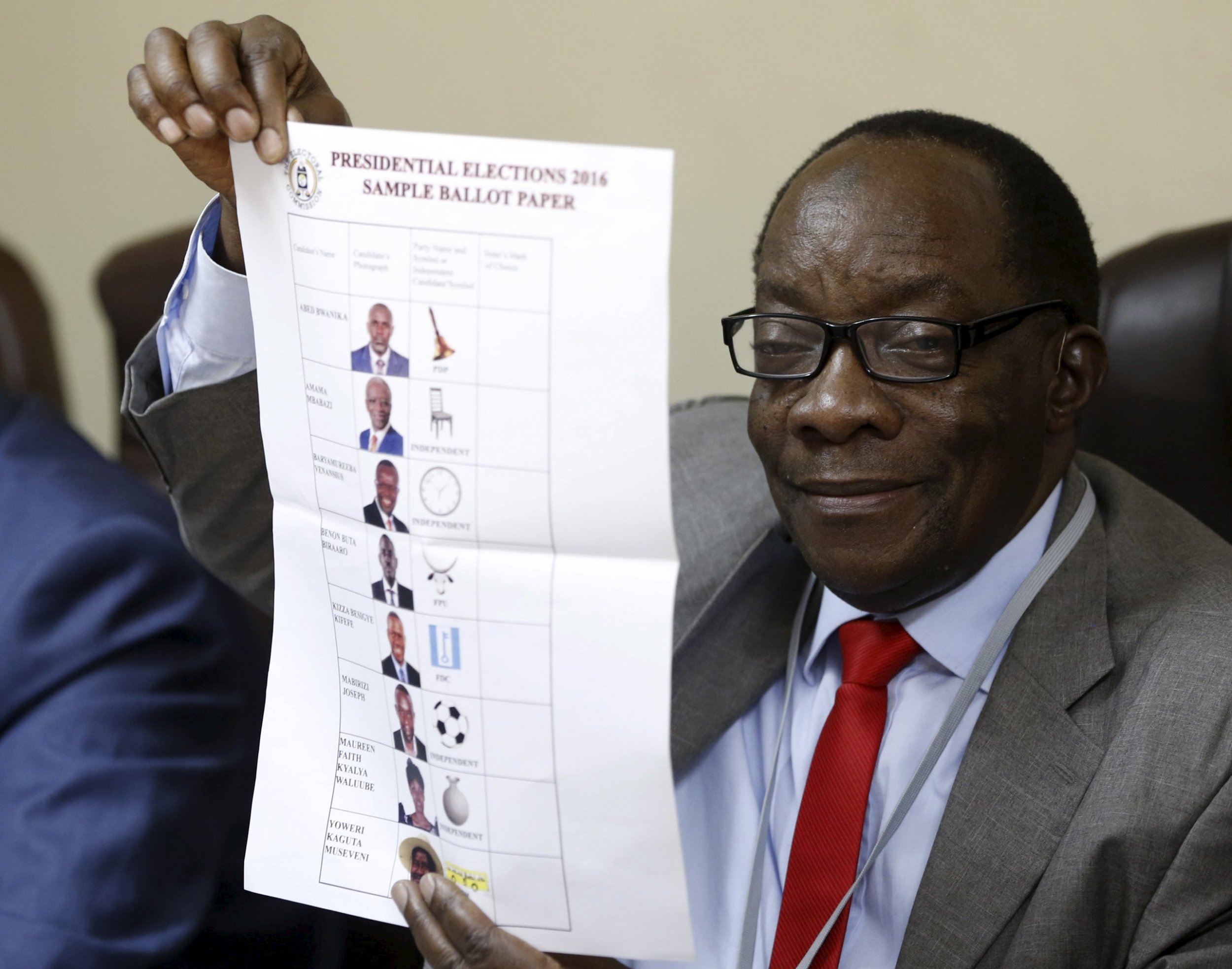 The chairman of Uganda's Electoral Commission has warned the population to be vigilant against attempts to rig the elections due to take place on Thursday.
Ugandans are going to the polls in presidential and parliamentary elections, with President Yoweri Museveni attempting to extend his 30-year stay in power. The run-up to the vote has been marred by accusations of intimidation of opposition activists and even violence. One supporter of opposition candidate Kizza Besigye died in clashes with Ugandan police in the capital Kampala on Monday, during which Besigye himself was briefly detained.
In a press conference on Wednesday, Badru Kiggundu, the head of Uganda's electoral authority, said that the country is prepared for legitimate elections but noted there are still obstacles. "Apparently, there are even plans to print similar ballot papers...and pre-tick them and parade them before the media to discredit the electoral process," said Kiggundu, according to Ugandan newspaper Daily Monitor. "Be on the lookout. Our eyes and ears are on this process."
Kiggundu reassured voters that the commission has installed special features in ballot papers that would allow them to distinguish genuine papers from false ones, but could not reveal these features due to security concerns. He added that voters would not be allowed to bring camera phones into polling booths in order to ensure privacy.
Monday's clashes between Besigye's supporters and Ugandan police highlighted the tumultuous run-up to the election. Police fired on crowds using rubber bullets and tear gas. Besigye, the Forum for Democratic Change candidate, and former Ugandan Prime Minister Amama Mbabazi have both complained of having their rallies shut down by security forces aligned to Museveni's National Resistance Movement. A December 2015 report by Amnesty International also alleged that Ugandan police had engaged in arbitrary arrests and torture of opposition activists, though the police criticized the report as biased.
On the final day of campaigning, Museveni told those seeking to disrupt the elections with violence that they should "play somewhere else, not Uganda." "Whoever will try to bring violence, you will see what we shall do to him," the president said to a rally at Kololo Independence Grounds in Kampala on Tuesday, adding that only "a stupid dog hunts an elephant."
Museveni won the last election in 2011 with 68 percent of the vote, ahead of Besigye's 26 percent. Amnesty raised concerns about violence involving all parties ahead of those elections and Besigye alleged that the vote had not been fair.