Inside The World's Smallest Concert Hall
Brussels has much more to offer than fruity beers and oily fries. The Belgian capital is, in fact, overflowing with music, and it is now offering people in the city a unique experience they can enjoy for free—an intense and intimate classical music performance inside a transparent box.
Barely 15 square feet in size and made entirely out of glass, the Klarafestival Box is the smallest concert hall in the world. Designed only two years ago, the Box was developed by Klarafestival, the annual classical music event that, after 15 editions, has become a household name in the region and abroad.
On tour in the city center and Greater Brussels, the venue can hold between three and six audience members, depending on the performance. Unlike previous editions, the Box changes locations, with the aim of "bringing music to the people."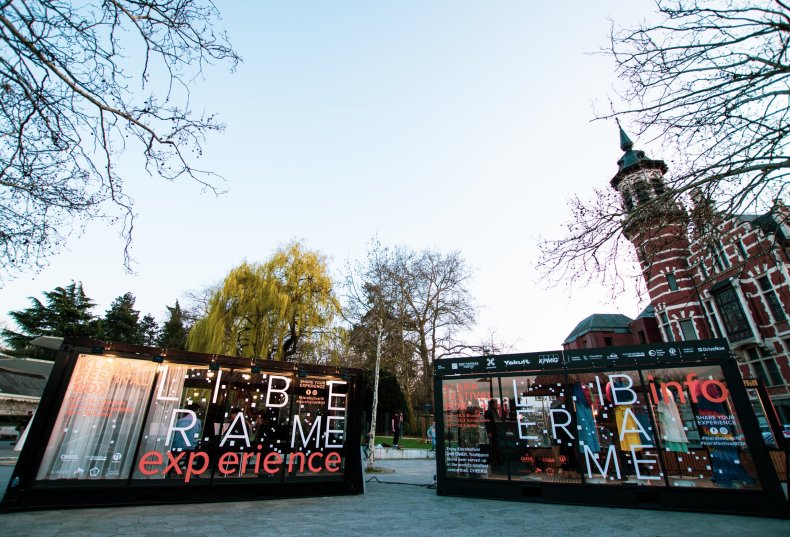 Greet De Grave, Klarafestival's newly appointed managing director, hopes this concept will spark more interest and encourage both the old and the young to listen to classical music. "Last year we had the Box in one location, in Place Flagey in Brussels, and we were astonished by the success that it had. But now this glass house is traveling around the city on three main locations—in central Brussels, in Schaerbeek and in Jette—and it is a totally different dynamic," she said.
"More people from the neighborhood are now visiting the Box on a daily basis, and this gives a chance to young musicians to broadcast and to experience, and to have people experience their music in a different contest," she added.
The Klarafestival Box has hosted around 45 young artists and musicians, who play three hours each time they do performances, as well as little concerts of 15 minutes. "These concerts are free and short, so people can experience classical music on the go," De Grave said.
During this year's festival, the Klarafestival Box has welcomed more than 2,000 people over two weeks. "We want to make classical music accessible to everybody, and currently not all people can experience classical music in concert halls," De Grave said. "And by bringing the Box to the people, what we do is that we simply give them an intimate experience. We create a connection between the musicians and the audience."
Before the performance, the visitors find out at the entrance who is playing and what music they will hear. The musicians perform in a unique setting without the typical atmosphere of a classical music concert. The glass walls mean that occasionally someone stops and curiously watches the show going on inside.
Based in Brussels, the Kroma Ensemble is one of the many groups involved in the Box. They see it as "an opportunity to expand their musical boundaries." For Italian harpist Roberta Brambilla, 26, and Greek-Cypriot bassoonist Mavroudes Troullos, 27, playing in a 15-square-foot glass container was definitely a first. They said the experience offered a challenging yet rewarding musical exchange.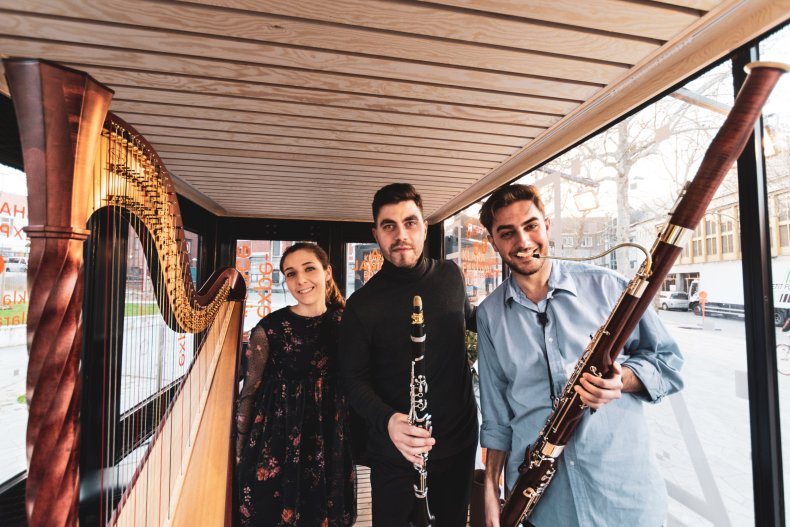 "Most of the musicians are impressed by playing in big concert halls with a large audience. But being in the Klarafestival Box is totally different, and having the audience just meters away from you, it brings a lot of much more emotions," Troullos said. "And yes, it is all a bit more stressful because you are so much attached to them and you feel every moment much more intense."
Brambilla explained: "We can feel the emotions of the public, and hopefully we can manage to transmit our emotions to them in return. There is no distance between the musician and the listener. Of course, we have to change our way to play, so we have to balance our sound as a chamber group. We have different sounds and colors, and we have to adapt it pretty much to the distance, to the public."
The glass box is soundproof, so those who occasionally stop to watch from outside cannot hear the instruments. Originally, the festival organizers wanted to install speakers outside the box, but they opted for a more "up close and personal" experience.
"Even if the people are not in the box, they can't hear but they can see us from the outside, and I think it's good for the musicians to let them know what we are doing, who we are and to just expand the classical music really," Troullos said.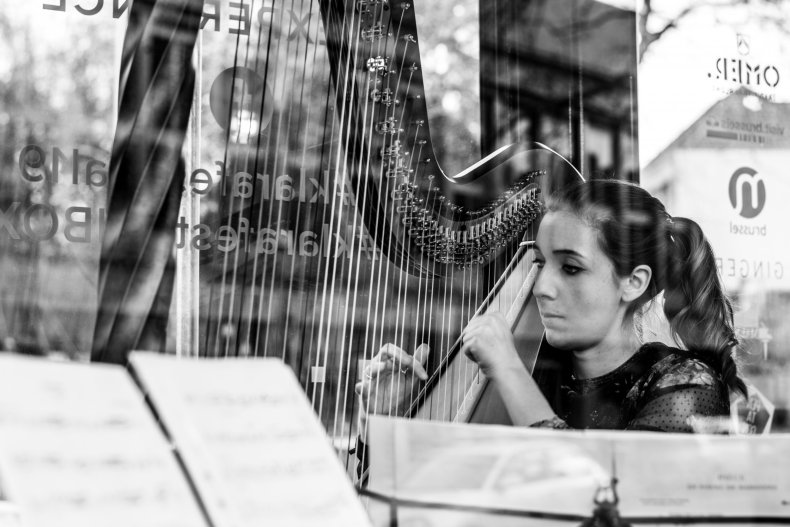 The purpose of the Klarafestival Box goes far beyond its glass walls, to engage people who might not ordinarily listen to classical music. It also appears to have reached a wider audience than expected. The Kroma Ensemble's performance was attended by, first, a mother with two young children, around 3 and 6 years old; a couple in their 20s; and lastly a group of ladies in their 70s.
"In general, when we play in big concert halls, a lot of people cannot afford a ticket, and so with this Box all concerts are free, and everybody can book...a classical music concert," Brambilla said. "Also, during our concert we had all different kinds of people, from kids to teenagers to old people. It's a very good experience for the public, not only for us, the musicians."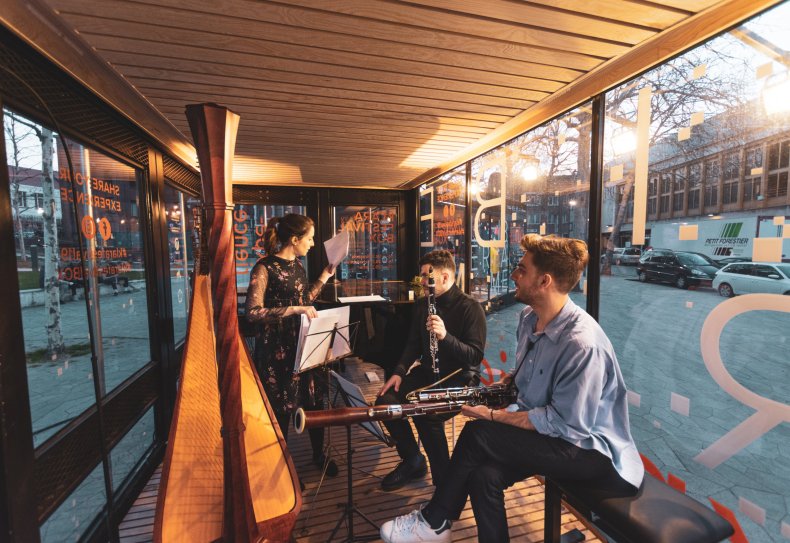 After the success in Brussels, the tiny concert hall may soon travel around the world. De Grave said, "We will expand, we will do something with this concept, and whether we are going to bring it outside Belgium, the future will tell. But we are certainly open to that."
She added: "We set up the smallest concert hall in the world just to make the connection between the musicians and the audience. And we bring them together in an intimate atmosphere, and it gives a special experience. And that's what we wanted: It's more than music, it's an experience."