Music Even Bristol Palin Can Dance To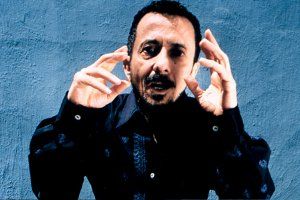 In the 1960s, a loose confederation of young artists, poets, and musicians gave their native Brazil's culture a near total overhaul. The movement was called Tropicalia, and the musicians, especially, influenced music at home and abroad. Led by Caetano Veloso and Gilberto Gil, Tropicalia mixed and matched folk forms such as the samba—and its more modern cousin, bossa nova—with African rhythms, jazz, and psychedelia. Disparate as they were, most of the Tropicalia artists managed to fit inside one—admittedly huge—tent. And then there was Tom Zé.
Now in his 70s, Zé has always gone his own way. His songs can turn lyrical one moment and in the next sound like a chain saw dueting with a chorus of cicadas. His singing is just as mercurial: here he sounds like a '40s big-band crooner, there like Leonard Cohen on a sunny day. His influences, which he sometimes lists in album liner notes, range from literary essays to Bach, and underlying everything is a rhythmic sense without parallel. Somewhere in Zé's song bag, there's music for almost any taste. And the more you hear, the more you want to explore the rest.
Now's your chance. David Byrne's adventurous record label, Luaka Bop, has issued Studies of Tom Zé, a three-album set that collects his classic reinventions of samba, bossa nova, and opera. Issued on vinyl, it sounds magnificent (for the digitally bound, a download code is included in the box). Bonus treats include a 45-rpm record of a recent live performance and a CD containing a conversation between Zé, Byrne, and guitarist Arto Lindsay. A thoughtful booklet by Brazilian music expert Christopher Dunn recaps Zé's career and places him in—and just as often out of—the context of modern Brazilian pop.
This set spans the course of Zé's musical life, starting with the '60s vintage Estudando o Samba ("Studying the Samba"), his idiosyncratic take on Brazil's greatest musical export. His classical training notwithstanding, some part of Zé is always the country boy looking in. Country boy, perhaps. Hick, perhaps not. The second album, Estudando o Pagode, is a pocket opera—complete with arias, duets, and the occasional chorus—that explores male exploitation of females through the ages. But Zé wouldn't know how to be bombastic if he tried, and most of the music on these discs, however grand the themes, is sly and funny. Album three, Estudando a Bossa, the bossa nova "study," sounds all too familiar at first. Then, not quite halfway through side one, the lyrics of "Outra Insensatz, Poe!" pierce the melody's lilting sweetness with news of the singer's "chicken pox and the measles and then/a nasty fever that entered my chest." Zé is playing with the form—and playing with us. "I'm explaining things to confuse you, / I'm confusing you to clarify," he sings. This collection gives an uncommon artist his due in magnificent fashion.
Music Even Bristol Palin Can Dance To | Culture