In Pictures: The 25 Highest-Paid Musicians in the World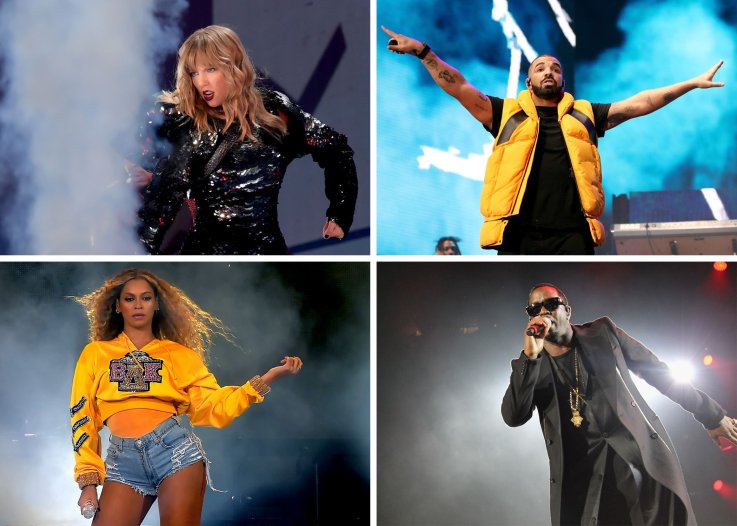 The music business isn't what it used to be. Actual album sales are down because of streaming, which doesn't earn artists nearly as much as album sales do. But one thing hasn't changed in music: It pays to tour. When we say "pay," we mean a lot.
"Artists don't really make the money off the music like we did in the Golden Age," The Weeknd told Forbes. "It's not really coming in until you hit the stage."
Most of the artists featured on Forbes' list of the highest-paid musicians in 2017 earned their millions from touring or Las Vegas residencies. Five out of the 25 artists featured on the list all had Vegas residencies, with one, Bruce Springsteen, taking up a different kind of residency on the Great White Way, also known as Broadway. And Garth Brooks's comeback tour has gone down as one of the highest-grossing tours of all-time.
A notable difference from most other lists like the richest people in the United States or the highest-paid actors in Hollywood is that the top four highest-paid musicians in 2017 are people of color: The Weeknd, Drake, Beyoncé and Diddy.
Diddy coming in at the top of the list shouldn't come as a surprise. Besides his music, he's a wildly successful businessperson, with lucrative endorsement deals and branding opportunities, not to mention his clothing line Sean John.
"I started looking at business at the age of 12, [from] delivering newspapers to working in gas station bathrooms, or even doing things like being a background dancer or a stylist. Whatever I could do to get close to the industry," he told Forbes.
Forbes' list covers a wide array of artists from different genres—pop, country, hip-hop, R&B... you name them, they're on this list. So who are the highest-paid artists in the music world? Slide through to see if your favorite artist from 2017 made the list.