Music Review: Janelle Monáe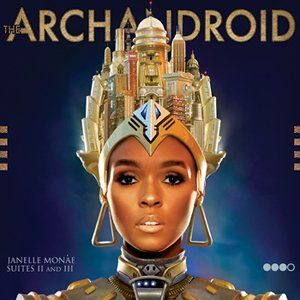 Critics are loath to admit it, but every once in a while we come across an album of such thuddingly obvious quality that writing a straight-up review seems boring. When a release is heralded by so many outlets—in print, on television, through the blogosphere—sometimes all that's left to say is, yes, the subject under consideration really is fantastic: ho-hum, end of story. This is what has happened with Janelle Monáe, a singer so exciting that writers are flipping deep into their adulation thesauruses looking for new ways to express the opinion. (Not that this will stop me from attempting the same.)
In sum, the Kansas-born, Atlanta-based R&B musician is a singing, dancing, and art-making machine, full stop. That noun—machine—is apt, because her new record presents Monáe as an android from the future, traveling back in time to prepare us for the vast technological changes ahead. If this all seems loopy or overwrought for the dance floor, you needn't worry. Unlike most concept albums running more than an hour in length, The ArchAndroid never forgets how to have a good time: rocking in parts like Dirty Mind–era Prince, unfolding in a suite form that recalls Abbey Road's side two, and bumping throughout with the best innovations of contemporary hip-hop. Monáe's voice—as fine a device as any in sci-fi when it comes to arguing for otherworldly intelligence—can make the hyperspace leap from its crooning, chanteuse register to the gritty exhalations required by funk. There's a reason that Bad Boy label president Sean "Diddy" Combs—not known for public acts of humility—emerged from offstage to bow at Monáe's feet after her recent debut on Letterman. Since she has—for the moment—no haters, it's as good a time as any for Monáe to be ambitious.
The ArchAndroid is filled with references to futuristic signposts such as Philip K. Dick and The Terminator, though its strongest ties connect back to the 1927 Fritz Lang film Metropolis, which gets a subtle nod from Monáe's cover art (via the cityscape that shoots straight out of her head). In Lang's silent-era masterpiece, captains of industry live in a futuristic city in the clouds, while the workers who keep their skyscraper lights humming toil underground. The elite city planner's son, possessed of a conscience after seeing ratty-clothed children tossed from his garden idyll, ventures into the depths and is horrified. He attempts to bridge the worlds but is frustrated in turn by his father, the workers, and the specter of technology that keeps the classes segregated. The film was mangled by Lang's producer soon after its premiere, and more than half an hour of the director's cut was long assumed lost. Then in 2008, 25 of Metropolis's missing minutes were discovered, as part of a 16-millimeter print, in an Argentine vault. A near-complete version of the film opened at New York's Film Forum in the weeks before the release of The ArchAndroid, while Monáe and her two co-writer/producers, Chuck Lightning and Nate Wonder, were also in town. The coincidence seemed as if it was trying to tell us something, so newsweek invited them all out to the movies. (Take that, boring record reviews!)
Midway through Metropolis's opening "Prelude" section, it was clear that Monáe and her collaborators were clocking each new shot that fleshed out the film's grand, symphonic structure. In one formerly lost scene, a worker drone freed by the city planner's son fritters away his aboveground liberty at a casino. "This sequence is so important for our generation of black artists," Lightning leaned over to say, "because it's about what you do with your freedom after you're free." Once the film concluded—with its final title card, "The Mediator Between Head and Hands Must Be the Heart!," giving way to the credits—Monáe chimed in. "My mother was a janitor; I grew up working class," she said, before adding that she moved to Manhattan to study musical theater after high school. "So I know about both sides of that struggle, between the haves and the have-nots." Monáe's balancing act echoes not only Metropolis but also the lyrics of her own current single, "Tightrope," the hook of which commands: "Whether you're high or low/you gotta tip on the tightrope."
While it may be a little too neat to suggest Monáe found the heart that could connect her roots to her conservatory training in Atlanta's fertile music scene, that doesn't make it untrue. One of the city's most familiar voices crops up in a guest verse on "Tightrope" and receives a co-executive-producer credit for The ArchAndroid. Big Boi, from the rap duo Outkast, has been promoting Monáe in much the same way Diddy has: introducing her to new audiences but largely staying out of the group's way, creatively. There's no condescending to the marketplace on The Arch-Android, no fear that a highfalutin reference may push audiences past the point of alienation. To that end, it's an album whose liner notes offer hat-tips to the works of art that inspired each song. ("Sir Greendown" credits both Walt Disney and Salvador Dalí.) Toward the close of the album's penultimate song, "Say You'll Go," the pianist drops in a few bars of Clair de Lune, half a step below Debussy's original key. Instead of playing like a mishmash, it delivers a sincere emotional kick. Monáe isn't just mediating the class worlds—she's also doing something that tends to look impossible: making high art and pop talk to one another in a way that transcends gimmickry. The heart that's missing in pop music's other self-conscious provocateurs beats like a kick-drum on The ArchAndroid. Were Fritz Lang alive today, he'd not only be celebrating the rescue of his magnum opus—he'd also be tipping on Janelle Monáe's tightrope.