Musicians React to Kanye West's Twitter Rant: 'I'm so Pissed Right Now'
On Monday night, Kanye West went on Twitter rant, making some bizarre statements and accusations. He made several cryptic references to his wife Kim Kardashian and to his mother-in-law Kris Jenner. West claimed that Kardashian tried to lock him up with a doctor, spoke about the sex tape she made in 2007 with her boyfriend at the time Ray-J, the movie Get Out and even Nelson Mandela.
At the end of the strange Twitter rant, West shifted the focus to his upcoming album Donda, which is set to release on Friday, July 24. Since, West has appeared to delete several of these posts.
Musicians reacted to his tweets, calling for the de-stigmatizing of mental health issues, and also urging people not to make fun of West for what he's going through.
Social media personality Julieanna Goddard (more commonly known as YesJulz) told her followers that they "cannot give up on Ye."
"I witnessed Kanye take a homeless man frm (sic) the streets of Chicago, ask him y he was in that situation, find him help, spend nearly $100k rehabilitating him.He drove an hour 2the center 2 PERSONALLY check him in &put improving rehab centers on his 2do list. We cannot give up on Ye"
"We need more research on patterns with behavior & social media," she continued "More education on technology as we use it today and how our patterns with technology affect our mental health and well being as spiritual beings."
YesJulz also shut down a fan who said they didn't agree with West views, and said that the focus is getting someone the proper mental health.
Rapper Casanova2x took to Twitter to pray for West. "Kanye West your (sic) a legend idk what's going on with you," he wrote, "but everything is not for the Internet handle what you gotta handle with your life off the gram...You losing us and I will personally pray for you OG"
Questlove, meanwhile, was upset. At first, he was shocked to see what was happening online. "Dude—-why is this a real life sequel to the Amy doc....I don't like where this is heading man," he wrote. "Praying for him. This ain't funny one bit. This ain't gossip/cancel/snark worthy—-this is a life on the path to expiration."
The Roots drummer appeared to think that the Twitter meltdown was a lead-in to promoting Donda. "Never again," he responded to a fan suggesting the idea that the meltdown was a plug. "I'm so f***ing mad right now."
British rapper Zuby called out people who think that West is "crazy" and erratic" after listening to his campaign speech from over the weekend where he claimed that slavery was a choice and that Harriet Tubman didn't free the slaves.
"Kanye is talking about buying land, agriculture, generational wealth, owning the means of production, self reliance, importance of family, fearing only God, valuing human life, technology of the future, and more," Zuby said.
"The man has been erratic and eccentric HIS ENTIRE CAREER and people loved it," he continued. "But the stuff he's now saying is a GENUINE THREAT to secular orthodoxy, so they will attack him with all their power and convince you to turn against him."
"Honestly, I don't know (nor really care) about the legitimacy of his presidential campaign, but the man is saying A LOT of stuff that needs to be said," Zuby concluded. "The culture is sick. Not him."
Halsey was "disturbed" by West's manic episode, and told her followers that what he's going through isn't a laughing matter.
"A lot of people you know probably have bipolar disorder and you aren't aware of it," she continued. "Taking this opportunity to make offensive remarks and villify (sic) people with mental illnesses is really not the way to go...this is the exact triggering shit that causes people to keep quiet about it."
She continued: "You can hate someone's actions or opinions without contributing to stigma that damages an entire community of sometimes vulnerable people all for a couple of laughs."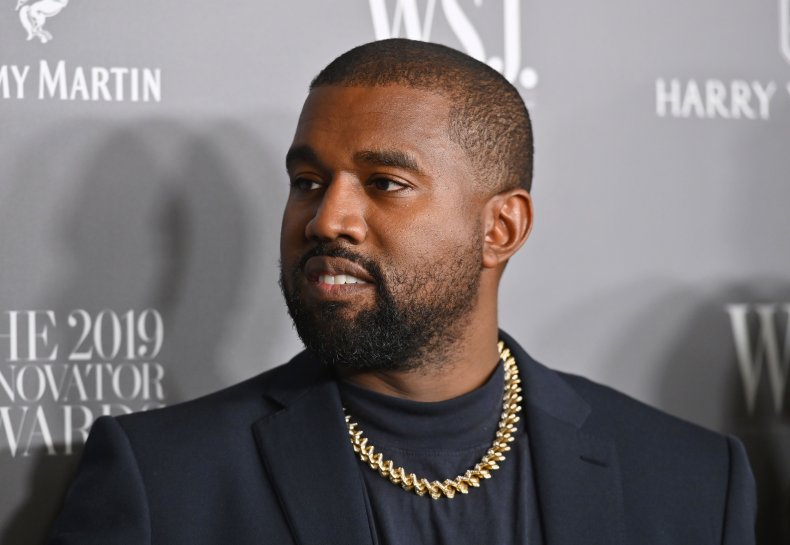 "If you wanna think someone is an a**hole, go ahead. Lots of people with mental illnesses are great," Halsey wrote. "Lots of them are a**holes. Because they are people. With nuanced personalities. But making jokes specifically targeted towards bipolar hurts more than the 1 person ur angry with."
She concluded her Twitter thread with, "Sincerely, Human Being with a Decade Long Bipolar Diagnosis."
Newsweek did not receive comment from Kanye West at the time of publication.