Musicians who were originally scheduled to perform at South By Southwest (SXSW) voiced their frustration and disappointment after Austin, Texas officials canceled the popular music, film, and tech festival due to the coronavirus outbreak.
On Friday, festival organizers revealed that they were trying to reschedule the event and provide a virtual experience for certain performers.
"We are devastated to share this news with you. 'The show must go on' is in our DNA, and this is the first time in 34 years that the March event will not take place," they said in a statement. "We are now working through the ramifications of this unprecedented situation."
The festival organizers also apologized to local businesses that often get more traffic from the festival and announced that they were working towards bringing more events in the future.
"We understand the gravity of the situation for all the creatives who utilize SXSW to accelerate their careers; for the global businesses; and for Austin and the hundreds of small businesses – venues, theatres, vendors, production companies, service industry staff, and other partners that rely so heavily on the increased business that SXSW attracts," the SXSW organizers said. "We will continue to work hard to bring you the unique events you love."
SXSW did not immediately respond to Newsweek's request for comment.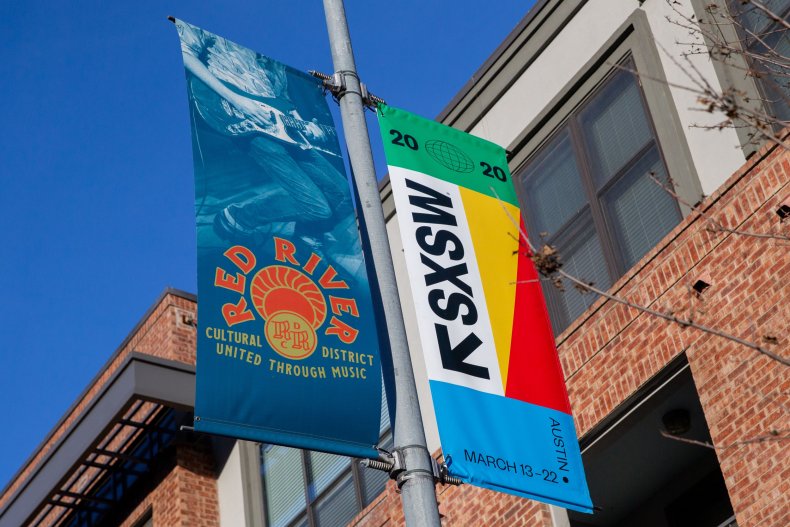 Musicians as well as attendees were upset over the festival's cancellation but were understanding due to the circumstances. U.K. indie rockers Mammoth Penguins wrote that they were upset to not make it to Austin for the festival, but felt worse for the staff and service industry workers who were expecting to make more money during the festival.
Former presidential candidate Andrew Yang also shared that while he was disappointed to not attend the festival, his concerns were primarily the economic impact that the cancellation would entail.
Indie music outlet the Alternative shared the poster for a showcase they were co-producing for the festival. They told fans to stay tuned, as some of the artists may still play in Austin despite SXSW's cancellation.
Indie pop group Hazy Sour Cherry also announced that they would be trying to make up for the festival's cancellation.
Brooklyn punk outfit Worriers took a lighthearted approach to the cancellation, with lead singer and only consistent member Lauren Denitzio writing that no one wanted breakfast tacos more than they did.
Singer-songwriter Bartees Strange also announced that if unofficial shows are still happening, it would still feel like the festival was happening and be great.
Some Twitter users suggested buying records and merchandise from bands who took a financial hit with the festival's cancellation. Others encouraged patrons to still support local establishments to make up for the lost business.