A Muslim Ban for Europe? Continent's Far-Right Wants to Imitate Trump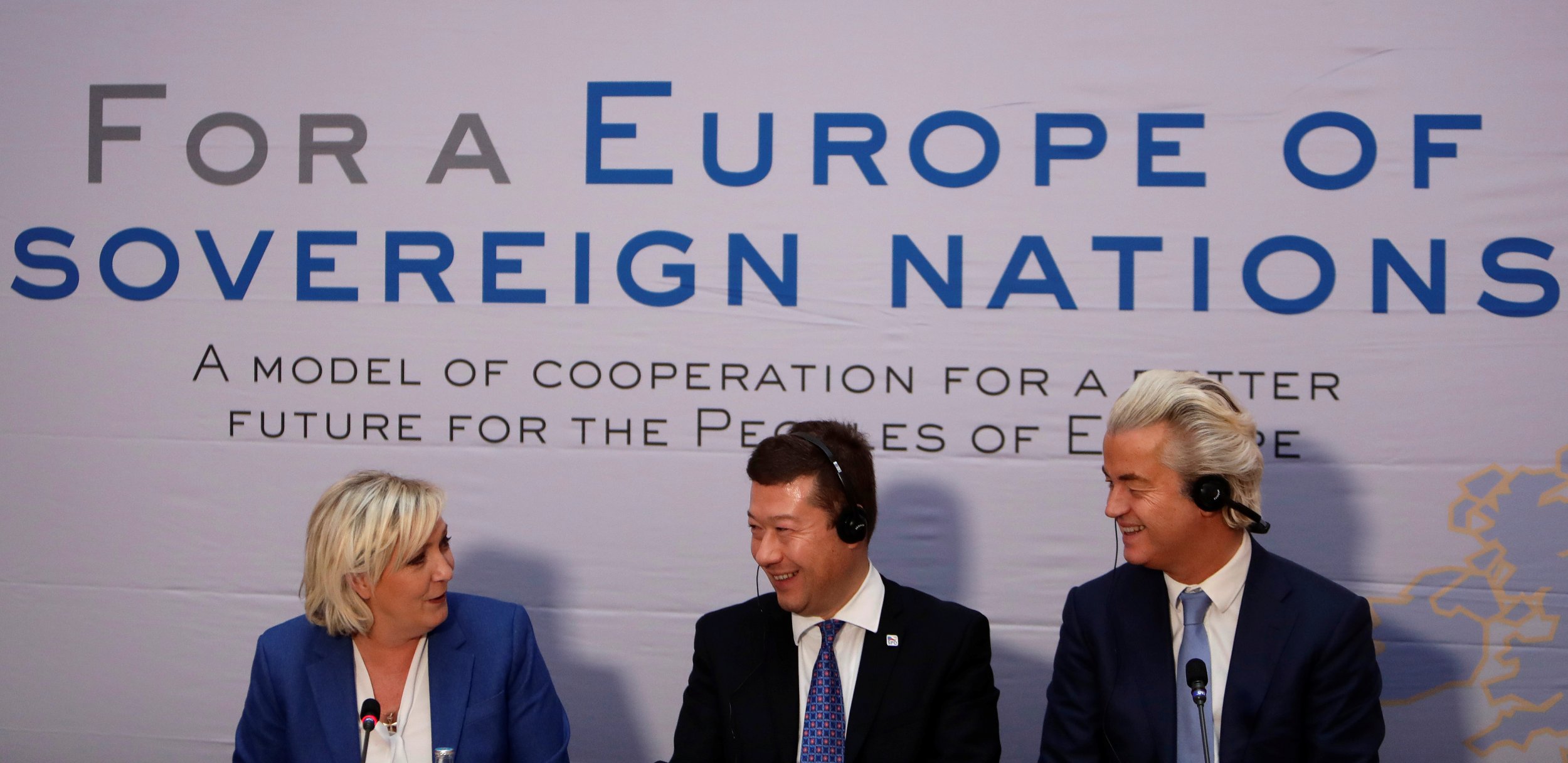 Europe's most extreme right leaders gathered in Prague on Sunday to discuss their aspirations for implementing a Muslim ban resembling President Donald Trump's hardline immigration policy.
"We must have the courage to have travel bans as President Trump has done in the United States," Geert Wilders, a far-right Dutch politician who sports a mop of blonde hair similar to Trump's, said during the event, which brought together right wing members of the European Parliament.
"We must have the courage to send every boat with illegal immigrants back, as Australia is doing for such a long time," he continued, referring to a draconian policy implemented in Australia that has left thousands of migrants stranded on islands that function as de facto detention centers, sometimes without adequate food or water.
The Trump administration has implemented a ban to stop immigrants and visitors from a handful of Muslim-majority countries from entering the United States. Earlier this month, the Supreme Court ruled that the travel ban could go into full effect pending multiple legal challenges. The decision was applauded by members of Europe's far right, who would similarly like to ban Muslim immigrants and refugees from entering the continent.
Far-right, populist politicians from countries such as France, Poland, Austria, the Netherlands and the United Kingdom met on Sunday under a banner calling for a "Europe of Sovereign Nations," a slogan that promotes the right of each European nation to reject requirements that members of the European Union take in a quota of refugees.
The majority of Europe's best known far-right faces, like Wilders and France's Marine Le Pen, have lost elections in their home countries, and at first glance Sunday's gathering looks like a convention of far-right rejects. But experts say it would be a mistake to underestimate the ability of anti-Islam, far-right populists to undermine Europe's liberal values. This is especially true as the Austrian Freedom party, one of the participants in Sunday's event, becomes the only far-right party to enter government in Western Europe.
"For now, populists that are actually in power, for example, in Poland, Hungary, or for that matter, Austria, are the ones that we should pay attention to," Zselyke Csaky, a senior researcher with Freedom House, told Newsweek.
"Besides throwing a wrench into the European project, like their Western European counterparts not in power, they pose a much bigger danger by challenging the very nature of the union as a value-based community."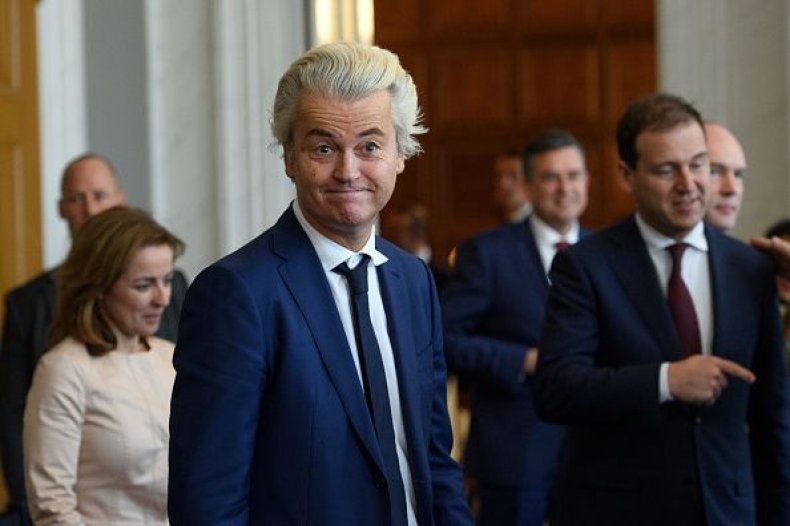 During the event, Wilders praised countries such as Hungary, the Czech Republic, Slovakia and Poland for refusing to take in Muslim refugees. Attendees during Sunday's conference spent much of the afternoon bemoaning the alleged loss of European culture due to the influx of refugees from majority-Muslim nations.
"Migration is close to unbearable—our respective cultures are being destroyed," said Le Pen, an Islamophobic politician who did surprisingly well in the French elections in May, but who was ultimately defeated in the final round of voting.
"We do like diversity, but I like the Dutch to be Dutch, the Czechs to be Czech, I like the French to be French, and I like the Italians to be Italians," she added.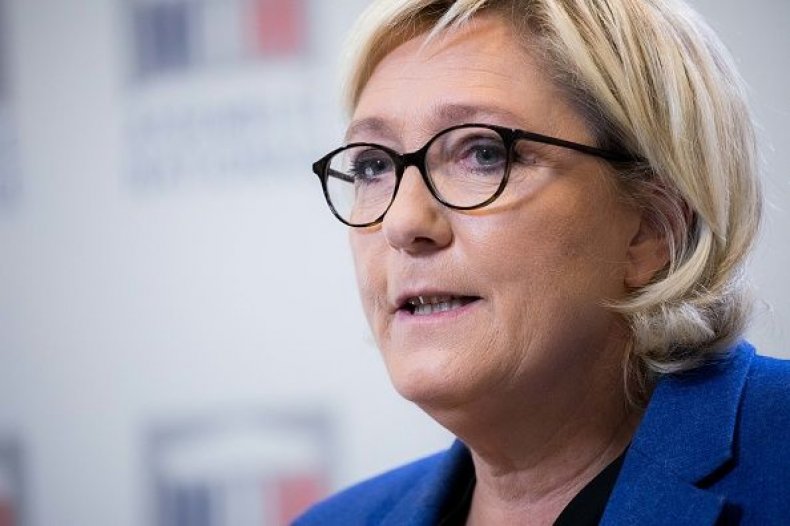 Human rights activists say these statements show that Trump's worst policies are having an impact across the Atlantic.
"The last thing Europe needs to do is import the worst ideas of the Trump administration," Andrew Stroehlein, Human Rights Watch's European media director, told Newsweek.
"The 'Muslim ban' is plain and simple prejudice, proposed by xenophobic demagogues trying to stoke fears and hatred for their political gain."
The conference was hosted by the Czech Republic's Freedom and Direct Democracy party, which won almost 11 percent of the vote during elections in the Czech Republic. The party's leader, the half-Japanese Tomio Okamura, has been compared to Trump because of his populist rhetoric and extreme anti-Muslim stance.
Okamura has called for a zero tolerance migration policy and for a stop to the "Islamization" of the Czech Republic, despite the fact that the Czech Republic only has around 11,000 Muslims, making up just 0.1 percent of the population.
Around 400 demonstrators gathered outside the conference on Sunday to protest xenophobia.