'Muslim Ban' Inspires 'NoBanz,' a Sugar-Free Gum That Blocks Bad Breath, Not People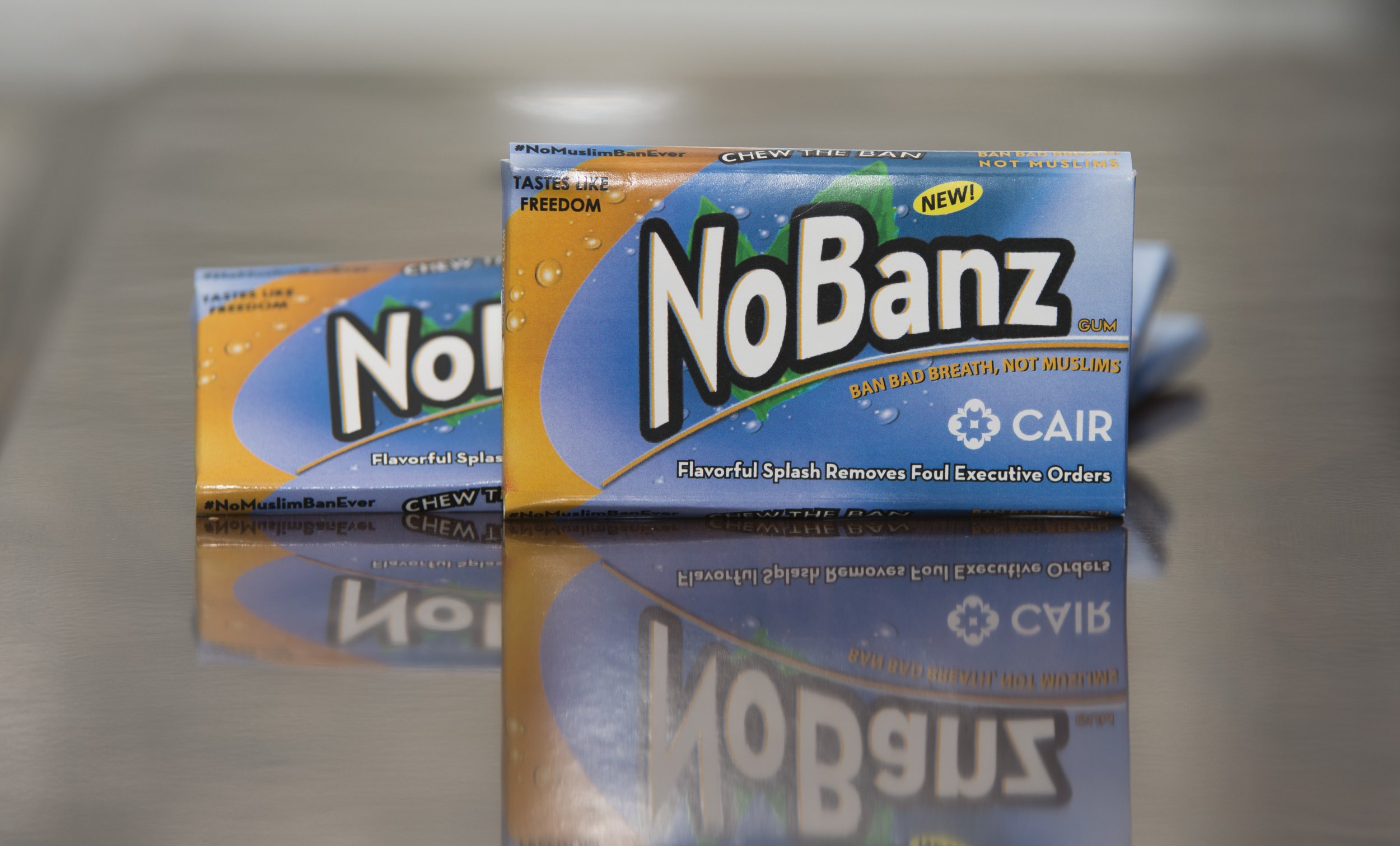 Every attendee at the Council on American-Islamic Relations' annual banquet on Saturday evening can walk away with a packet of "NoBanz," a sugar-free gum specially crafted to "ban bad breath, not Muslims." The satirical product from CAIR advertises on the packaging that its "flavorful splash removes foul executive orders."
"Chew the ban," the package suggests. It "tastes like freedom."
The national organization and its few dozen regional offices have stood in staunch opposition to President Donald Trump's campaign promises to institute a "Muslim ban" and his administration's subsequent attempts to do so. The theme of this year's banquet is "Living Our Faith: Defending Freedom."
CAIR has vigorously protested the multiple efforts to ban travel to the United States from a handful of Muslim-majority countries, filing federal lawsuits and an amicus brief with the U.S. Supreme Court. Additionally, CAIR is one of dozens of organizations—including the American Civil Liberties Union (ACLU), Amnesty International, the International Rescue Committee, Oxfam and the Southern Poverty Law Center (SPLC)—that partnered on an awareness and mobilization campaign called "No Muslim Ban Ever" in the weeks leading up to the full implementation of the latest ban on October 18 (which was ultimately blocked). "The Muslim and refugee bans are discriminatory, unconstitutional and inhumane," the campaign website said, arguing that the addition in the latest version of the order of North Korea and Venezuela, which do not have Muslim majorities, "does not negate its inherent anti-Muslim intent. It also affirms the white supremacist, exclusionary policies of the Trump administration that discriminate on the basis of faith, national origin, and immigration status."
In addition to its fierce efforts to combat discrimination, CAIR has sometimes turned to satire as a complementary method. They're not the first to employ humor in an effort to fight Islamophobia. Filmmakers Negin Farsad and Dean Obeidallah, for example, directed the 2013 documentary The Muslims Are Coming!, which followed a group of Muslim-American comedians traveling around the country to battle Islamophobia. The filmmakers also launched a series of controversial comic ads to the same effect in New York City subway stations.
"If you used CAIR's ISLAMOPHOBIN to help cure Islamophobia, you will love this new product that "removes foul executive orders,'" CAIR National Executive Director Nihad Awad said in a statement on Wednesday, teasing Saturday's reveal of NoBanz.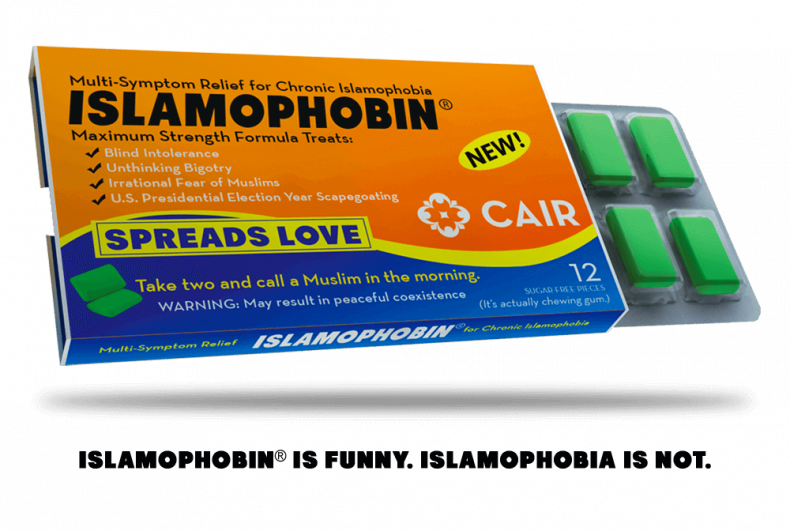 He was referring to a previous satirical product released by CAIR in May 2016 with an accompanying video. Though Islamophobin was also a sugar-free gum, it was dressed up as a remedy providing "multi-symptom relief for chronic Islamophobia," whose "maximum-strength formula treats blind intolerance, unthinking bigotry, irrational fear of muslims, U.S. presidential election year scapegoating."
A website for the product-slash-campaign explained that "Islamophobin is right for you if you: Fear and hate Muslims; Are suspicious of people who don't look like you, sound like you, dress like you, or believe as you; Get abnormally nervous when you see a Muslim or someone who you think is Muslim; Pray that a Muslim is not on your flight."
It added that "for those who hold bigoted stereotypes of Muslims and subscribe to Islamophobic conspiracy theories, use of this product may result in feelings of remorse and/or guilt." However, "those who already believe in religious diversity, tolerance and mutual understanding should not use this product." The package instructed users to "take two and call a Muslim in the morning," and warned that "product may result in peaceful coexistence."
"ISLAMOPHOBIN is funny, but Islamophobia is not," Awad said in a statement at the time. The same formula applies to the new product: NoBanz is funny, but Muslim bans are not.