Muslim Cleric and 17 Worshippers Killed by Extremists for Playing Music During Religious Services
A prominent Muslim religious leader and 17 worshippers in Somalia have been killed by extremists, reportedly because they played music during their services.
Police said that two suicide bombers detonated in front of the residence of Sheikh Abdiweli Ali Elmi, followed by four gunmen storming the site on Monday, The Independent reported. The religious leader lived in a Sufi shrine, frequented by religious worshipers, in the northern city of Galkayo. At least 20 others were injured in the attack.
As the assault unfolded, police rushed to the scene and a shootout ensued with the attackers. Three of the gunmen were killed, while one was captured alive. The extremist rebel group al-Shabab has claimed responsibility for carrying out the attack.
"The attackers used a vehicle loaded with explosives to make their way into the compound before shooting indiscriminately at people inside," Abdirahman Mohamed, a security officer, told Agence France-Presse news agency. "The targeted cleric was killed in the attack together with some of his followers," he said.
Al-Shabab aims to take control of Somalia and establish its own government based on a severe interpretation of Islamic Sharia Law. Although the group currently controls small areas of the country's Mudug region, that does not include Galkayo. This has led authorities to question how the attack was perpetrated.
"Galkayo north has been very peaceful and the question is how armed militants with a suicide car bomb entered the town," Police Captain Nur Mohamed told Reuters news agency from the city.
Abdiasis Abu Musab, al-Shabab's military operation spokesperson, hailed the attack as a success, putting the casualty count higher than that released by police. He said that Sheikh Abdiweli had "abused the prophet," according to Al Jazeera.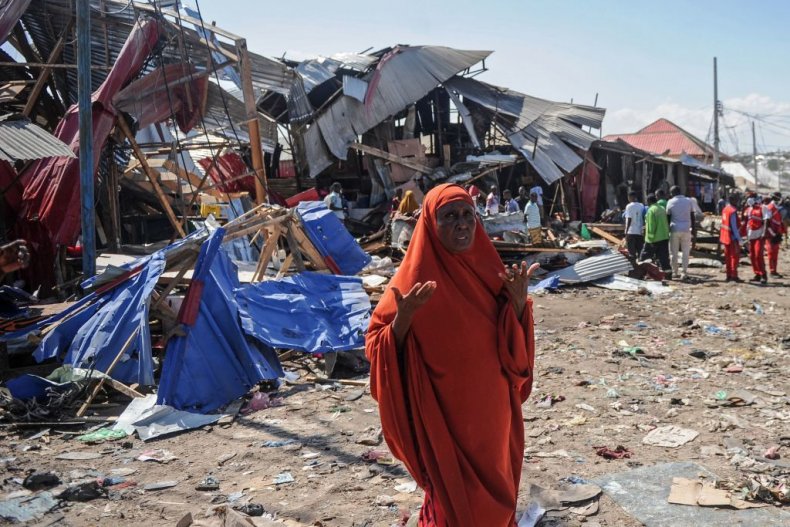 The imam had reportedly created his own breakaway sect of Islam, attracting hundreds of followers. During their worship services, the religious group would play music and sing songs praising Islam's revered Prophet Mohammed. Al-Shabab was adamantly against the worship style as well as the religious leader, threatening his life on multiple occasions.
While the extremists and some others in Somalia said that Sheikh Abdiweli's musical worship services went against Islamic values, he regularly pushed back against the criticism. He argued that music is not contrary to the religion's teachings.
A separate attack led by extremists on Monday left six dead and injured 15 others in Somalia's bustling capital Mogadishu. Military Captain Mohamed Hussein said that attack appeared to target soldiers who were gathered in the city's Wadajir district.