Muslim Family Says 'Trump Supporter' Harassed Them in TJ Maxx Store, Yelled 'Go Back to Your County'
A Muslim family says a white woman allegedly harassed them in a TJ Maxx store, yelling: "Go back to your country!"
Mido Mourad, a journalist from Cairo, Egypt, who lives in New York City, said he was shopping with his wife and children in the TJ Maxx store in Bay Ridge in Brooklyn, New York, on Saturday.
He said they had been standing near the cash register when a woman approached and started cursing at his wife, who wears a hijab, a head covering worn by some Muslim women.
Mourad said the woman yelled at his family to "go back to your county" in front of TJ Maxx employees and other customers.
He claimed TJ Maxx employees didn't help and so he called police. While waiting for officers to arrive, he alleged that the woman assaulted him outside the store as he filmed her.
Mourad later posted a brief clip of that incident on Facebook in which he referred to the woman as a "Trump supporter," which has been viewed more than 20,000 times.
"My wife and I were attacked by this white lady at T.J.Maxx in Bay Ridge yesterday. We were at the TJ Maxx trying to buy winter clothes for our twins," Mourad said, according to the Council of American-Islamic Relations' New York chapter.
"After we grabbed our items, we stood near the register to decide if we were ready to check out. At this point, the white lady in the video, started cursing at my wife and I. My wife wears a hijab. This lady became more and more aggressive and we started to worry that she was going to harm us.
"As we started to walk away, she yelled at us to "GO BACK TO YOUR COUNTRY!" We were shocked and shaken. She did this in front of other customers and TJ Maxx employees. The TJ Maxx employees did nothing.
"I found the store manager and asked him for help. He did nothing.
We did not know what we should do."
Mourad added: "A witness encouraged us to call the police. I went outside to call the police and waited for them to arrive.
"As I was waiting, the white lady came outside (she had checked out at this point). I decided to get a video and photo for the police. While I was recording, she became angry and hit me and almost broke my cell phone."
The video clip he posted on Facebook shows the woman appearing to hit Mourad's phone out of his hand before telling him: "Get out my face or I'll f*** you up."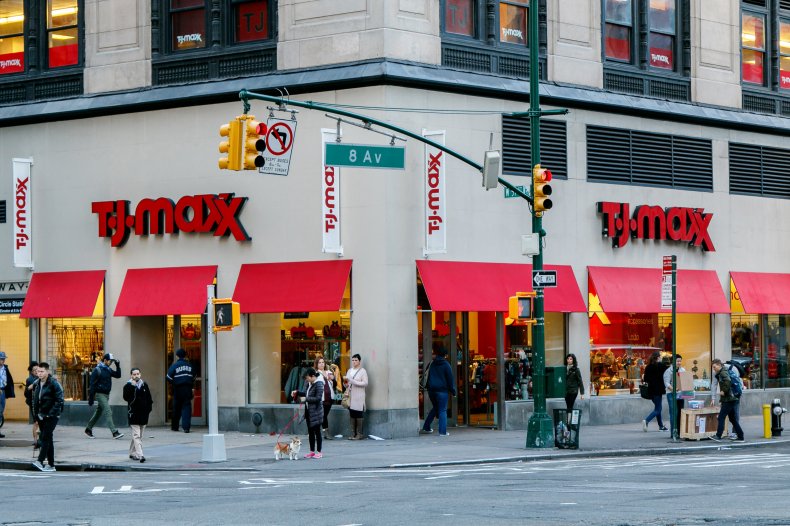 Mourad said police arrived at the scene after the woman had left. He claimed they refused to record the incident as a hate crime despite witness statements.
According to the CAIR, a Muslim civil rights and advocacy organization, the family had asked TJ Maxx employees for help in dealing with the harassment but were allegedly refused help.
The family also filed a harassment complaint with the New York Police Department, according to CAIR, and called for police to investigate the incident as a hate crime.
Mourad added: "She left and I waited a very long time for the police. When the NYPD arrived, the police officers told me that it was not a hate crime but only a violation.
"I insisted that it was a hate crime and wanted it investigated as such. Instead, NYPD wrote it as a harassment complaint."
He added: "Instead of showering my children with gifts this weekend, we were traumatized and made to feel like we don't belong. My wife and I are separated so I only get to see my kids on the weekends.
"Shame of TJ Maxx for doing nothing to help us as we were being harassed. I still cannot believe that TJ Maxx prioritized helping this racist over us. We hope the NYPD will take this assault seriously and investigate it as a hate crime."
A spokesman for TJ Maxx told Newsweek that the store is looking into the matter.
"At T.J. Maxx, we are committed to fostering an environment in our stores in which everyone is treated with dignity and respect, and do not condone any disruptive or otherwise aggressive behavior. We are sorry to learn that this situation occurred between two customers and are looking into this matter further," the spokesman said.
"We will take any internal actions we deem to be appropriate so we may better help deescalate future customer situations. As with any law enforcement matter, we will continue to cooperate with the NYPD."
An NYPD spokesman confirmed to Newsweek that a harassment complaint was filed outside the store on 86th Street on Saturday. The spokesman added that the incident is not currently being investigated as a hate crime.
"A 41-year-old male reported to police that after a dispute inside of the location with an unidentified individual, that person attempted to knock his cellphone out of his hand. There were no reported injuries as a result of this incident," the spokesman said.
"It is unacceptable that TJ Maxx would value the business of a bigot over protecting their Muslim customers from repugnant harassment. The NYPD must take this matter seriously and initiate a hate crime probe," CAIR-NY's Litigation Director Ahmed Mohamed said.
"New Yorkers of all faiths and backgrounds deserve to have a shopping experience that is free of harassment and discrimination."
He added that the family is extremely disappointed at TJ Maxx's response to the incident and called on TJ Maxx to implement proper training for employees so they can respond appropriately to harassment incidents in stores.
CAIR has reported an unprecedented rise in bigotry targeting American Muslims, immigrants and other minority groups since Donald Trump was elected president, Mohamed added.