For Muslim Leaders, Texas Attack Means Another Public Apology for Events They Don't Control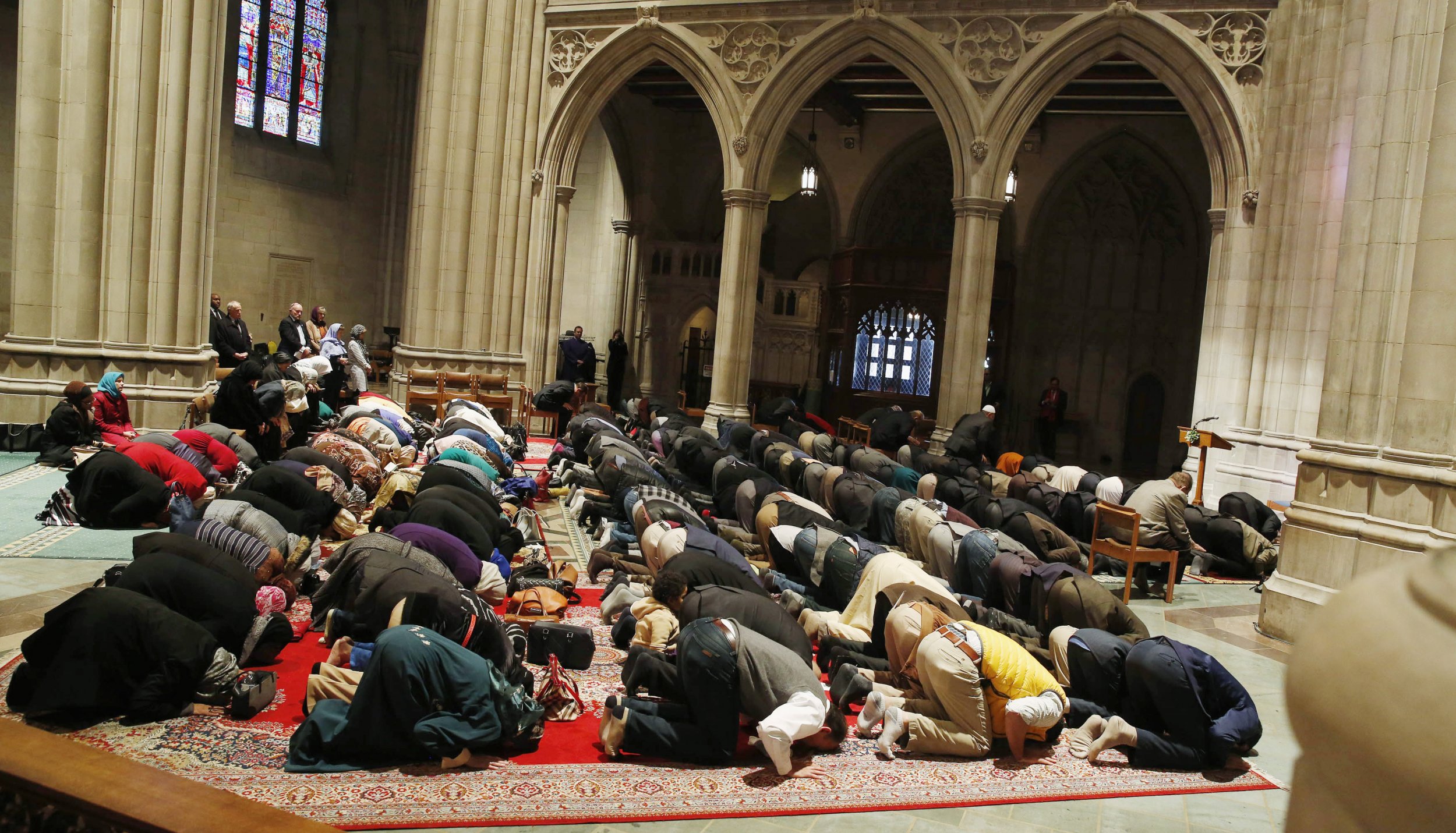 Muslim groups in America typically speak out after Islamic believers cause harm or create an uproar. Sunday's shooting outside an event center in Garland, Texas, was no exception.
Muslim leaders and activists often release statements immediately following an attack, just as pundits regularly demand that moderate Muslims speak out after terrorist attacks. They usually condemn the individuals' actions and repeatedly say the behavior lands far from their religious beliefs.
"There's a sensation to it. There's a perception that goes to it. We feel that we should put our two bits in there, as well as explain the way we feel," Ahsanullah Zafar, national president of the Ahmadiyya Muslim Community, tells Newsweek. He says the group, which is one of America's oldest Muslim communities, understands people won't always agree but urges them to discuss issues peacefully with one another. That belief, he says, is different than that of some Muslims living in the Middle East.
Two men opened fire on authorities Sunday night at the Curtis Culwell Center, where the controversial American Freedom Defense Initiative, deemed anti-Islamic by critics, hosted a cartoon contest for depictions of the Muslim Prophet Muhammad. The group, led by Pamela Geller, offered a $10,000 prize for the best caricature. Islam traditionally views any image of the prophet as blasphemous, though some scholars note visual depictions—such as paintings and images—of Muhammad aren't banned. Rather, the Koran criticizes the worship of idols.
A Garland police officer was wounded in the attack, but the men were killed. Members of the Islamic State, or ISIS, later applauded the attempted attack. A confirmed member of ISIS sent several tweets, including one that read: "Two of our brothers just opened fire at the Prophet Muhammad art exhibition in Texas." Another read: "They thought they was [sic] safe in Texas from the soldiers of the Islamic State." One of the suspects, Elton Simpson, previously was the focus of a federal investigation into terrorism and implied he was linked to ISIS on Twitter before the shooting.
Extremists abroad urged Americans loyal to ISIS to act similarly to those who in January carried out the deadly attacks in Paris against the French satirical magazine Charlie Hebdo.
"Why do we have to, in essence, apologize for things we have nothing to do with, can't control and condemn in any case?" says Ibrahim Hooper, national communications director of the Council on American-Islamic Relations (CAIR). "It comes to be expected that Muslims have to issue these things every time there is an incident."
CAIR, the nation's largest Muslim civil rights and advocacy organization, was just one of several groups to condemn the two men's actions in the hours following the shooting. The national group, which supports freedom of speech, said Monday that violence used in response to anti-Islam programs is more insulting to the religion than any cartoon.
Too often, Muslims' image in the United States is tainted by the deadly events happening in the Middle East because people relate those attacks to incidents in their own country, says Ruth Nasrullah, communications director for the Houston CAIR office. But atrocities committed against people are forbidden in Islam.
"[The perpetrators] don't have anything to do with American Muslims or even most Muslims in the Middle East. But people see what they're doing and the horrific acts that they're doing and think it reflects our religion," she tells Newsweek. "People tend not to measure American Muslims by American standards, and that's a problem for us."
By midday Tuesday, the Houston CAIR office had not yet issued a separate statement from the national group in response to the shooting in Garland. But Nasrullah says she expects the local chapter to publicly condemn the violence soon because part of the group's mission is to ensure people understand the meaning of Islam and being Muslim.
"We talk a lot in the office about the merits of denouncing violent actions, because there can be some implication that we are guilty, and therefore we have to denounce it. But on the other hand, we do denounce violent actions," she says.
CAIR and other groups had suggested people ignore the event. Geller is known for her outspoken criticism of Muslim extremists, what Hooper called a "hate road show."
Similarly, Muslims in France and around the world banded together to condemn the attack on the Charlie Hebdo offices earlier this year. The brothers who committed the attack, Cherif and Said Kouachi, claimed the incident was in retaliation for the publication's release of cartoons depicting the prophet. Leaders quickly denounced the terrorist acts. Islamic Human Rights Commission Chair Massoud Shadjareh called the actions "barbaric," and Hassen Chalghoumi, imam of the Drancy mosque in a Paris suburb, said the barbarism had nothing to do with Islam.
"It's not right. Violence is not what the prophet taught us," Zafar says. "It was not the answer and it is not the Islamic way of doing things."
But even while the groups publicly condemn the actions of a handful of individuals, people still question why Muslims haven't spoken out against terrorism and extremism, Hooper says.
"I wonder," he adds, "if it harms the situation by issuing condemnations and somehow insinuating that Muslims are collectively to blame for a tiny minority of Muslim extremists."
For Muslim Leaders, Texas Attack Means Another Public Apology for Events They Don't Control | U.S.