Muslim Man Stabbed, Has Beard Cut as Assailants Yelled About His Clothing, Religion
A Muslim man says he was stabbed and had his beard cut by assailants as they yelled about his religious clothing in an unprovoked attack.
Muhammad Kashif said he was attacked in an alley early Friday morning in Saskatoon, Canada. He said he was near his parked car when another car drove up behind him.
"They attacked... on my back with a knife or something," Kashif told the Canadian Broadcasting Corporation. "Using F-word and saying 'Why you are here? We don't like you are Muslim, why are you wearing this dress?'"
"And then one guy held my hands and the other guy cut my beard," he added.
He said he was stabbed in the arm and knocked unconscious after being hit over the head with a cane he carries around for walking. When he regained consciousness, Kashif said his attackers were gone and so were his keys and phone.
He eventually flagged down a car driving by and had the driver call authorities. Kashif was taken to a local hospital where he received 14 stitches to close the wound on his arm and police came to take a statement from him.
"The Serious Assault Unit is investigating with support from the Equity and Cultural Engagement Unit," Saskatoon police said in a statement. "The investigation is in its preliminary stage; anyone who may have witnessed the assault or with information related to the investigation is asked to contact the Saskatoon Police Service at 306-975-8300."
Kashif said he recognized one of the attackers as someone who had previously verbally abused him.
"I am 12 years old when I came to this country and they are telling me, 'why you are here?'" he told CBC. "Why do they have to cut my beard?"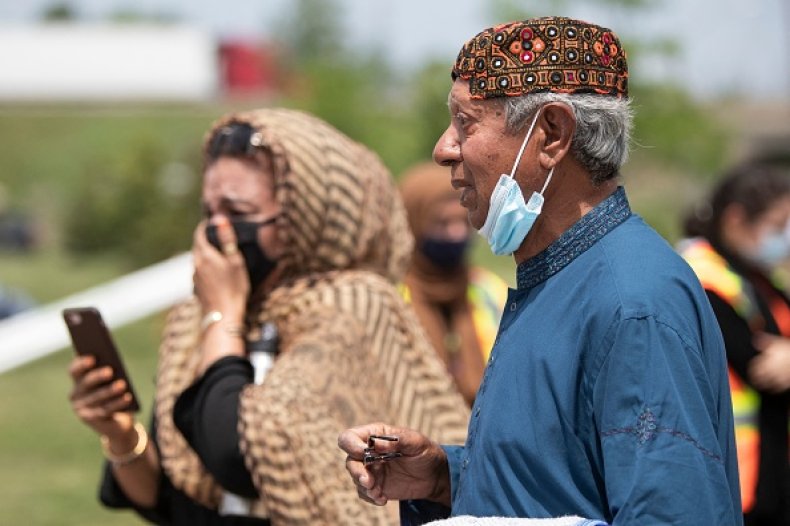 The attack comes just less than a month after a driver mounted a sidewalk in London, Ontario, and plowed into a Muslim Canadian family, killing four and injuring one.
Following the deadly attack, Canadian lawmakers passed a motion demanding the government convene for an emergency summit on Islamophobia in the country.
"Islamophobia has no place in any of our communities. This hate is insidious and despicable—and it must stop," Prime Minister Justin Trudeau tweeted shortly after the London incident.
Hate crimes against Canadian Muslims have been on the rise in recent years. According to information from Statistics Canada, there were 191 anti-Muslim attacks in 2019, a nine percent increase from the previous year.
Newsweek reached out to the Saskatoon Police Service for comment but did not hear back before publication.