Muslim Woman Fined for Wearing Face Veil in Denmark
A Muslim woman was fined in Denmark for wearing a face veil in public.
The 28-year-old woman became the first person to be fined for the offense since the country introduced a new law banning wearing garments that cover the face in public.
According to Agence France-Presse, the woman became involved in an altercation with another woman in a shopping center in Horsholm, in the north-eastern region of Nordsjaelland, after the latter had tried to remove her face veil.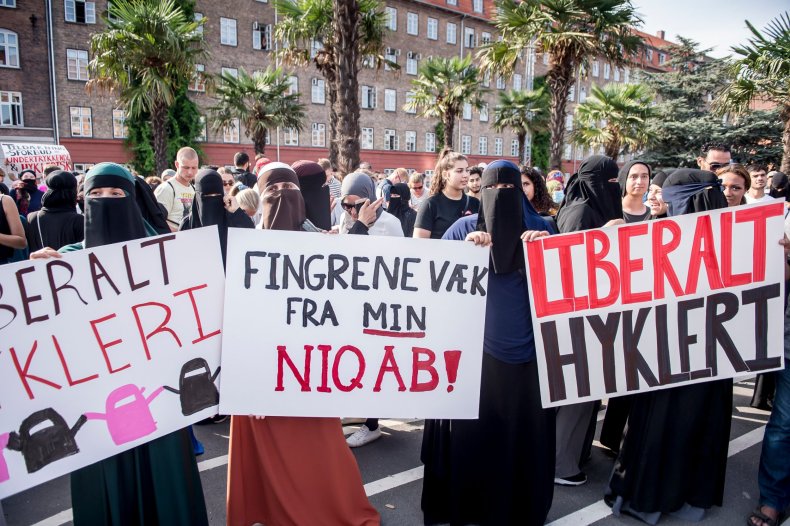 Once the police arrived on the scene, they found she had been illegally wearing a niqab - a garment of clothing that covers the whole face, with the exception of the eyes - in public.
When she refused to remove the veil, she was fined 1,000 Danish kroner ($156).
"During the fight her niqab came off, but by the time we arrived she had put it back on again," police duty officer David Borchersen told the Ritzau news agency.
Borchersen added that the woman was then told to either remove the veil or leave the public place and "she chose the latter".
The law came into effect on August 1, as Denmark follows the approach adopted by Belgium, Germany, Austria and France.
The four countries have all issued bans or partial bans on full-face veils and burqas - which cover the entire face - or a niqab worn in in public. A first penalty carries a fine of 1,000 krone ($155) in Denmark, while repeat offenders can be fined up to 10 times that.
However, the ban has been met with fierce criticism from Muslim women's advocacy groups and civil rights campaigners, who argue the law legitimatizes religious discrimination.
When the law became official on August 1, hundreds of people rallied in protest in the streets of the Danish capital Copenhagen.
A number of Muslim women have vowed to defy the ban and simply carry on wearing their veils, while supporters of the ban argue that it will facilitate integration.
Muslims account for about 5 percent of Denmark's population of 5.7 million and it's estimated that of the total, only 0.1 percent (between 150 and 200 Muslim women) wear a niqab or a burka on a daily basis.
"If the intention of this law was to protect women's rights, it fails abjectly," Fotis Filippou, Amnesty International's deputy director for Europe, was quoted as saying by Reuters when the law was introduced last week.
"Instead, the law criminalizes women for their choice of clothing, making a mockery of the freedoms Denmark purports to uphold."