Muslim Women Finally Positively Portrayed With Ms. Marvel | Opinion
Oppressed housewives, terrorists, exotic belly dancers or shop owners are just some of the stereotypes we are used to seeing when Muslim women are showcased on screen. Disney's latest addition to the Marvel superhero universe, Ms. Marvel, comes as a breath of fresh air, showcasing the first Muslim superhero story. It is time such positive portrayals become the norm, to counter the decades of damaging representation suffered by Muslim women.
Ms. Marvel follows Kamala Khan, a Muslim American teen struggling to find her place in the world until eventually discovering her superpowers. We see Kamala go from the mosque to Comic-Con, reflecting the nuanced lifestyles thousands of Muslims in the West live—Islam is not at a constant clash with the West. Unlike other shows with Muslim characters, Ms. Marvel is written by a Pakistani Muslim writer, Bisha Ali, providing authenticity. In a 2019 survey, only 0.3 percent of employed screenwriters in the Writer's Guild of America West were Middle Eastern, despite the numerous narratives produced about the region.
For years, Muslim portrayals, especially of Muslim women, by Hollywood have focused on negative stereotypes, which shape how Muslims are seen in the real world. A study conducted by USC Annenberg in 2021 and supported by Pillars Fund, found that only 1.6 percent of 8,965 characters studied in movies were Muslim, while 24 percent of the global population follows Islam. Of those characters, 39 percent were perpetrators of violence, reaffirming the Islamic terrorist stereotype.
The figures are more daunting for Muslim women, accounting for only 24 percent of all Muslim characters shown on screen. These roles are usually shown only in relation to their male counterparts as wives or romantic love interests. A study by Muslim Casting and the Geena Davis Institute went further and discovered that these female characters were usually weak and oppressed.
Before the turning point of 9/11, Hollywood focused on hypersexualizing Muslim women, often as scantily dressed, whose purpose was only to use their bodies to entertain male protagonists. One example is that of the 1977 James Bond film The Spy Who Loved Me, where we see Arab women in reimagined Arab dress with crop tops belly dancing. The characters were objectified to the extent that they were credited only as "Arab Beauty 1," 2, 3 and so on.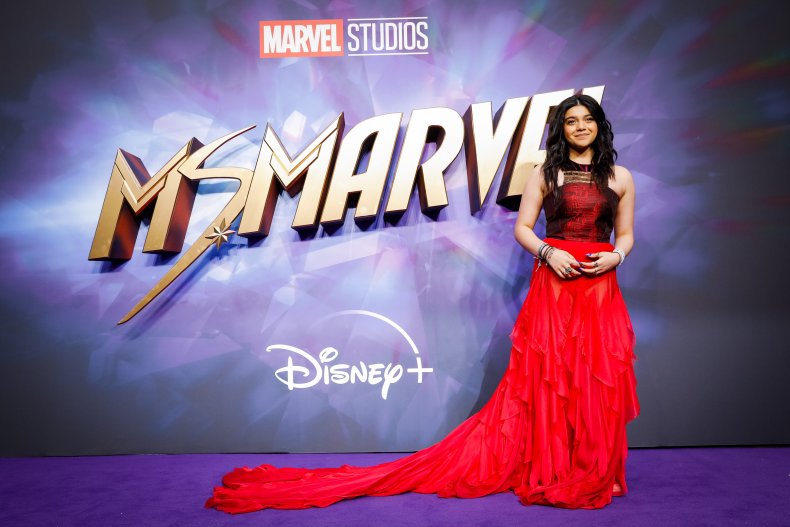 Shows, like I Dream of Jeannie, were based on similar orientalist ideals. Barbara Eden's character, who played a genie, dressed in orientalist depictions of Arab attire and became enslaved to her U.S. military owner. Jeannie, whose character is based on the Muslim spiritual world of jinn, satisfied a patriarchal orientalist fantasy of falling in love with the American hero, her master.
Even the iconic Princess Jasmine of Disney's Aladdin is found to be hypersexualized, dressed in a crop top. Speaking about Disney's choice to cast a half-white, half-Indian actress in the role of Princess Jasmine in the live-action remake of Aladdin in 2019, critics explained, "It can't be easy to cast a Middle Eastern actor as a terrorist but difficult to cast the same people in a leading role." In contrast, seeing Iman Vellani, a Pakistani Canadian, cast as Ms. Marvel provides authentic representation. Even Nobel Peace Prize winner Malala Yousufzai praised Marvel Studios stating, "It is not every day that I turn on the TV and find a character who eats the same foods, listens to the same music or uses the same Urdu phrases as me."
This constant sexualization of Muslim women has resulted in many Muslim Americans to be subjected to fetishization by men. Often when dating, their non-Muslim counterparts refer to them as being their "'exotic' Princess Jasmine-esque fantasy," making the assumption that all Muslims women have to offer is their appearance. Muslim women on the screen have been presented either as terrorist or victims of their oppressive husbands. The BBC and Netflix's hit show, Bodyguard, is a prime example, where the climax centered on discovering the show's villain to be the Muslim character, who had been presented as a victim of her husband's oppression until that point.
Since 9/11, continuous negative portrayals of Muslims in films and TV have influenced laws and policy in the U.S., from the ease with which Muslim-majority countries were invaded, like Iraq and Afghanistan, to former President Donald Trump's infamous Muslim ban, which stopped the travel from certain Muslim-majority countries to the U.S.
There has been a slight shift in the portrayal of immigrant children on television today, but the standards still fall short. A lot of these stories focus on a character who wants to escape the clutches of their oppressive families and fully accept American values, or as actor Ramy Youssef put it, it is as if the characters are saying, "Hey mom and dad, I wanna be white." Recent shows have showcased dynamic Muslim women building up to hijab taking-off scenes as moments of liberation and freedom. Both Netflix's Elite and Apple TV's Hala have similar scenes—highlighting the physical appearance of Muslim women. The lack of positive role models for young Muslim women can be problematic in understanding their position in society. Just as women celebrate the freedom to show their hair, a free society should also allow for women to choose to cover it too.
Let's not forget, Muslim women have been superheroes for centuries. Fatima al-Fihri founded the world's first university in the 9th century. Even Pfizer's COVID-19 vaccine was co-developed by a Muslim woman, Ozlem Tureci. Finally seeing a positive Muslim woman on screen, as a superhero, without fixating on her appearance or choice of dress, does reflect reality and is a step in the right direction.
Ahmed Twaij is a freelance journalist and filmmaker focusing mainly on U.S. politics, social justice and the Middle East. His Twitter is @twaiji.
The views expressed in this article are the writer's own.