The Muslim World League Helps Curb Iranian Influence in the Middle East | Opinion
The 2013 migrant crisis destabilized entire regions, causing untold upheaval and unfathomable human suffering.
But it's easy to forget that the sequence of events culminating in one of the biggest refugee crises in history, stemmed in large part from ISIS' ability to exploit sectarian divisions between Iraq's Sunnis and Shiites.
Sectarian fault lines—from Iraq, Syria and Lebanon, all the way to Yemen—represent the biggest cause of destabilization in the Middle East and possess the potential to unleash truly global ripple effects that impact the world.
A recent gathering in Mecca is of particular importance. Mecca based NGO, the Muslim World League, hosted 80 of Iraq's leading religious scholars—both Sunni and Shiite—in what was titled the "Forum of Iraqi References." It proved to be a unique spectacle. Not only did the gathering convene prominent figures like Sheikh Dr. Ahmed Hassan Al-Taha from the Iraqi Fiqh Academy, the heads of both the Sunni and Shiite Endowment Offices and even Dr. Pashtun Sadiq Abdullah, minister of endowments and religious Affairs in Iraq's Kurdistan region, it achieved something even more notable.
It succeeded in brokering an agreement to form a unique Iraqi intra-religious committee composed of the nation's top cross-sectarian authorities. The purpose of this new committee was to pre-empt sectarian divisions in Iraq from escalating into full blown conflict, and to support a unified central Iraqi government (and by extension—a common Iraqi identity that transcends sectarian divides).
It is a development that comes at a pivotal time.
Iran's new hardline President Ebrahim Raisi was recently sworn in—something that will likely herald an acceleration in the regime's tried and tested strategy of exploiting sectarian Sunni-Shiite divisions —not least in neighboring Iraq.
Backing militant proxies and divisive politics across the Middle East has been a longstanding strategy of the Tehran regime and a central pillar in efforts to turn Iraq into an Iranian client state. But for such efforts to succeed, they depend on mistrust, animosity and—to truly excel—outright hatred between religious sects at the local level. That breakdown in intra-religious cooperation and the lack or sometimes complete absence of a unified local national identity is what creates the opening for the Iranian regime's divide and conquer strategy—allowing it to expand its influence across the breadth of the Middle East.
The recent gathering of clerics signified a powerful symbolic shift in the most powerful way.
By untethering the association between the Middle East's Shiite communities and the nation of Iran, and by initiating a strategy of directly engaging local Shiite communities—empowering them to form their own structures and reconcile differences with local Sunni counterparts—it limits Iran's single biggest interventionist opportunity in the region.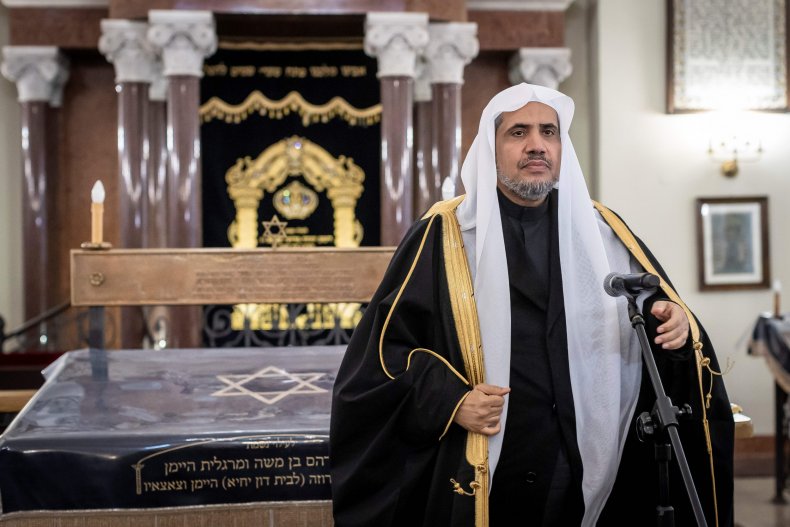 The creation of powerful, cohesive local national identities in the Middle East is the most effective antidote to Iran's regional power plays. But to achieve that requires not undermining sectarian differences.
Unsurprisingly, the forum focused heavily on this precise theme, with the Muslim World League Secretary General Muhammad bin Abdul Karim Issa echoing those sentiments by saying, "Today's event represented the true principles of Islam. ... It instructs us to embrace diversity and respect each other's differences. It tells us to live in coexistence and harmony with all."
Issa is no stranger to campaigns that build intra and inter-religious bridges, having been the most senior Islamic leader to visit Auschwitz as part of efforts to bolster Muslim-Jewish ties. Leveraging that experience to strengthen relations between Sunni-Shiite communities in the Middle East will be no less testing, or important. Particularly in the context of a several pivotal Iraq-related developments over these past few weeks, including President Joe Biden's recent commitment to end U.S. combat missions in Iraq.
Much like in Afghanistan, where the end of U.S. combat missions has seen the Taliban swoop in to expand their influence across the country, there are real fears a heavily reduced U.S. military presence in Iraq will result in the unprecedented strengthening of Iranian-backed militias and influence across Iraqi territory—spurred on by the most hawkish Tehran administration in years.
With the U.S. scaling down its military presence in Iraq, it means supporting the kind of efforts that were made in Mecca, under the auspices of the Muslim World League are not merely desirable, but necessary.
Paulo Casaca is founder and executive director of the South Asia Democratic Forum. He is also the founder of the international co-operation association registered in Brussels ARCHumankind, Alliance to Renew Co-operation Among Humankind. He was a former member of the European Parliament where, among others, he chaired the delegation for relations with the NATO Parliamentary Assembly. He is the author of several books and reports on economics and international politics, most in particular on Iraq, among others, The hidden invasion of Iraq (2008).
Dr. Maurizio Geri is a former analyst on the Middle East and North Africa (MENA) at the NATO Allied Command. He was also previously an analyst for the Italian Defence General Staff and has 20 years of experience in research and civilian operations on peace and security, international order, democratization, human rights and collective defense (particularly in the MENA). He has delivered research for various think tanks including The Carter Center and The Washington Institute for Near East Policy.
The views expressed in this article are the writers' own.