'Muslim in New York' Exhibit Shows how Muslims Have Contributed to New York Culture for Centuries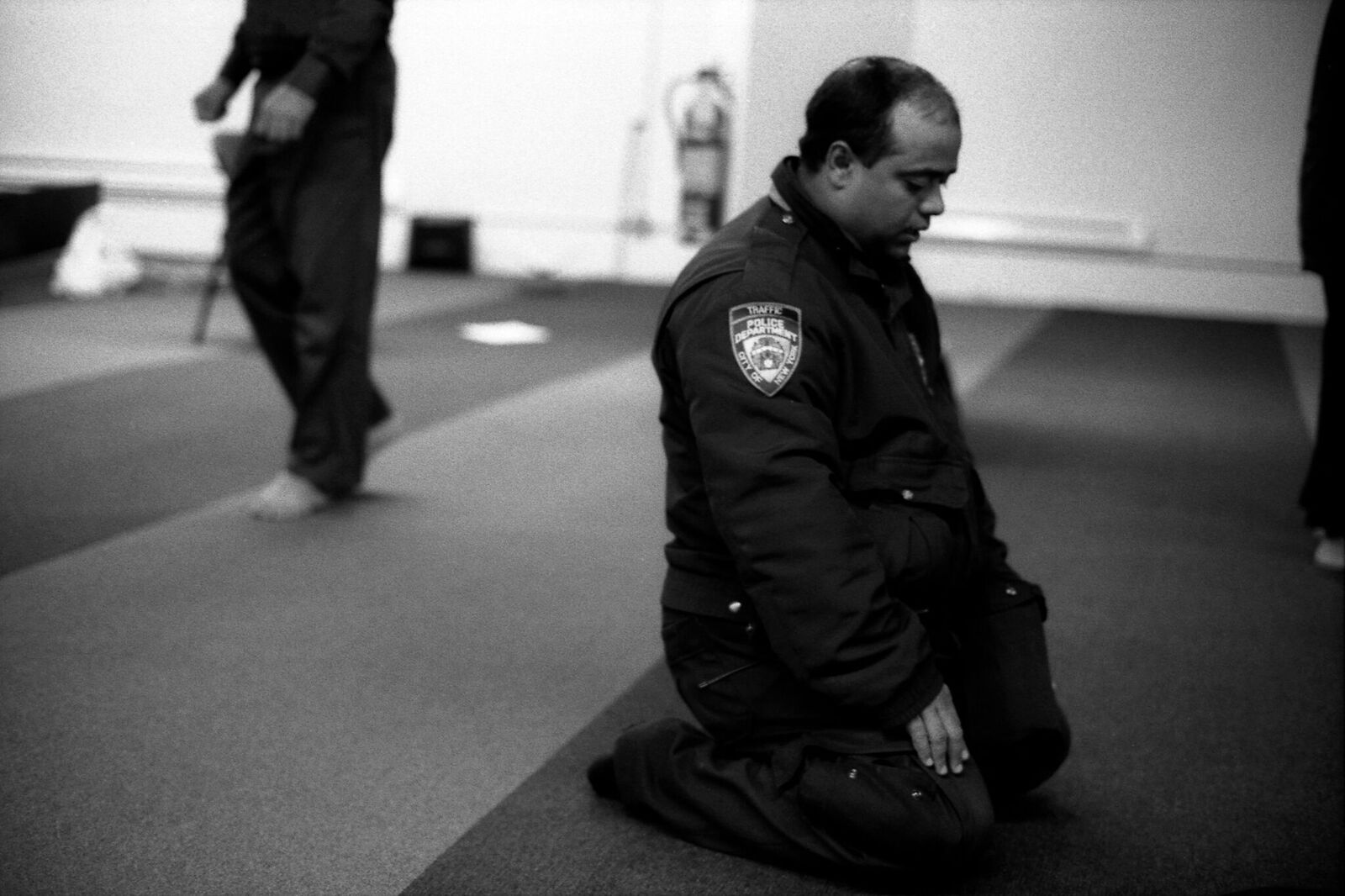 The administration of Donald Trump, avowedly opposed to uncomfortable facts, will not be any friendlier to art. Reports indicate that the president will likely make cuts to the National Endowments for the Arts and the Humanities, a move that, while financially painful, is also symbolic of a new official heartlessness. Art demands contemplation and enforces empathy. It is therefore dangerous stuff.
It's no surprise, then, that museums have become flashpoints for the anti-Trump resistance. The Museum of Modern Art responded to Trump's executive order banning travel into the United States from seven majority-Muslim countries by featuring works by artists from those nations, like the Sudanese painter Ibrahim el-Salahi. Other museums have done their own part, with the Brooklyn Museum, for example, holding a reading of "Let America Be America Again," by Langston Hughes. "New York Museums Signal Their Resistance to Trump," read a headline in The New Yorker.
The newest member of this artistic resistance is the Museum of the City of New York. Housed in a neo-Georgian mansion on the Upper East Side, across from Central Park, the museum is not known as a space where politics frequently intrude. Yet its new photography show "Muslim in New York" is a small but powerful rebuke to the Islamophobia that is central to the agenda of Steve Bannon, the white nationalist who reportedly has Trump's ear.
"Muslim in New York" is a show I suspect MCNY Director Whitney Donhauser didn't plan to run—at least not now, not like this. But these strange days demanded it. "The desire to put on this exhibition sprang up out of conversations between Museum staff regarding how we should respond to current events in today's political climate," Donhauser said in an emailed statement. "We are proud to share these images with our neighbors."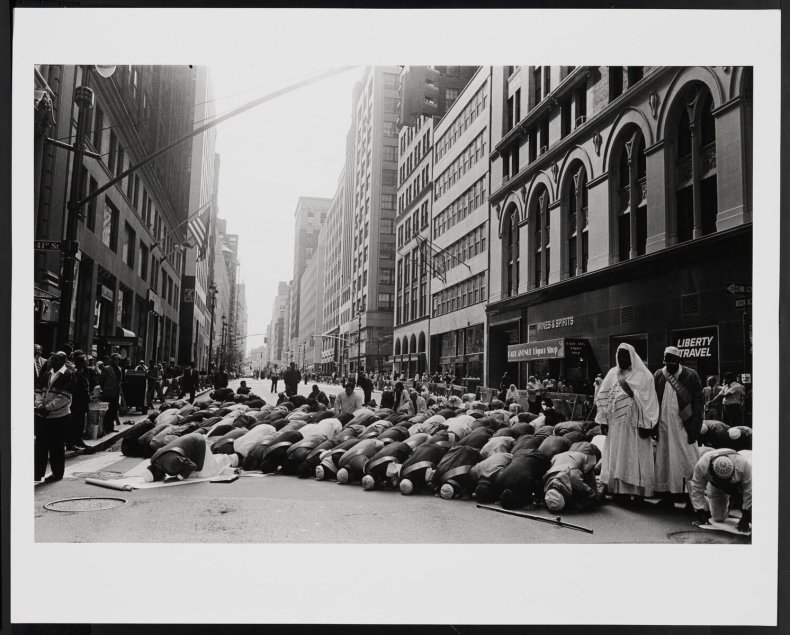 The show, which went up last week and will run through July 20, is small, with only 32 photographs by four photographers: Alexander Alland, Ed Grazda, Mel Rosenthal and Robert Gerhardt. But it is dense with humanity. Particularly poignant are the many images of children exhibited here: a boy in a Vans T-shirt holding a basketball, trying out some juvenile cool before he heads into evening prayers; a girl in a white hijab, looking out from a sea of classmates at the Al-Noor School, her face pained beyond its years.
I lingered over the image of a girl rollerblading down a street in Bay Ridge, a formerly Catholic neighborhood that has become one of the most vibrant Islamic enclaves in the city. The bards of intolerance who've usurped the White House, Bannon and his minion Steve Miller, want you to believe she and those like her harbor a desire to destroy Western civilization. Spend half a minute in front of that photograph and you'll know whom to fear.
Though many of the photographs in the exhibit are recent, those of Alland are more than 70 years old. One shows four neatly dressed Turkish children diligently studying their native language in their adopted land; another focuses on a cluster of women at prayer in ornate clothing. Alland's photographs remind that, despite Trump's assertions, Muslims are not alien to New York. In fact, as the wall text asserts, there have been Muslims in New York since the 17th century. Later, as Christians from the Middle East settled in lower Manhattan, in a largely forgotten neighborhood called Little Syria, Muslims from the region followed. In 1910, a mosque opened at 17 Rector St., about three city blocks from where the World Trade Center would rise. Today, there are an estimated 700,000 Muslims in the five boroughs, not to mention thousands more in the surrounding suburbs.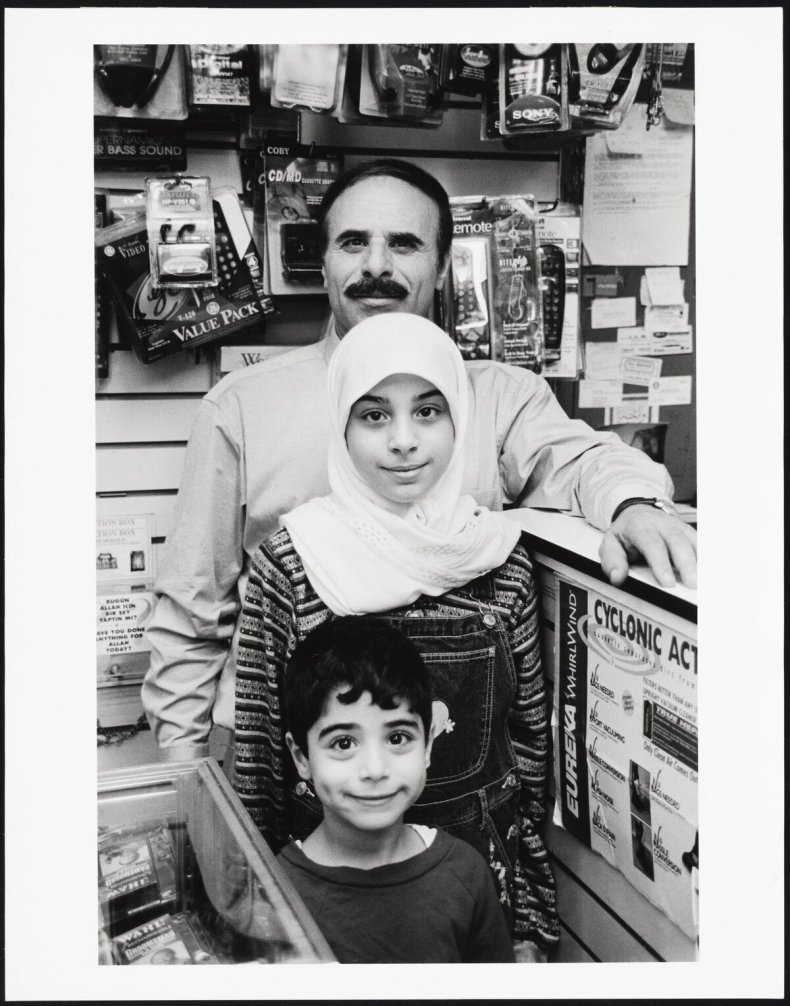 The photographs by Ed Grazda come from a project called New York Masjid: The Mosques of New York City. Grazda began photographing New York's Muslim communities in response to the 1993 bombing of the World Trade Center, the 24th anniversary of which is February 26; the mastermind of that attack, Omar Abdel Rahman, died in prison earlier this month. Grazda's most powerful photograph shows several dozen worshippers bowed in prayer on a street outside the Grand Central Terminal in midtown Manhattan. Onlookers gawk from the sidewalk, but the street itself is empty of traffic, making for a surreal scene, a pause in city life that suggests something truly numinous at hand.
The third-floor space where the show hangs was previously host to the South Bronx photographs of Mel Rosenthal. Rosenthal avoided the easy clichés of South Bronx ruin porn, and he is similarly sensitive to his Muslim subjects in this new show. More than any of the others, Rosenthal's photographs capture the happy ordinariness of his subjects: a Halal food truck owner joyously purveying his wares to a man in a baseball cap; a father with his two smiling children at an electronics store in Bay Ridge.
A photograph of Debbie Almontaser from 2001 shows her holding a photograph of her son Yousif, who served in the Army National Guard. Almontaser, some might remember, became the focus of predictably uninformed right-wing outrage in 2007, when she started the Khalil Gibran International Academy, an Arabic-themed public school in Brooklyn. An unremitting season of Islamophobic attacks forced her to resign as the school's principal; here, in Rosenthal's earlier photograph, she emerges as a proud mother—and a patriot.
The most recent photographs belong to Robert Gerhardt, and include my favorite: an officer of the New York City Police Department kneeling in prayer. There are 1,000 Muslim officers in the NYPD, making them subjects of two different varieties of suspicion, of both Muslims and cops. The look on the officer's face is less suggestive of piety than exhaustion. He is the mature version of the girl on the roller skates, his determination no longer burnished by innocence.
On the wall opposite "Muslim in New York" is a large color photograph of lower Manhattan. The placement is surely accidental, but instructive: We are fated to see American Muslims through the dusty filter of 9/11. How long will that last? Impossible to say." Muslim in New York" reveals a truth xenophobes are desperate to efface: that to be a Muslim is no different than being a Baptist, or an Orthodox Jew. We all stumble on our roller skates down the street. We all fall down but, with a little help, we rise.